Research article
Open Access
Evaluation of the impact of single nucleotide polymorphisms and primer mismatches on quantitative PCR
BMC Biotechnology
2009
9:75
Received: 17 December 2008
Accepted: 28 August 2009
Published: 28 August 2009
Abstract
Background
Robust designs of PCR-based molecular diagnostic assays rely on the discrimination potential of sequence variants affecting primer-to-template annealing. However, for accurate quantitative PCR (qPCR) assessment of gene expression in populations with gene polymorphisms, the effects of sequence variants within primer binding sites must be minimized. This dichotomy in PCR applications prompted us to design experiments to specifically address the quantitative nature of PCR amplifications with oligonucleotides containing mismatches.
Results
We performed qPCR reactions with several primer-target combinations and calculated ratios of molecules obtained with mismatch oligonucleotides to the average obtained with perfect match primer pairs. Amplifications were performed with genomic DNA and complementary DNA samples from different genotypes to validate the findings obtained with plasmid DNA. Our results demonstrate that PCR amplifications are driven by probabilities of oligonucleotides annealing to target sequences. Empiric probabilities can be measured for any primer pair. Alternatively, for primers containing mismatches, probabilities can be measured for individual primers and calculated for primer pairs.
Conclusion
The ability to evaluate priming (and mispriming) rates and to predict their impacts provided a precise and quantitative description of assay performance. Priming probabilities were also found to be a good measure of analytical specificity.
Keywords
Perfect MatchAmplification EfficiencyAssay PerformanceAmplification ProfilePriming Probability
Background
Single nucleotide polymorphisms (SNPs) have posed a challenge to the study of gene expression because they affect methods based on oligonucleotide hybridization, such as microarrays and PCR. In a recent study, Walter and collaborators identified a large proportion of false positive and negative results when comparing two commonly used inbred mouse strains with Affimetrix microarrays [1]. Most of the discrepancies could be attributed to SNPs, which affected 16% of the probe sets. These results have highlighted the importance of considering SNPs during the design of hybridization-based assays such as microarrays and PCR, depending on their occurrence or frequency. Genomic diversity or the occurrence of sequence variants in genomes can be estimated by the comparison of any two identical chromosomes. In human genomes, a SNP is found in an individual every 1000–2000 bases, which constitutes a 0.1% per base rate of heterozygosity [2]. Moreover, the overall occurrence of SNPs increases with the addition of sequence information from new individuals or populations. The recent sequencing of a human genome from one individual, James D. Watson, by massively parallel DNA sequencing, identified 0.61 million new SNPs. Interestingly, 18% of the sequence variation found in Watson's genome was not present in dbSNP, the Single Nucleotide Polymorphism database [3]. Other studies have estimated similar rates of occurrence in the coding sequences of humans, Drosophila and plants, ranging from 0.4% to 2%, depending on the gene [4–7].
A further issue of concern for PCR-based assays is the frequency of SNPs within populations. Current estimates have predicted that a SNP with a population frequency of 1% occurs every 290 bases in the human genome [8]. Since most primer pairs used in qPCR span an average of 50 non-overlapping nucleotides, a significant proportion of SNPs (17% in humans) may be predicted to fall within primers based on chance alone. Consequently, the sensitivity of PCR-based gene expression assays to SNPs must be minimized for such assays to accurately measure transcript numbers in populations, especially in populations where genotypic variation has not been determined for the targeted genes. In a related issue, the detection of multiple sequence variants (strains) of a pathogen is particularly important in molecular diagnostics for viral quantification assays where considerable sequence variation between strains and subtypes can be observed [9].
Besides issues regarding laboratory setup [10], PCR false positives also can arise when amplification is detected as a result of mispriming. The term "mispriming" can be used when PCR products are generated through primer annealing to partially complementary sequences. Mispriming is also of great concern in clinical molecular diagnostics, especially when the PCR assay must discriminate between closely related sequences [11, 12]. It could become even more important when the targeted sequence is diluted in a pool of closely related interfering sequences. Therefore, the challenge in developing PCR-based molecular diagnostic assays is the degree of certainty with which assays may be able to detect all of the molecules of interest without detecting interfering molecules.
Sensitivity or the lack of sensitivity to sequence variants represents an important dichotomy in PCR applications. Consequently, assay performance with respect to target and non-target molecules must be precisely described to facilitate assay selection and/or validation. For the current study, we designed experiments to specifically address the quantitative nature of mispriming caused by sequence variants. We demonstrate that PCR priming occurs with a measurable frequency and it could be used as a mean of quantitatively describing and evaluating PCR assay performance. Experimentation was performed on genomic DNA (gDNA) and complementary DNA (cDNA) to support these findings, and on plasmid DNA to evaluate the impact of PCR parameters on priming frequency.
Methods
ESTs (Expressed Sequence Tags), clones, sequence alignments and primer design
Lim1 ESTs used in this study were from previously described cDNA libraries [13] and have been identified in ForestTreeDB [14]. Clones are available through the Arborea Project website http://www.arborea.ulaval.ca and Arborea EST sequences are deposited in GenBank [GenBank: DV975691, GenBank:DV977042, GenBank:DV976393, GenBank:DV977754, GenBank:DV977683, and GenBank:DV976321].
Sequence alignments (See Additional file 1) were performed with the BioEdit biological sequence alignment editor, which is freely available on the web at the following address http://www.mbio.ncsu.edu/BioEdit/bioedit.html
The software Primer3 [
15
] was used to validate primer selection and to perform Tm (melting temperature) calculations. Primer sequences are shown in Figure
1
.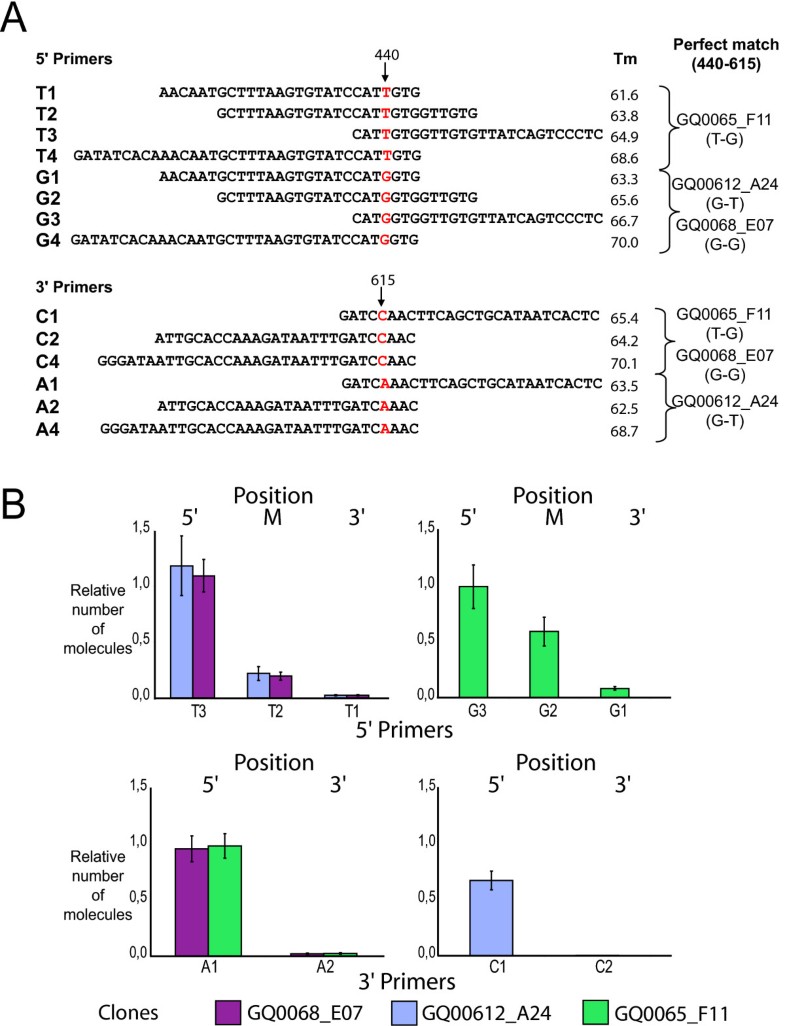 Plant material, DNA and RNA extractions
Plant material was taken from 37-year-old trees in a progeny trial of white spruce (Picea glauca (Moench) Voss) that had been established near Quebec City (QC, Canada). The trial was composed of 40 half-sib families (obtained by wind-pollination), which originated from different areas of Eastern Canada. Three tissue samples were collected from the main stem of each tree at 1.5 m above ground level using a 16 mm leather punch. A 1-mm thick sample of actively growing tissue was taken from either side of the cambial zone, and represented secondary phloem and xylem. The samples were immediately frozen in liquid nitrogen. Frozen material was ground to fine powder using liquid nitrogen-cooled 50 ml jars/25 mm beads in a ball mill (MM300 Mixer Mill, Retsch GmbH, Haan, Germany). DNA extractions were performed on 100 mg of liquid N2-ground secondary phloem using DNeasy Plant Mini kit (QIAGEN, Germantown, MD, USA) according to the manufacturer's instructions. RNA extractions were performed as previously described for white spruce [16]. RNA integrity was checked with a 2100 Bioanalyzer (Agilent Technologies, Santa Clara, CA, USA).
Genotyping
In order to determine the genotype of each tree, a portion of the Lim1 gene was amplified from trees using forward (ACCAGTATGCCTTCATTGTGTTC) and reverse primers (AAAGACCAATGTCCCTAATAGTCATG). The resulting PCR fragments were sequenced using the same primers that were used to genotype the individuals at the Plate-forme d'analyses biomoléculaires (Université Laval, Quebec City, QC, Canada). The presence of double peaks in the sequencing reaction chromatogram identified the heterozygote individuals.
cDNA preparation and quantitative PCR
Complementary DNAs were prepared from 500 ng of total RNA using the first strand cDNA synthesis system (Invitrogen, Carlsbad, CA, USA). PCR mixtures that contained QuantiTect SYBR Green PCR kit (QIAGEN), QuantiFast SYBR Green PCR kit (QIAGEN) or LightCycler 480 SYBR Green I Master (Roche, Basel, Switzerland) were as follows: 1× master mix, 300 nM of 5' and 3' primers, and target DNA or cDNA (10 ng) in a final volume of 15 μl. Reactions were setup using an epMotion 5075 pipetting robot (Eppendorf, Hamburg, Germany) and amplifications were carried out in a LightCycler 480 (Roche). Cycling for both QuantiTect and QuantiFast mixtures was performed as follows: an initial 15-min activation step at 95°C, followed by 50 cycles of 94°C for 10 s and 62°C for 2 min (QuantiTect) or 1 min (QuantiFast); a single fluorescent read was taken after each cycle immediately following the annealing and elongation step at 62°C. Three-step cycling (50 cycles) was performed for the Roche master mix, according to instructions provided by the manufacturer. Melting curve analysis was performed at the end of cycling to ensure single product amplification of the appropriate melting temperature. Experiment description and data presentation follow the guidelines on the minimal information for publication of quantitative PCR experiments (MIQE) [17].
Determination of the number of molecules (LRE method)
The methodology described here is a slight modification of the procedure elaborated by Rutledge and Stewart [
18
]. Insertion of equation (
2
) into equation (
1
), both described in Rutledge and Stewart, served to derive a new equation (
3
) that was used to quantify molecules.
In these equations, F0 is the initial target quantity expressed in fluorescence units, Fmax is the maximal fluorescence reached at the plateau phase where the efficiency of the PCR reaction reaches 0, Emax is the maximal efficiency that occurs at the beginning of cycling, C1/2 is the reaction cycle located at the inflection point of the fluorescence curve where the fluorescence is half of Fmax and the efficiency is half of Emax, and ΔE represents the rate of loss in efficiency. For each amplification reaction, ΔE and Emax were determined using the linear regression of efficiency (LRE) method [18] and C1/2 was calculated by taking the first derivative of the fluorescent readings. F0 values were then transformed to molecules (N0) with equations described in Rutledge and Stewart [18]. Fluorescence background was removed prior to LRE analysis and C1/2 determination. Optical calibrations of the master mixes in the LC480 were performed with lambda DNA as previously described [18]. An Excel spreadsheet designed to accommodate the 384 sample output from the LC480 was created to automatically convert fluorescent reads to molecules. Excel formulas, macros and tutorial are available from the Arborea website publication section http://www.arborea.ulaval.ca/publications/index.html.
Results
To evaluate the effect of sequence variants on quantification by qPCR, we designed primers against polymorphic sites within the coding sequence of a single gene in white spruce (Figure 1A). This gene was represented by 6 cDNA clones (12 reads) in our EST database [13], and three SNPs were identified within a 700 bp region of the EST sequences (i.e., 1 every 233 bp). Two of the SNPs were located 165 bp apart and were represented in three different alleles (clones), which constituted ideal templates for studying the impact of SNPs on qPCR (see Additional file 1 for the sequence alignment). Amplifications were performed with these three cDNA clones and 24 primer pairs designed to have melting temperatures between 62–67°C. Seven concentrations of each plasmid were used with all 24 primer pairs; reactions were run in duplicate wells and in duplicate runs (4 quantifications for each plasmid/primer pair/concentration). Each clone had 6 perfect match primer pairs and 18 mismatch combinations (a mismatch in one or two primers).
Discussion
This study provided evidence that PCR mispriming (or priming) occurs with measurable frequencies relative to the expected number of molecules. Consequently, such frequencies can be considered as empirical probabilities. We demonstrated that the probability of generating an amplicon is equal to the product of the annealing probabilities of the individual primers as expected from two events with independent probabilities.
Conclusion
The major challenge for designing PCR assays is to detect all molecules of interest without detecting interfering molecules. Our results have shown that mispriming, or priming, on a given target occurs with a measurable probability under standardized PCR conditions, which is broadly applicable for quantitative description of PCR assay performance. Therefore, false positive rates can be established for all known interfering molecules in molecular diagnostic applications. Similarly, priming probabilities can be used to describe the relative sensitivity to SNPs of assays designed to measure gene expression in population studies. Our results also demonstrate that although primer design is critical for successful PCR, other parameters influencing primer to template annealing are equally important for assay design. For PCR based diagnostic purposes, where power of discrimination is critical, users should favor more specific master mixes, place SNPs as close as possible to the 3' end of primers and optimize temperature, and annealing and elongation times. In contrast, for accurate transcript quantification in populations, primer design should avoid known SNPs, utilize master mixes that are less impacted by SNPs, increase the differences between primer Tm and annealing temperature and, use longer primer annealing and elongation steps.
Declarations
Acknowledgements
We thank R.G. Rutledge and D. Stewart for sharing their manuscript on quantification methods prior to publication, P.-L Poulin and P. Robichaud for technical assistance, and S. Caron, W.F.J. Parsons, and C. Bomal for reviewing the manuscript. Support was received from Genome Canada and Genome Québec (JM), for the Arborea project.
Authors' Affiliations
(1)
Centre d'Étude de la Forêt, Institut de biologie intégrative et des systèmes, Pav. C.E. Marchand, Université Laval, Quebec City (QC), Canada
Copyright
© Boyle et al; licensee BioMed Central Ltd. 2009
This article is published under license to BioMed Central Ltd. This is an Open Access article distributed under the terms of the Creative Commons Attribution License (http://creativecommons.org/licenses/by/2.0), which permits unrestricted use, distribution, and reproduction in any medium, provided the original work is properly cited.