Research article
Open Access
High-throughput strategies for penicillin G acylase production in rE. colifed-batch cultivations
BMC Biotechnology
2014
14:6
Received: 16 June 2013
Accepted: 30 December 2013
Published: 21 January 2014
Abstract
Background
Penicillin G acylase (PGA) is used industrially to catalyze the hydrolysis of penicillin G to obtain 6-aminopenicillanic acid. In Escherichia coli, the most-studied microorganism for PGA production, this enzyme accumulates in the periplasmic cell space, and temperature plays an important role in the correct synthesis of its subunits.
Results
This work investigates the influence of medium composition, cultivation strategy, and temperature on PGA production by recombinant E. coli cells. Shake flask cultures carried out using induction temperatures ranging from 18 to 28°C revealed that the specific enzyme activity achieved at 20°C (3000 IU gDCW-1) was 6-fold higher than the value obtained at 28°C. Auto-induction and high cell density fed-batch bioreactor cultures were performed using the selected induction temperature, with both defined and complex media, and IPTG and lactose as inducers. Final biomass concentrations of 100 and 120 gDCW L-1, and maximum enzyme productivities of 7800 and 5556 IU L-1 h-1, were achieved for high cell density cultures using complex and defined media, respectively.
Conclusions
To the best of our knowledge, the volumetric enzyme activity and productivity values achieved using the complex medium are the highest ever reported for PGA production using E. coli. Overall PGA recovery yields of 64 and 72% after purification were achieved for crude extracts obtained from cells cultivated in defined and complex media, respectively. The complex medium was the most cost-effective for PGA production, and could be used in both high cell density and straightforward auto-induction protocols.
Keywords
Penicillin G acylaseRecombinant E. coliAuto-induction mediumFed-batch culture
Background
Penicillin G acylase (PGA) is used industrially to catalyze the hydrolysis of penicillin G to obtain 6-aminopenicillanic acid (6-APA), which is a key intermediate for the synthesis of β-lactam antibiotics [1]. These drugs account for the largest fraction of global sales of antibiotics, and comprised 60% of the 5 × 107 kg/year produced worldwide in 2003 [1]. The production of semi-synthetic β-lactam antibiotics requires ever-increasing quantities of PGA, and the annual consumption of this enzyme is estimated to be in the range of 10–30 million tons [2]. The unmet demand for PGA at an acceptable cost could be supplied by improving the processes used for its production.
PGA can be produced by a variety of microorganisms, including bacteria, fungi and yeasts. The microorganism that has been most widely studied for this purpose is Escherichia coli, which accumulates the enzyme in the periplasmic cell space. The enzyme precursor is synthesized as an inactive 96 kDa pre-pro-PA, which contains a signal peptide at its N terminus [3] that mediates the translocation of pro-PA into the periplasm. This intermediate is further processed into α (23 kDa) and β (63 kDa) PGA chains during autoproteolytic reactions [4].
In the past, PGA has mainly been manufactured by fed-batch as well as by batch processes, using recombinant E. coli, Bacillus megaterium, or Arthrobacter viscosus, and sucrose or glucose as carbohydrate substrates [5].
Optimization of the performance of cultures for recombinant enzyme production has two main objectives: high-level gene expression, and intense formation of biomass containing a high activity level of soluble, correctly-folded intracellular enzyme [6].
Strategies for high-level gene expression involve increasing the efficiency of one or more gene expression steps [3]. In the case of the pac gene, encoding penicillin G acylase of E. coli, B. megaterium and other organisms [7, 8], many different procedures have been employed to this end. The efficiency of transcription of the pac gene can be genetically modulated by mutation or removal of the regulatory region, mutations in the transcription initiation region, or by replacement of the pac promoter [9–11]. The post-translational processes, which are crucial for obtaining soluble active PGA, have been investigated to identify optimum host/vector combinations that can efficiently produce the mature protein [3, 6], with co-expression of helper proteins that assist the formation of correctly-folded active PGA [6, 12] . In addition, cloning the pac gene from different microorganisms in E. coli is another strategy that has been used to improve enzyme production [7, 13, 14].
Temperature plays a very important role in modulating the expression of key genes involved in recombinant protein production [15–17]. The rate of protein synthesis is reduced at low temperatures, which increases the formation of correctly-folded biomolecules [18]. Selection of a suitable temperature is also crucial to ensure that a balanced flux is maintained throughout the stages of protein synthesis (transcription) and maturation (translocation and periplasmic processing), in order to avoid accumulation of immature precursors and optimize expression of the pac gene [10]. Otherwise, the formation of insoluble protein aggregates (inclusion bodies) can occur [19]. Keilmann et al. [18] also reported that the initiation step of translation of the pac mRNA is blocked at high temperatures.
The production of PGA in bioreactor cultivations has been widely studied using both batch [20–22] and high cell density fed-batch cultures [6, 23, 24]. Fed-batch cultivation is considered to be the most efficient process for the production of inducible heterologous proteins, including PGA, because the nutrient supply can be modulated to firstly achieve high biomass formation and then proceed with the induction [25]. However, performing a high cell density culture (HCDC) is a challenge, mainly because control of both the dissolved oxygen concentration and the flow rate of the feed medium is problematic at high biomass concentrations [24, 26].
The auto-induction approach [27, 28] offers an alternative to fed-batch cultures. Biomass concentrations of up to 40 gDCW L-1[29, 30] can be obtained directly from batch experiments employing a mixture of glucose, glycerol, and lactose, with minimal requirements for handling of the expression culture [31]. However, this strategy has not yet been reported for PGA production in shake flask or bioreactor cultures of recombinant E. coli.
The composition of the culture medium is another important consideration in design of a suitable cultivation strategy, because it not only affects cell growth, but also influences gene expression and, consequently, the pool of proteins accumulated in the cells. Both defined and complex media have been employed for PGA production, but no reported studies have addressed the influence of medium composition on the performance of processes used for PGA recovery from cell lysates. In addition, the composition of the medium, as well as the induction strategy (especially the inducer selected), play important roles in the post-induction cell response. So far, the majority of published works have focused on the use of isopropyl-β-D-thiogalactopyranoside (IPTG) as the inducer [6, 21, 22, 24]. Nonetheless, the fact that IPTG is an expensive and potentially toxic chemical restricts its application as an inducer in the industrial production of recombinant proteins. Lactose, on the other hand, is an inexpensive, natural, environmentally friendly inducer that can be used in expression systems based on the lac promoter. Despite these advantages, only one study has so far considered PGA production induced by lactose [23].
With the goal of developing an optimized protocol for PGA production, the main objectives of the present study were therefore to: i) assess the influence of induction phase temperature on PGA production; ii) compare auto-induction and conventional fed-batch cultivation strategies for PGA production in a bioreactor; and iii) analyze the influence of the culture medium composition and inducers on protein synthesis and purification.
Discussion
Comparison of enzyme production using different cultivation strategies
A comparison of all the cultivation strategies, in terms of enzyme production, is provided in Figure
7
. As already mentioned, the continuous fed-batch strategy with complex medium (experiment B2) provided the best volumetric enzyme activity and productivity (Figures
7
a and
7
b). The auto-induction culture (experiment B1) exhibited a stationary protein productivity profile after 6.5 h of induction (Figure
7
b), because the biomass concentration remained almost constant, while the specific enzyme activity increased linearly with induction time (Figure
3
). Conversely, for the continuous fed-batch cultivation (B2), both biomass concentration and specific PGA activity increased during the first 16 h of induction (Figure
4
), resulting in a steeper increase in productivity (Figure
7
b). Despite the low induction temperature used, Figure
7
b shows that 16 - 18 h of lactose induction was sufficient to achieve high enzyme productivity for both auto-induction (B1) and HCDC (B2) strategies. Figure
7
a shows that the initial rate of enzyme accumulation was similar for HCDC cultures B2 and B3 during the first 13 h of induction, due to the increasing biomass concentration and specific enzyme activity (Figures
4
and
5
, respectively). The shift in the enzyme production pattern observed in culture B3 after ~13 h of induction (Figure
7
a) was caused by the decay in specific enzyme activity, as shown in Figure
5
, associated to plasmid instability and viability loss. A similar trend can be seen in the productivity curve obtained for culture B3 (Figure
7
b).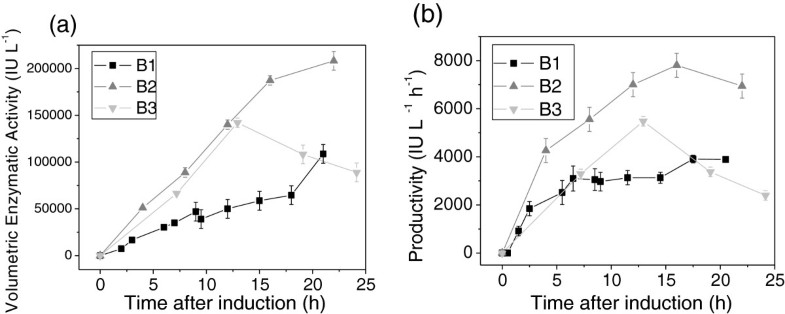 Process economics is an important factor to be considered when selecting a cultivation strategy and a simple estimate of the costs associated only to the different media formulation, using the same approach described at [
46
], was performed. The main results, summarized at Table
3
, point out the intermittent fed-batch auto-induction protocol (B1) as the most cost-effective cultivation strategy, thanks to its low media cost. Although the continuous fed-batch strategy based on complex medium (B2) led to the highest volumetric enzyme activity, superior production costs related to the large amount of reagents required to achieve and maintain high cell densities restricted its economic performance. Concerning the fed-batch strategy based on defined medium (B3), the 3.4 fold increase of enzyme cost is mainly due to the lower volumetric enzyme activity achieved at this operation mode, since the cost of the culture medium is similar to B2.
Table 3
Total cost associated to media used at B1, B2 and B3 cultures and the corresponding estimate of the cost per unit of PGA produced
| Culture ID | Batch ($) | Pulse ($) | Feed ($) | Total ($) | Total volume (L) | Medium cost (per L) | Vol Enz Act (U L-1) | Enzyme cost ($ U-1) |
| --- | --- | --- | --- | --- | --- | --- | --- | --- |
| B1 | 69.30 | 21.50 | --- | 90.81 | 4.2 | 21.62 | 94000 | 0.00023 |
| B2 | 55.23 | 16.11 | 321.06 | 392.40 | 5.6 | 70.10 | 208222 | 0.00034 |
| B3 | 52.58 | 71.10 | 254.36 | 378.04 | 5.4 | 70.00 | 89000 | 0.00079 |
Comparison of PGA expression for different clones of recombinant E. coli
The most recent and relevant results reported for PGA expression using different clones of
E. coli
and different induction strategies are presented in Table
4
. Due to the high cell concentration reached, the volumetric enzyme activity and productivity obtained in this work were superior to all the values reported using
rE. coli,
in the literature to date. The specific PGA activity (HCDC and auto-induction) was higher than the best published values [
6
,
33
]. These results demonstrate the importance of identifying cultivation conditions that can contribute to the twin goals of increased biomass formation and enhanced gene expression. In the present study, the use of a low induction temperature allied to a fed-batch cultivation strategy using complex medium was crucial for achievement of a superior enzyme titer and maximization of productivity.
Table 4
PGA production in various E. coli expression systems for bioreactor cultures carried out under different induction strategies
| E. colistrain/construction | Ind. | Op. mode | Tind(°C) | [Biomass] (gDCW L-1) | EAsp(IU DCW-1) | Vol. Enz.Act. (IU mL-1) | Product. (IU mL-1 h-1) | Ref. |
| --- | --- | --- | --- | --- | --- | --- | --- | --- |
| RE3/ pKA18 | Phenyl acetic acid | Batch | 28 | 5 | 1000 | 4.5 | 0.28* | [33] |
| MDDP7/ pTrcKnPAC2902 | IPTG | Fed-batch | 28 | 33 | 1020* | 37.5 | 0.48* | [6] |
| W3110/pPA102 | Cheese whey | Batch | 29 | 1.5 | 781 | 0.901 | 0.053* | [23] |
| 9633/pGL-5 | IPTG | Fed-batch | 30 | 96.9* | 157* | 15 | 0.63* | [24] |
| BL21(DE3)/pET28b | IPTG | Batch | 28 | 12 | 800 | 10 | 0.42* | [21] |
| DH5α/ Psmlfpga | IPTG | Batch | 30 | 21.7* | 153 mg gDCW-1 | 79.88 | 0.67* | [22] |
| DH5α/pET30b | Constitutive | Batch | 28.5 | 4.5 | NA | 43 | 2.58* | [20] |
| BL21(DE3)/pT101/D-TOPO | Lactose | Continuous fed-batch | 20 | 100 | 2000 | 190 | 7.8 | This work |
| BL21(DE3)/pT101/D-TOPO | Lactose | Intermittent fed-batch | 20 | 38 | 2800 | 94 | 3.9 | This work |
Conclusions
High enzyme concentration (208222 IU L-1) and productivity (6941 IU L-1 h-1) were achieved for the continuous fed-batch culture with complex medium. Using the auto-induction strategy, both enzyme productivity and concentration can be limited by the accumulation of biomass that may occur in this operational mode. Nevertheless, it remains a very attractive approach, because an enzyme extract with high PGA activity (130 IU per mL of centrifuged cell lysate) can be obtained in just 15 h of simple batch culture, even without an additional pulse of lactose. The results obtained indicate that the innovative high cell density strategy used in this work, combining exponential glycerol feeding, an intermittent lactose supply, and a low induction temperature (20°C), is a promising technique for on-demand penicillin G acylase production by recombinant E. coli cells at lower production cost.
Declarations
Acknowledgements
The authors would like to thank the São Paulo State Research Foundation (FAPESP) (process 2009/00177-2), the National Council for Scientific and Technological Development (CNPq/Brazil) and the Brazilian Federal Agency for Support and Evaluation of Graduate Education (CAPES) for funding this work. We also acknowledge Prof. Dr. Laura Pinotti and Amadeus Gomes de Azevedo for technical support as well as Prof. Dr. Ilton José Baraldi for helping us with statistical analysis.
Authors' Affiliations
(1)
Chemical Engineering Department, Federal University of São Carlos (UFSCar), São Carlos, Brazil
(2)
Institute of Chemistry, Federal University of Goiás, Goiânia, Brazil
Copyright
© Vélez et al.; licensee BioMed Central Ltd. 2014
This article is published under license to BioMed Central Ltd. This is an open access article distributed under the terms of the Creative Commons Attribution License (http://creativecommons.org/licenses/by/2.0), which permits unrestricted use, distribution, and reproduction in any medium, provided the original work is properly cited.