Methodology article

Open Access
Overview of methodologies for T-cell receptor repertoire analysis
BMC Biotechnology
2017
17:61
Received: 4 April 2017
Accepted: 26 June 2017
Published: 10 July 2017
Abstract
Background
The T-cell receptor (TCR), located on the surface of T cells, is responsible for the recognition of the antigen-major histocompatibility complex, leading to the initiation of an inflammatory response. Analysing the TCR repertoire may help to gain a better understanding of the immune system features and of the aetiology and progression of diseases, in particular those with unknown antigenic triggers. The extreme diversity of the TCR repertoire represents a major analytical challenge; this has led to the development of specialized methods which aim to characterize the TCR repertoire in-depth. Currently, next generation sequencing based technologies are most widely employed for the high-throughput analysis of the immune cell repertoire.
Results
Here, we report on the latest methodological advancements in the field by describing and comparing the available tools; from the choice of the starting material and library preparation method, to the sequencing technologies and data analysis.
Finally, we provide a practical example and our own experience by reporting some exemplary results from a small internal benchmark study, where current approaches from the literature and the market are employed and compared.
Conclusions
Several valid methods for clonotype identification and TCR repertoire analysis exist, however, a gold standard method for the field has not yet been identified. Depending on the purpose of the scientific study, some approaches may be more suitable than others. Finally, due to possible method specific biases, scientists must be careful when comparing results obtained using different methods.
Keywords
T-cell receptor (TCR)TCR profilingTCR repertoireImmune repertoireImmunogeneticsImmunogenomicsVdjCDR3ClonotypeTarget sequencing
Background
T cell mediated antigen recognition depends on the interaction of the T-cell receptor (TCR) with the antigen-major histocompatibility complex (MHC) molecules (Fig.
1a
). TCRs are highly diverse heterodimers, consisting of a combination of α and β chains (αβ TCR) expressed by the majority of T cells, or γδ chains (γδ TCR) expressed by T cells in peripheral blood (1–5%) and T cells found at mucosal sites [
1
]. Similar to immunoglobulins expressed by B cells – membrane bound immunoglobulins are often referred to as B-cell receptors (BCRs) – the TCR chains consist of a variable region, important for antigen recognition, and a constant region. The variable region of TCRα and δ chains is encoded by a number of variable (V) and joining (J) genes, while TCRβ and γ chains are additionally encoded by diversity (D) genes [
2
,
3
]. During VDJ recombination, one random allele of each gene segment is recombined with the others to form a functional variable region (Fig.
1b
). Recombination of the variable region with a constant gene segment results in a functional TCR chain transcript. Additionally, random nucleotides are added and/or deleted at the junction sites between the gene segments. This process leads to strong combinatorial (depending on which gene regions will recombine) and junctional diversity (which and how many nucleotides will be added/deleted), resulting in a large and highly variable TCR repertoire, which will ensure the identification of a plethora of antigens. Additional diversity is achieved by the pairing of α and β or γ and δ chains to form a functional TCR [
4
].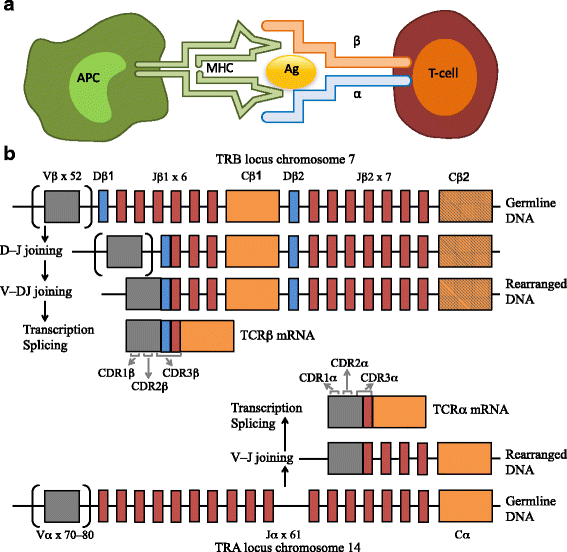 Each TCR chain contains three hypervariable loops in its structure, termed complementarity determining regions (CDR1–3). CDR1 and 2 are encoded by V genes and are required for interaction of the TCR with the MHC complex. CDR3, however, is encoded by the junctional region between the V and J or D and J genes and is therefore highly variable. It plays an essential role in the interaction of the TCR with the peptide-MHC complex, as it is the region of the TCR in direct contact with the peptide antigen. For this reason, CDR3 is often used as the region of interest to determine T cell clonotypes, as it is highly unlikely that two T cells will express the same CDR3 nucleotide sequence, unless they have derived from the same clonally expanded T cell [2, 4].
The sum of all TCRs by the T cells of one individual is termed the TCR repertoire or TCR profile. The TCR repertoire can change greatly with the onset and progression of diseases, which is why scientists are becoming more and more interested in determining the immune repertoire status under different disease conditions, such as cancer, autoimmune, inflammatory and infectious diseases. For example, Muraro et al. used the TCR repertoire to analyse the effect of autologous stem cell transplantation on T cell populations in multiple sclerosis patients [5]. In cancer, cytotoxic T cells can kill tumour cells upon recognition of tumour specific antigens. Some studies have tried to identify specific T cell clonotypes involved in this process by analysing tumour infiltrating lymphocyte repertoires [6–8].
The main challenge while studying the immune repertoire is its diversity. VDJ recombination of the different TCR genes could theoretically generate between 1015 and 1020 TCR chains. Despite this, the actual diversity present in a human body is estimated at around 1013 different clonotypes [9], implying that the afore-described seemingly random TCR development is obviously not random at all and is subject to different constraints. Moreover, while there are TCRs that are common in the general population, recent high-resolution studies have shown that the majority of TCRs is rare (in analogy to common vs. rare genomic variants) [10, 11]. This is one of the reasons why precise methods are necessary to properly investigate complete individual immune-repertoires. In the past decades, different techniques were developed which enabled the study of the immune repertoire. Monoclonal antibodies allowed the analysis of specific V gene subgroups by fluorescence microscopy or flow cytometry, while quantitative polymerase chain reaction (PCR) strategies, in parallel with spectratyping techniques, were able to provide a rather low-resolution overview of the repertoire [12]. Despite these methods, for many years technical limitations made it difficult to create a comprehensive overview of real human TCR repertoires, until highly specific methods based on next generation sequencing (NGS) were developed, facilitating the parallel analysis of millions of TCR sequences. Nevertheless, it is still difficult to define a gold standard method, as every available method has its advantages and disadvantages.
In this article, we provide an overview of the currently available methodologies for TCR repertoire analysis, and we also describe the different aspects that a scientist should consider when choosing the appropriate method for the research question to be answered. We performed a small benchmark experiment that comprises some but not all available protocols for NGS-based immune repertoire analysis, and while our benchmark is by no means comprehensive and exhaustive, our results highlight some characteristics of the different methodologies and the approach in general that may serve as a guide for scientists that are interested and new in the field of immunogenetics.
Some publications focusing on immune repertoire profiling are already available and constitute an important source of information for any scientist interested in this research area [12–19]. However, direct comparisons and benchmarks of the most common methods are scarce.
Results
We performed experiments using two of the methods presented above as the most common approaches for bulk immune repertoire sequencing, namely multiplex PCR and 5'RACE-based PCR, using total RNA as starting material. In addition, we compared our results with results provided by the BGI immune repertoire sequencing service, based on a multiplex PCR approach starting from gDNA.
Here, we present some considerations based on our own experiments and analyses, which may help to better understand the methods described until now.
Replicate correlations
iRepertoire® library preparation and 5'RACE-based PCR were performed in duplicates. Analysis of 5'RACE-based PCR results was performed in parallel for UMI corrected versus non-UMI corrected data. Previous studies have demonstrated the difficulty of detecting the entire TCR diversity of a sample, as it can vary consistently even between very close anatomical locations or between time points. We thus decided to use replicates of the same sample to better assess the stability of TCR diversity, especially when using superficial sequencing [11].
As mentioned before, quantity of starting material and sequencing depth play a major role in defining the extent of the captured TCR diversity. A popular recommendation is to use 100,000 reads to more than efficiently cover the diversity in 10 ng of total RNA [
48
]. We opted for a superficial sequencing approach (1 million reads for 500 ng total RNA), aiming to detect only the most abundant TCR clonotypes and to determine how many were identified in both duplicates, despite the use of a sequencing depth which likely does not cover the complete diversity present in the sample. For each method (iRepertoire, 5'RACE and 5'RACE UMI corrected) we compared the percentage of clonotypes shared between duplicates (Table
2
), assessing their capacity of capturing TCR diversity.
Table 2
Percentages of CDR3 nucleotide sequences detected in both duplicates of the same method
Replicates shared

clonotypes percentages

α chain

β chain

iRepertoire

5'RACE

5'RACE + UMI

iRepertoire

5'RACE

5'RACE + UMI

All clonotypes

36

44

20

35

52

25

Top 300 clonotypes

31

26

27

35

32

37

Top 100 clonotypes

37

31

36

46

51

51

Top 50 clonotypes

45

44

50

38

64

64

Top 20 clonotypes

60

65

70

50

80

75
When comparing the total detected repertoire, only 17–52% of observed clonotypes were shared between duplicates (Table 2). However, when we compared only the most abundant clonotypes of each duplicate (the 300, 100, 50 and 20 most abundant clones), we observed a drastic increase in the percentage of shared clonotypes (50–80%). The highest overlap was observed when comparing the most frequent 50 to 20 clonotypes. Thus, despite superficial sequencing depth, we could successfully detect the majority of the most abundant clonotypes in the samples. The increment in the percentage of shared species was even more marked for the UMI corrected data, demonstrating the usefulness of this strategy for error correction. Shared clonotype percentages were comparable between α and β chains.
Out of frame and stop codon containing sequences
During TCR data analysis it is common to encounter non-functional CDR3 sequences, which are out of frame or stop codon containing sequences. MiXCR labels these sequences with particular symbols, making it possible to exclude these sequences from the clonotype list.
We analysed the percentages of these non-functional sequences in the data obtained from the iRepertoire® kit or 5′ RACE based PCR and in the data provided by BGI, which we re-processed with MiXCR (Table
3
). Our results imply that the percentage of both out of frame and stop codon containing sequences is higher in α chain results as compared to β chains, and that out of frame sequences are more commonly detected, as compared to stop codons. iRepertoire results appeared to contain the least non-functional CDR3 sequences. Samples analysed by BGI contained a significantly higher percentage of non-functional CDR3 sequences as compared to other methods, which was to be expected, as gDNA was used as starting material and the sequencing depth was significantly higher. As anticipated, the percentages of non-functional sequences decreased after correcting for UMIs. Percentages were comparable between the two patients we analysed.
Table 3
Percentages of detected CDR3 sequences that are out of frame or contain stop codons
Out of frame and stop codons

Clonotypes percentages

α chain

β chain

IRepertoire

5'RACE

5'RACE + UMI

BGI

IRepertoire

5'RACE

5'RACE + UMI

BGI

Patient 1

Out of frame CDR3%

6.3

9.5

8.4

36.5

1.2

3.1

2.7

16.3

Stop codons in CDR3%

1.2

2.0

1.5

8.3

0.3

0.8

0.8

4.5

Patient 2

Out of frame CDR3%

7.5

9.0

7.6

39.1

1.0

1.9

1.7

11.3

Stop codons in CDR3%

1.1

1.5

1.4

7.3

0.2

0.4

0.4

3.2
Method comparison
Here, we compared results from three different methods performed with the same patient samples, namely BGI service (using gDNA), iRepertoire® kit and the in-house established 5'RACE-based PCR (using RNA). In addition, for 5'RACE data we compared both UMI-corrected and not corrected data. After clonotype grouping and export, all datasets were filtered by retaining only clonotypes detected with two or more counts. To make data sets with different sequencing depths comparable, we decided to assess only the most abundant clonotypes detected by each method. To set a threshold, we determined which methodology provided the lowest total number of detected TCR clonotypes. This applied to UMI-corrected 5′ RACE based PCR (1300–2400 species, depending on chain and patient), which was anticipated due to the strict filtering steps applied during correction. We therefore only considered the most abundant species detected by other methods above this threshold and excluded any sequences below it. Our aim was to determine if high frequency TCR clonotypes and their relative abundancies could consistently be captured using these different library preparation approaches.
When analysing the overlap of TCR clonotypes detected by the different methods, we found that less than 10% were captured by all four methods (Fig.
3
, Additional file
1
: Figure S1). These species were, however, detected at high abundance in all methods. The majority of clonotypes detected by one of the methods were uniquely detected by that particular method (up to 75%), at least among the highly abundant clones. As anticipated, the strongest overlap in species was observed between 5′ RACE-based PCR and UMI-corrected 5′ RACE-based PCR. The percentage of sequences commonly captured by three or all methods increased when considering only the highly abundant clonotypes (Additional file
1
: Figure S2). This is in concordance with the observations made for replicate correlations (Table
2
). However, clones common to all methods were 19–25% when comparing the top 100 clones and overlap not higher than 37%. These results demonstrate not only the diversity of the TCR repertoire, but also how clonotype abundance within the same sample may vary when using different techniques and correction methods. Indeed, clonotypes detected as highly abundant by only one method, may still be detected in others, but at low counts, resulting in inconsistent information about relative species frequencies. Using strict criteria of UMI correction lead to an involuntary loss of information, reflected by the fact that not UMI corrected clonotypes detected by multiple methods were lost after UMI correction. However, less stringent and conservative methods for UMI correction are available [
50
] and have recently been discussed by Smith, Heger and Sudbery [
94
].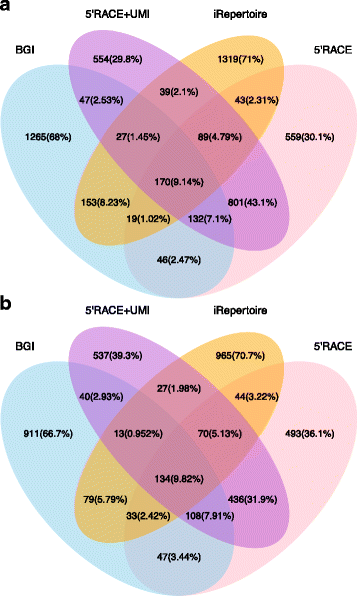 Exemplary analysis of gene usage and diversity
As described in the data analysis paragraph, we assessed the V and J gene usage in our samples for α and β chain.
The analysis showed a method-dependent gene usage bias for both the V and the J genes of α and β chain (Fig.
4
and additional file
1
: Figure S3, respectively). Relative differences in gene usage between the two patients seem to be conserved among different methods, in particular for the most used genes. For example, TRAV8–6 appears to be more used in patient 1 compared to patient 2 and vice versa for TRAV1–2. However, and most importantly, a method-dependent bias in the gene usage was observed. A possible explanation for such differences across methods could be the use of different primers during library preparation. We believe this is a critical observation and an aspect that should be considered prior to attempting to compare results derived from different technologies.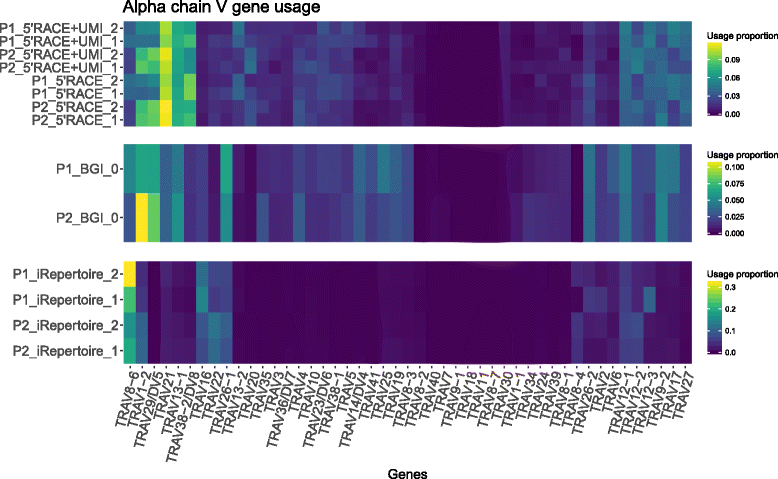 In addition to gene usage, we also performed an exemplary analysis to study the diversity among different samples and, in this particular case, methods. Results are shown in Fig.
5
.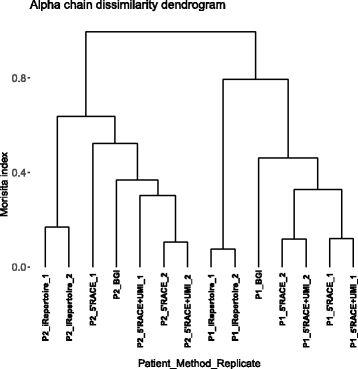 As expected, samples from the same patient cluster together, as well as replicates from the same method. iRepertoire and 5'RACE PCR results seem to be the most distant from each other, while BGI results appears to cluster more with 5'RACE results, compared to iRepertoire (Fig. 5, Additional file 1: Figure S4).
Discussion
From our own experience, we learned that different methods are effective in TCR species identification, but to a different extent.
We prefer RNA over gDNA as starting material, because, even if more unstable, RNA contains the final TCR transcript, it does not add noise to the results due to incomplete VDJ-recombination products, and it allows for the use of the 5'RACE method. This is the approach we suggest for library preparation, for two main reasons: (1) it bypasses the amplification biases associated with multiplex PCR and (2) it is suitable for use with UMIs.
In general, we consider low abundance TCR counts as unstable, unless using particularly effective error correction strategies, such as UMIs. These error correction strategies need to be handled with care in order to use the right filtering criteria that fit the needs of the study. If the purposes of the project include analyses of low abundant species, we suggest a strict UMI filtering.
We did not observe a higher overlap with other methods while comparing UMI vs non UMI corrected data. Nevertheless, the concept behind UMI usage remains valid and we believe it should become mandatory in TCR analysis methodologies, in order to avoid PCR distortions, which currently increase the complexity of comparing samples and methods.
To avoid setting up the methods in-house, different kits are commercially available, with or without sequencing service (Table 1). When sequencing in-house, it is important to select the appropriate sequencing depth in relation to the quantity of starting material. More superficial sequencing approaches are cheaper, but may not be able to reflect the entire diversity and are not suitable for rare TCR analysis. However, superficial sequencing may suffice when only abundant clonotypes are of interest. Independent of which method is chosen, one should keep in mind that a uniform quantity and quality of starting material is essential for the positive outcome of any experiment.
Interestingly, we were able to detect some TCR species using low-coverage sequencing, which were not detected within the BGI data. We believe that this may be due to the difficulty of capturing the entire TCR diversity, even with deep sequencing, considering the extremely high variability of the target. Nevertheless, highly abundant species showed a significant overlap between methods. We think that deep sequencing is preferable for studies which aim to extensively analyse the repertoire of cohorts and populations, while low-coverage sequencing might be preferential for studies directed at the identification of already known or abundant clonotypes. Also, due to the high repertoire diversity, performing biological replicates when possible can help reinforce the analysis findings.
Conclusions
Table
4
summarizes the advantages and disadvantages of every method that we employed in our studies.
Table 4
Advantages and disadvantages of the tested techniques
+

-

BGI

• Deep sequencing: more complete data

• Raw data and analysis provided by the company

• Company service: no hands-on work

• gDNA as starting material: better clonotype quantification

• Expensive compared to in-house methods

• Multiplex PCR amplification bias

• Limited PCR and sequencing errors correction

• gDNA as starting material: not final TCR product

5'RACE

• In-house method: control of all steps, relatively cheap

• No multiplex PCR bias

• Unique Molecular Identifiers: correction for PCR and sequencing errors

• Superficial sequencing: less diversity detected

• Not high-throughput: small sample number processed per time

iRepertoire®

• Kit: easy and fast hands-on (less than one day)

• De-multiplexing and basic data analysis made by the company. FASTA files provided

• Multiplex PCR amplification bias

• Limited PCR and sequencing errors correction
It is important to consciously select a method by keeping in mind strengths and weaknesses of each approach, as well as the goal of the scientific project which the method will be applied to. It is also crucial to be careful when comparing relative abundances in data obtained with different methods, as they may be affected by method specific biases as PCR amplification efficiency discrepancies due to different primers.
Many of the mentioned methods may also be applicable to B-cell receptor analyses and as immune repertoire studies are increasing in number and complexity, we believe that an educated choice of methodology is one of the most important steps to achieve the desired results in the growing field of "immunogenetics".
Methods
Sample selection
For benchmarking we used two explanted liver tissue samples from patients with primary sclerosing cholangitis (PSC), which were previously included in a study analysing PSC-related TCR repertoires [95]. PSC is a chronic inflammatory disease of the liver affecting the intra- and extra- hepatic bile ducts. PSC is characterized by high T cell infiltration; thus, it provides a suitable system to study T-cell receptor (TCR) repertoire signatures. To date, it is completely unknown what causes PSC and which is the triggering and/or driving antigen. Detecting disease-associated TCR signatures would be an important step towards the identification of the triggering/driving antigen. Therefore, systematic TCR profiling experiments in the organ of interest are of great importance to further understand the immunogenetics of PSC and of other immune-mediated diseases of unknown etiology.
gDNA and RNA were isolated simultaneously from whole fresh-frozen disease-affected tissue using the AllPrep DNA/RNA Mini Kit from Qiagen.
iRepertoire ®
As an exemplary method for RNA-based multiplex PCR we selected the iRprofile kit from iRepertoire Inc. We processed both samples in duplicates using 500 ng of total RNA. This kit is highly customizable and offers options for both T and B cell receptor sequencing, different receptor chains (αβ, γδ), gDNA or RNA, mouse or human, and sequencing platforms (Illumina, Roche 454). iRprofile contains separate reactions mixes for α and β chains, each uniquely barcoded. The protocol consists of two consecutive PCRs using multiplex primers specific for the V and J genes of the mentioned chains. The resulting products are then ready for sequencing. The sequencing data may then be sent to the company for demultiplexing. Basic data analysis is also performed and demultiplexed data may be requested as FASTA files.
5'RACE
The 5'RACE method we chose is an in-house adaptation of the protocol published by Mamedov et al. 2013 [48]. Briefly, the method entails 5'RACE-based cDNA synthesis using a 5′-template switch adapter containing 12 random nucleotides forming a UMI, followed by two consecutive nested PCRs. During the second PCR, Illumina adaptors are incorporated [96]. Consequently, custom sequencing primers were used in the following MiSeq run. α and β chains were amplified in the same reaction for cDNA synthesis and PCR 1, and they were separated and uniquely barcoded during PCR 2. Samples were processed in duplicates using 500 ng of total RNA.
BGI
5 μg of gDNA were sent to BGI for both α and β chain immune repertoire analysis (2.5 μg/chain) based on multiplex PCR. BGI performed basic data processing which included data filtering, removal of adapter contamination and low quality reads from raw reads and elimination of sequencing background. Alignment to V/D/J gene segments was carried out separately in IMGT database, and data were realigned for best results. BGI also carried out structural analysis which included CDR sequence and base composition, V/D/J recombination insertion and deletion. Data analysis included immune repertoire profiling and differential analysis of diversity between samples, differential expression analysis of clones between samples and differential expression analysis of clones between groups. In addition to complete data analysis all raw FASTQ files were provided by BGI.
Sequencing and data analysis
RNA sequencing was performed on an Illumina MiSeq 250PE. The sequencing platform used by BGI was Hiseq2000 100PE.
For data analysis, we used MiXCR (version 2.1.1), obtaining a ranked table of clonotypes including relative species abundances, nucleotide and amino acid CDR3 sequences and respective VDJ alleles as output. Sequences containing the same UMI were grouped under the same UMI signature. For each UMI, only the most abundant sequence was selected, while the others were considered PCR or sequencing errors (script used for UMI filtering is available as Additional file 2). UMI filtered results represent absolute mRNA transcript relative abundances in the original sample. BGI provided data obtained using an older version of the MiXCR software (MiTCR), which is why we reprocessed the raw data with the same version of the software we used for iRepertoire and 5'RACE data. Analysis parameters were optimized based on starting material.
Gene usage analysis was performed using the "geneusage" function of the "tcR" R package, while diversity analysis was performed using the "vegdist" function of the "Vegan" R package.
Abbreviations
5'RACE:

5′ rapid amplification of cDNA ends
BCR:

B-cell receptor
C:

Constant
CDR:

Complementary determining region
D:

Diversity
dCTP:

Deoxycytidine triphosphate
FACS:

Fluorescence-activated cell sorting
FOXP3:

Forkhead box P3
gDNA:

Genomic DNA
HTS:

High-throughput sequencing
IL17A:

Interleukin-17A
J:

Joining
MHC:

major histocompatibility complex
Mplex-PCR:

Multiplex PCR
mRNA:

messenger RNA
NGS:

Next generation sequencing
PCR:

Polymerase chain reaction
PE:

Paired-end
PSC:

Primary sclerosing cholangitis
TCR:

T-cell receptor
TNF:

Tumour necrosis factor
UMI:

Unique molecular identifier
V:

Variable
Declarations
Acknowledgements
Andre Franke, Marie Dowds and Elisa Rosati receive infrastructure support from the DFG Cluster of Excellence No. 306 "Inflammation at Interfaces" and the DFG Research Training Group (RTG) No. 1743 "Genes, Environment and Inflammation".
Funding
This work was founded by the Norwegian PSC Research Center (NoPSC) and the DFG Cluster of Excellence No. 306 "Inflammation at Interfaces".
Availability of data and materials
The datasets analysed during the current study are available in the European Nucleotide Archive (ENA), with study accession number PRJEB21352 (http://www.ebi.ac.uk/ena/data/view/PRJEB21352).
Authors' contributions
ER performed the RNA-based benchmarking experiments, data analyses and drafted the first version of the manuscript. EL and THK provided samples for the benchmarking and data. EKH helped to design manuscript Figs. MD, THK and AF designed and supervised the work. All authors critically read the manuscript and approved the final version.
Ethics approval and consent to participate
All samples were obtained with Local Research and Ethics approval and informed patient consent (LREC references: 2003/242 South Birmingham REC, renewed 2012; and 06/Q2702/61 Black Country REC).
Consent for publication
Not applicable.
Competing interests
The authors declare that they have no competing interests.
Open AccessThis article is distributed under the terms of the Creative Commons Attribution 4.0 International License (http://creativecommons.org/licenses/by/4.0/), which permits unrestricted use, distribution, and reproduction in any medium, provided you give appropriate credit to the original author(s) and the source, provide a link to the Creative Commons license, and indicate if changes were made. The Creative Commons Public Domain Dedication waiver (http://creativecommons.org/publicdomain/zero/1.0/) applies to the data made available in this article, unless otherwise stated.
Authors' Affiliations
(1)
Institute of Clinical Molecular Biology, Kiel University, Kiel, Germany
(2)
Centre for Liver Research and NIHR Birmingham Liver Biomedical Research Unit, Institute of Immunology and Immunotherapy, University of Birmingham, Birmingham, UK
(3)
Norwegian PSC Research Center, Department of Transplantation Medicine, Division of Surgery, Inflammatory Medicine and Transplantation, Oslo University Hospital Rikshospitalet, Oslo, Norway
(4)
Research Institute of Internal Medicine, Division of Surgery, Inflammatory Medicine and Transplantation, Oslo University Hospital Rikshospitalet, Oslo, Norway
(5)
K.G. Jebsen Inflammation Research Centre, Institute of Clinical Medicine, University of Oslo, Oslo, Norway
(6)
Institute of Clinical Medicine, Faculty of Medicine, University of Oslo, Oslo, Norway
(7)
Section of Gastroenterology, Department of Transplantation Medicine, Division of Surgery, Inflammatory Medicine and Transplantation, Oslo University Hospital Rikshospitalet, Oslo, Norway