Research article

Open Access
A focused antibody library for selecting scFvs expressed at high levels in the cytoplasm
BMC Biotechnology
2007
7:81
Received: 18 June 2007
Accepted: 22 November 2007
Published: 22 November 2007
Abstract
Background
Intrabodies are defined as antibody molecules which are ectopically expressed inside the cell. Such intrabodies can be used to visualize or inhibit the targeted antigen in living cells. However, most antibody fragments cannot be used as intrabodies because they do not fold under the reducing conditions of the cell cytosol and nucleus.
Results
We describe the construction and validation of a large synthetic human single chain antibody fragment library based on a unique framework and optimized for cytoplasmic expression. Focusing the library by mimicking the natural diversity of CDR3 loops ensured that the scFvs were fully human and functional. We show that the library is highly diverse and functional since it has been possible to isolate by phage-display several strong binders against the five proteins tested in this study, the Syk and Aurora-A protein kinases, the αβ tubulin dimer, the papillomavirus E6 protein and the core histones. Some of the selected scFvs are expressed at an exceptional high level in the bacterial cytoplasm, allowing the purification of 1 mg of active scFv from only 20 ml of culture. Finally, we show that after three rounds of selection against core histones, more than half of the selected scFvs were active when expressed in vivo in human cells since they were essentially localized in the nucleus.
Conclusion
This new library is a promising tool not only for an easy and large-scale selection of functional intrabodies but also for the isolation of highly expressed scFvs that could be used in numerous biotechnological and therapeutic applications.
Keywords
Loop LengthHelper PhageAmino Acid DistributionCDR3 SequenceFinal Library
Background
Intrabodies are defined as antibody molecules which are ectopically expressed inside the cell [1, 2]. The concept of using intrabodies can result in the induction of a phenotypic knockout either by directly inhibiting the function of the targeted antigen or by diverting a protein from its normal intracellular location [3]. The main advantage of using intrabodies instead of RNA inhibition is that the inhibition is done at the protein level. As such, it is possible to target post-translational modifications or a specific conformation of the antigen [4]. In addition, by targeting antibody molecules to specific subcellular compartments using addressing signals [5], the intrabody induced phenotypic knockout can be restrained to a specific cell compartment. Altogether, this makes intrabodies a very promising tool for the study of protein function in vivo [6] and for the development of highly specific therapies [7].
One of the main problems associated with intrabodies is that most scFvs are not able to fold under the reducing conditions of the cell cytosol and nucleus, where most of the interesting targets are located. This is thought to be due to the limited stability of scFvs after the two conserved disulfide bonds are reduced, as occurs in the cell cytosol [8]. Indeed, in vitro, most of the scFvs cannot be renatured under reducing conditions [9, 10]. To be an efficient intrabody a scFv must thus present a high in vitro stability [11]. Recent studies using either statistical analyses of scFv sequences [12] or an experimental approach [13] have shown that less than 1% of the scFvs are stable enough to be high quality intrabodies and that only about 10% have a "moderate chance" to be functional in vivo. In addition, even if a scFv protein is indeed stable enough in its reduced form to be expressed and active in vivo, other parameters such as protease susceptibility [14] or folding kinetics [10] may also influence the final in vivo fate of the protein and are critical for intrabody expression and activity [15].
In order to get an active intrabody it is thus usually needed to screen several clones in vivo, looking for the best expressed scFv with a biological activity. In order to facilitate this step, it has been proposed to first screen interesting clones using two-hybrid systems before testing them in cells [12] or even to select them directly in yeast [6]. Several very potent intrabodies have been isolated with such approaches [16] and this has allowed the isolation of several highly stable antibody frameworks [13].
As a more general strategy authors have proposed to stabilize scFvs in vivo using a fusion partner like the Maltose Binding Protein [17] or to construct a scFv library tailored for intracellular expression [15]. Ideally, such a library should only contain scFvs able to fold under the reducing conditions that pertain in the cell cytoplasm. Several groups have constructed antibody libraries based on a small number [18, 19] or even a single framework [15, 20–22]. In addition, several studies have shown that the framework stability and folding properties are at least partially conserved upon loop grafting to confer a new specificity. This is both true in the periplasm [23] and in the cytoplasm [24] of Escherichia coli for scFv and VHH domains [25]. These findings suggest that it may be possible to construct a scFv library based on a single optimized framework for intrabody selection.
We have recently obtained by molecular evolution a human scFv, called scFv13R4, which is expressed at high levels in E.coli cytoplasm [26]. This scFv is also expressed under a soluble and active conformation in yeast [27] and mammalian cells [3, 5, 28]. This scFv is very stable in vitro and can be renatured in presence of a reducing agent. In addition, analysis of its folding kinetics showed that it folds faster than the parent scFv and aggregates more slowly in vitro [10]. The mutations isolated are mainly located in the VH domain and seem to be highly specific to this particular scFv since they cannot be transferred to a very homologous VH domain [29]. Interestingly, most of these mutations decreased the homology between the original scFv13 sequence and the intrabody consensus sequence described by Visintin et al. [30] underlining again their non-general nature.
In this paper, we have constructed a human scFv library, based on the framework of the optimized scFv13R4, that contains more than a billion clones. By using optimized CDR3 loops and filtering steps to eliminate the non-expressed clones, we only retained in the library the cytoplasmically expressed scFvs without compromising the diversity, as tested with several proteins used as antigen. Most of the scFvs in the library are expressed in E.coli and in mammalian cytoplasm, and are functional as intrabodies. This new library is a promising tool for facile and large-scale selection of functional intrabodies.
Results
The aim of this project was to construct and validate a human scFv library, based on a single framework, optimized for intracellular expression and displayed on filamentous phage. To achieve this goal, the following principles have been used during library construction (Figure
1a
): i) We used the antibody framework of the previously optimized scFv13R4 human scFv [
26
]; ii) We introduced diversity only in the CDR3 loops and mainly in the H3 region by using degenerate oligonucleotides [
20
]; iii) We designed the oligonucleotides so as to have the same representation of the amino acids as that observed in natural human CDR3 loops [
31
,
32
]; iv) We removed the non expressed VH and VL sequences by fusing the scFv genes to the CAT enzyme and selecting for CAM resistance [
33
,
34
]. Altogether, these principles should result in a large fully human synthetic scFv library optimized for intrabody selection.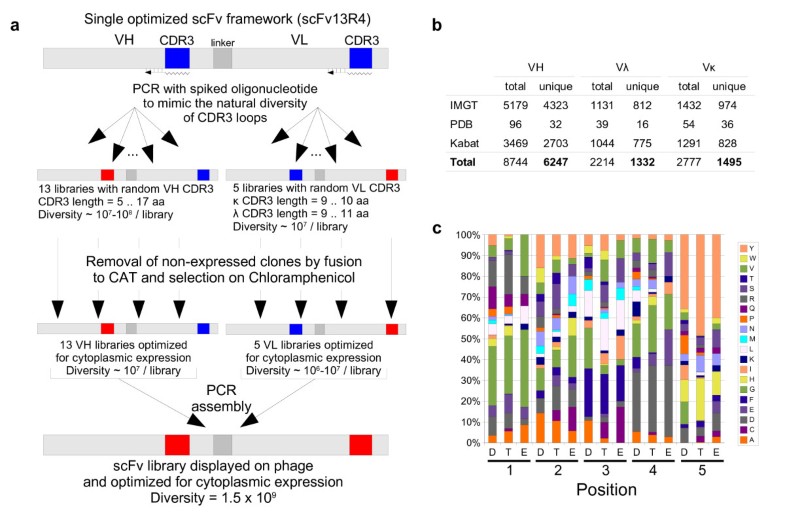 Discussion
As noted by several authors [6], despite very interesting applications in the proteomic [19] and therapeutic fields [7], intracellular immunization remains a difficult approach, and its full potential in the post-genomic area remains to be demonstrated. The usual approach to obtain efficient intrabodies requires two successive steps. First, a panel of antibodies against the target antigen must be isolated. Due to the availability of very high quality naive antibody libraries displayed on phage, this step is now easily accomplished by phage-display and can be automated in order to isolate binders against several proteins in parallel [50]. In a second step, these antibody fragments (scFv or Fab) must be tested in vivo for their ability to inhibit their target. However, most scFvs do not fold properly under the reducing conditions that pertain in the cytosol and the nucleus of the cell where most of the interesting targets are located. This results in the formation of aggregated and inactive scFvs, unable to interact with their target. This makes the process of identifying intrabodies from regular scFv libraries a difficult procedure even when the screening is done in vivo using two-hybrid system [12]. In addition, this low proportion of active scFvs in the current libraries makes the isolation of intrabodies against different epitopes of the same protein at best difficult if not impossible. More recently, to avoid this two-step procedure, Visintin and collaborators [6] demonstrated that it is possible to directly select, in a single step, efficient intrabodies in yeast using the two-hybrid system. However, the relatively low efficiency of yeast transformation restrained the size of the library to 107.
In this report we describe the construction and use of a large phage displayed library of scFvs optimized for intracellular expression. The library was constructed on a single antibody framework previously evolved to improve its activity inside the cytoplasm [26]. The parental scFv is very stable, has favorable folding and aggregation kinetics [10] and is expressed at very high levels in all tested cell types [5, 26, 27]. Having a single framework for the construction of a library should allow more comparable expression levels between clones since most of their sequences are conserved. In addition, because CDR sequences play also a role in scFv folding and expression, we anticipated that the expression level of the clones would still exhibit some variability. To minimize these differences, we only introduced variability in the CDR3 loops for three main reasons: these loops are the most variable in antibodies and are thus more likely to be highly tolerant to sequence and length variations; the parental scFv had gained mutations in the CDR2 loops during its evolution process and we did not want to reverse back these mutations; it has been previously shown that introduction of variability in the CDR3s was enough to generate antibodies against most proteins [19]. In addition, the frequencies of the amino acids in these loops were carefully biased so as to recover the distribution observed among natural human sequences. When the expression levels of randomly picked clones were compared in the cytoplasm, despite some clear differences, a high proportion of them were correctly expressed at high levels both in E.coli and in mammalian cells (Figures 3 &4).
It must be noted that the design of the library allowed in the VL not only the introduction of CDR3s corresponding to the original λ light chain class but also to the κ class. Such a hybrid VL domain with full binding properties has been previously realized by grafting λ CDRs on a κ framework [11], and we have also successfully grafted the CDRs from a mouse κ scFv directed against the human papilloma virus E6 protein [44] on the scFv13R4 λ framework (manuscript in preparation). This is the case of the best isolated anti-tubulin 2F12C scFv since it contains a κ CDR3 close to the CDR3 sequence encoded by human germline IGKV1-16 [36]. This showed that such grafts can produce functional scFv and that the differences in the sequences of the CDR3 loops between the λ and the κ classes are due to evolutionary divergences and not to structural constraints.
A frequent concern when constructing scFv libraries is the simultaneous optimization of the library's diversity and size. Indeed, the size of such a library is limited by the transformation efficiency to about 1010 clones. Given this "limited" number of clones, it is thus of premium importance to avoid non-expressed scFvs or duplicates. To solve this problem we used a two-step procedure. First, we constructed 18 "small" libraries for each CDR3 length (13 VH and 5 VL) and removed from them all the non-expressed clones by fusion to the CAT enzyme, in E.coli cytoplasm, and selection on CAM plates. This step reduced each library diversity by about 10–30%. In a second step we recombined the selected VH and VL libraries at random to generate the final diversity. We made the assumption that if a VH and a VL were expressed when associated respectively with the VL13R4 and the VH13R4, the scFv constituted with these VH and VL would also be expressed, resulting in a library containing only expressed scFvs. As shown in figure 3 this is indeed the case since 19 out of 20 clones picked at random were expressed at least partially under a soluble form in E.coli cytoplasm. Since this selection step was done early during the library construction, the diversity of the final library was only limited by the final transformation. In addition, this recombination step, by generating a high diversity, ensured that all the clones were unique in the final library. Altogether, this approach resulted in a library of 1.5 billion expressed scFvs.
Successful use of scFvs as intrabodies on a large scale requires several essential points to be fulfilled by the library. First, the scFv must be easy to isolate. This is the case here since we were able to isolate binders against all the tested proteins (Figure 5a). Second, the scFv should be able to fold in all the cell compartments, particularly in the reducing ones. Again, this is the case for the scFv library described herein, since more than 80% of the tested clones are at least partially soluble in the cell (Figure 3 &4). In addition, we have shown that good cytoplasmic binders can be obtained from the phage selected scFvs in E.coli (Figure 5b) and in eukaryotic cells (Figure 6). Finally, to get active intrabodies it is important to be able to target any epitope of a protein. It is know that the immune system is able to raise antibodies against essentially any part of the surface of a protein [51], and it remains to be proved that this is also the case with our and other phage displayed libraries. However, the high length diversity introduced in the CDR3 loops should favor a broad diversity of paratope shapes [52] and thus of the epitopes recognized.
Even if the library has been tailored for the isolation of intrabodies, it can also be used as a general purpose library to select scFvs for diagnostic and therapeutic applications. Because we designed the CDR3 diversity using expressed human sequences, the scFvs present in the library are fully human and should not induce an anti-scFv antibody response in patients [41]. However, for such applications, the affinity of the scFv for its target must be very high in order to get a good sensitivity in a diagnostic test or a strong in vivo effect in therapy. Since our library is based on a single framework, it should be fairly easy to improve the affinity of a selected scFv by using, for instance, chain shuffling [53], error-prone mutagenesis [54] or by optimization of the CDR1 and CDR2 loops [20].
Conclusion
This new library is a promising tool not only for an easy and large-scale selection of functional intrabodies but also for the isolation of highly expressed scFvs that could be used in numerous biotechnological applications. The availability of scFvs based on a highly stable framework [10] that are obtainable from E. coli in milligram quantities from a 10 ml culture (Table 2) would be very useful for developing antibody arrays. Because of the human origin of both the framework and binding site regions [41], scFvs isolated from the library should also have therapeutic applications.
List of abbreviations
CAM:

chloramphenicol
CAT:

chloramphenicol acethyl transferase
CDR3:

complementary determining regions 3
GFP:

Green Fluorescent Protein
H3:

heavy chain CDR3
IF:

Immunofluorescence
K3:

κ light chain CDR3
L3:

λ light chain CDR3
Intrabodies:

Intracellular antibodies
scFv:

Single-chain Fv fragment.
Declarations
Acknowledgements
This work was supported by a grant from the Centre National de la Recherche Scientifique program "Protéomique et génie des protéines". JGS acknowledges support from NIH GM 61267. Authors are grateful to Dr. M.H.V. Van Regenmortel for critical reading of the manuscript.
Authors' Affiliations
(1)
CNRS, UMR5160, CRLC, Montpellier Cedex 5, France
(2)
CNRS, Illkirch, France
(3)
Department of Chemistry, University of Pennsylvania, Philadelphia, USA
(4)
Université de Montpellier I, Montpellier, France
Copyright
© Philibert et al; licensee BioMed Central Ltd. 2007
This article is published under license to BioMed Central Ltd. This is an Open Access article distributed under the terms of the Creative Commons Attribution License (http://creativecommons.org/licenses/by/2.0), which permits unrestricted use, distribution, and reproduction in any medium, provided the original work is properly cited.