Research article

Open Access
Sequencing bias: comparison of different protocols of MicroRNA library construction
BMC Biotechnology
2010
10:64
Received: 7 August 2009
Accepted: 6 September 2010
Published: 6 September 2010
Abstract
Background
MicroRNAs(miRNAs) are 18-25 nt small RNAs playing critical roles in many biological processes. The majority of known miRNAs were discovered by conventional cloning and a Sanger sequencing approach. The next-generation sequencing (NGS) technologies enable in-depth characterization of the global repertoire of miRNAs, and different protocols for miRNA library construction have been developed. However, the possible bias between the relative expression levels and sequences introduced by different protocols of library preparation have rarely been explored.
Results
We assessed three different miRNA library preparation protocols, SOLiD, Illumina versions 1 and 1.5, using cloning or SBS sequencing of total RNA samples extracted from skeletal muscles from Hu sheep and Dorper sheep, and then validated 9 miRNAs by qRT-PCR. Our results show that SBS sequencing data highly correlate with Illumina cloning data. The SOLiD data, when compared to Illumina's, indicate more dispersed distribution of length, higher frequency variation for nucleotides near the 3'- and 5'-ends, higher frequency occurrence for reads containing end secondary structure (ESS), and higher frequency for reads that do not map to known miRNAs. qRT-PCR results showed the best correlation with SOLiD cloning data. Fold difference of Hu sheep and Dorper sheep between qRT-PCR result and SBS sequencing data correlated well (r = 0.937), and fold difference of miR-1 and miR-206 among SOLiD cloning data, qRT-PCR and SBS sequencing data was similar.
Conclusions
The sequencing depth can influence the quantitative measurement of miRNA abundance, but the discrepancy caused by it was not statistically significant as high correlation was observed between Illumina cloning and SBS sequencing data. Bias of length distribution, sequence variation, and ESS was observed between data obtained with the different protocols. SOLiD cloning data differ from Illumina cloning data mainly because of distinct methods of adapter ligation. The good correlation between qRT-PCR result and SOLiD data might be due to the similarities of the hybridization-based methods. The fold difference analysis indicated that methods based on hybridization may be superior for quantitative measurement of miRNA abundance. Because of the genome sequence of the sheep is not available, our data may not explain how the entire miRNA bias in the natural miRNAs in sheep or other mammal miRNA expression, unbiased artificially synthesized miRNA will help on evaluating the methodology of miRNA library preparation.
Keywords
Fold DifferenceIllumina Genome AnalyzerAdapter LigationIllumina DatamiRBase Database
Background
MicroRNAs(miRNAs) are an abundant group of small RNAs with length ranging from 18 to 25 nucleotides, averaging 22 nucleotides, and performing post-transcriptional regulation of the expression of genes involved in a wide variety of biological processes. The complex biogenesis of mature miRNAs has recently been reviewed [1]. Sequences of more than 10883 miRNAs have been deposited in the miRBase database [2, 3], the majority of them having been discovered by traditional cloning approach. Bioinformatics predictions with experimental validation indicate that the total number of miRNAs is significantly higher than previously estimated [4]. It is essential to characterize the whole repertoire of miRNAs and to fully understand their integrated expression patterns. The next-generation sequencing (NGS) techniques enable these efforts with lower cost and have been applied in miRNAs studies in many species of animals, plants and viruses.
Sample preparation is of major importance for NGS and assessing the quality of a library preparation by cloning validation before sequencing is necessary [5]. Different commercial protocols for miRNA library preparation have been developed. Illumina, Inc. published a miRNA sample preparation protocol (V1) for SBS sequencing in 2007, which requires a minimum of 4 days of procedure. In 2009 Illumina, Inc. proposed an alternative protocol (V1.5) which only requires one day of sample preparation. Applied Biosystems, Inc. developed a miRNA library preparation protocol for the SOLiD (Sequencing by Oligonucleotide Ligation and Detection) system, also requiring one day procedure, but its adapter ligation principle is based on hybridization. These protocols can be applied in all current sequencing techniques though the downstream procedures can be variable.
The cloning frequency of an individual miRNA should generally reflect its relative abundance in a sample, and the novel NGS methods offering a much richer source of sequence information should provide more accurate quantitative expression measurements [6]. However, in reality biases caused by sample preparation cannot be avoided, sometimes leading to inaccurate conclusions. A systematic bias in the cloning protocol has previously been detected: miRNA clone counts did not correlate well with their concentrations in the pool [7]. Biased cloning efficiencies were also observed for two different miRNAs from the same cluster, leading to discrepancies between cloning frequency and small RNA blot results [8].
Different protocols of library preparation may influence the cloning frequency significantly. The adapter ligation efficiency can be affected by the 5'- and 3'-end nucleotides or the secondary structure of miRNAs, and the number of polymerase chain reaction cycles or gel isolation procedures may also influence the results. In this article we compared sequencing data of libraries constructed by the above-mentioned three different protocols, and validated some results by qRT-PCR using stem-loop primers [9]. Bias of length, sequence variation, and ESS were observed for all three protocols. Based on our data, we suggest that methods such as SOLiD and qRT-PCR, based on hybridization, may provide better quantitative measurement of miRNA abundance.
Conclusions
In the present study, we assessed three different protocols of miRNA library construction using cloning or SBS sequencing, and validated our results by qRT-PCR. SBS sequencing provided a high-throughput and deep measurement for miRNA expression, while the sequencing depth of cloning was much lower, though a concatemerization cloning strategy was developed [11]. SBS sequencing data correlated better with qRT-PCR results than did Illumina cloning data, indicating that sequencing depth would influence the quantitative measurement of miRNA abundance, but the discrepancy caused by it was not significant, as seen from the high correlation between SBS and Illumina cloning data.
Bias of sequence variation, end secondary structure (ESS), and length distribution was observed for the different protocols of library construction. The SOLiD data differ from the Illumina data, due to distinct principles of adapter ligation in protocol. The adapter ligation principle based on 6 random nucleotides (N6) hybridization seemed to provide a more dispersed distribution of length, higher frequency variation for nucleotides near the 3'- or 5'-ends, higher frequency of reads containing ESS, and higher frequency of reads which do not map to known miRNAs in sequencing data. The two nucleotides at the 3'-end of the majority of the reads of miR-1 in SOLiD cloning data were truncated, which may be due to RNA editing. We also found that the truncated sequence of miR-1 can form 3'-ESS while the original sequence can not (Figure
7
). The end secondary structures can hide the 5'- or 3'- end nucleotide, so that the direct adapter ligation may fail, but the pre-hybridization step preceding ligation may eliminate the ESS, enabling subsequent successful ligation. That can explain the high-frequency of ESS occurring in the SOLiD cloning data. We also observed more than 10% 3'-ESS for miR-1 sequences in Illumina V1.5 cloning data, but no ESS for the Illumina V1 protocol, indicating that the T4 RNA ligase 2 (Rnl2) used in V1.5 protocol may enable more adapters to ligate to miRNAs with a double-stranded structure at the 3'-end [
12
].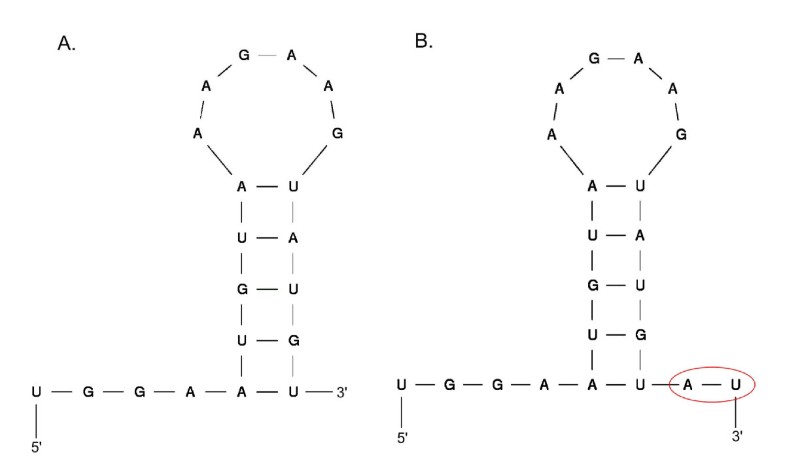 We finally assessed the relative abundance of 9 miRNAs by qRT-PCR. The principle of reverse transcription (RT)-PCR with stem-loop primer is based on hybridization as for the SOLiD protocol, which could explain the high correlation between qRT-PCR and SOLiD cloning data. The fold difference data between Hu sheep and Dorper sheep using qRT-PCR and SBS sequencing correlated significantly, and the fold difference data for miR-1 and miR-206 using SOLiD cloning were similar to data obtained with SBS sequencing and qRT-PCR, indicating that the methods using a hybridization principle may be more suitable for quantitative measurement of miRNA abundance. Moreover, qRT-PCR has been used prevalently for validation of microarray results [13, 14] and its accuracy has been recognized.
Declarations
Acknowledgements
We thank Tian Wei for data analysis, and Gan Shang Quan for providing the RNA samples, and Søren Nørby for revising the manuscript. This work was supported by a grant from the Ministry of Science and Technology of China(863 program: 2006AA02A301)
Authors' Affiliations
(1)
Beijing Institute of Genomics, Chinese Academy of Science, Beijing, China
(2)
The Graduate University of Chinese Academy of Sciences, Beijing, China
(3)
Genome Research Institute, ShenZhen University Medical School, ShenZhen, China
(4)
Beijing Genomics Institute, Shenzhen, China
(5)
Insitute of Human Genetics, University of Aarhus, Aarhus, Denmark
Copyright
© Tian et al; licensee BioMed Central Ltd. 2010
This article is published under license to BioMed Central Ltd. This is an Open Access article distributed under the terms of the Creative Commons Attribution License (http://creativecommons.org/licenses/by/2.0), which permits unrestricted use, distribution, and reproduction in any medium, provided the original work is properly cited.