Research article
Open Access
Biosynthesis of plant-specific stilbene polyketides in metabolically engineered Escherichia coli
BMC Biotechnology
2006
6:22
Received: 22 November 2005
Accepted: 21 March 2006
Published: 21 March 2006
Abstract
Background
Phenylpropanoids are the precursors to a range of important plant metabolites such as the cell wall constituent lignin and the secondary metabolites belonging to the flavonoid/stilbene class of compounds. The latter class of plant natural products has been shown to function in a wide range of biological activities. During the last few years an increasing number of health benefits have been associated with these compounds. In particular, they demonstrate potent antioxidant activity and the ability to selectively inhibit certain tyrosine kinases. Biosynthesis of many medicinally important plant secondary metabolites, including stilbenes, is frequently not very well understood and under tight spatial and temporal control, limiting their availability from plant sources. As an alternative, we sought to develop an approach for the biosynthesis of diverse stilbenes by engineered recombinant microbial cells.
Results
A pathway for stilbene biosynthesis was constructed in Escherichia coli with 4-coumaroyl CoA ligase 1 4CL1) from Arabidopsis thaliana and stilbene synthase (STS) cloned from Arachis hypogaea. E. coli cultures expressing these enzymes together converted the phenylpropionic acid precursor 4-coumaric acid, added to the growth medium, to the stilbene resveratrol (>100 mg/L). Caffeic acid, added in the same way, resulted in the production of the expected dihydroxylated stilbene, piceatannol (>10 mg/L). Ferulic acid, however, was not converted to the expected stilbene product, isorhapontigenin. Substitution of 4CL1 with a homologous enzyme, 4CL4, with a preference for ferulic acid over 4-coumaric acid, had no effect on the conversion of ferulic acid. Accumulation of tri- and tetraketide lactones from ferulic acid, regardless of the CoA-ligase expressed in E. coli, suggests that STS cannot properly accommodate and fold the tetraketide intermediate to the corresponding stilbene structure.
Conclusion
Phenylpropionic acids, such as 4-coumaric acid and caffeic acid, can be efficiently converted to stilbene compounds by recombinant E. coli cells expressing plant biosynthetic genes. Optimization of precursor conversion and cyclization of the bulky ferulic acid precursor by host metabolic engineering and protein engineering may afford the synthesis of even more structurally diverse stilbene compounds.
Keywords
ResveratrolFerulic AcidCaffeic AcidStilbenePiceatannol
Background
Flavonoids and stilbenes are plant-specific natural products with a wide range of biological activities, such as UV protection, as signals of bacterial root nodulation, coloration and defense against herbivory and microbial pathogens[1, 2]. The uncovering of an increasing number of health benefits associated with these compounds has resulted in an explosion of research on their medicinal properties during the last few years[3, 4]. In particular, the stilbene compound resveratrol has received considerable attention for its potential medicinal properties [5–7], and has been identified as a compound promoting increased lifespan through activation of sirtuin deacetylases[8], although the exact effect of resveratrol on Sir2 family proteins remains controversial[9, 10]. Less controversial is the effect of stilbenes on protein-tyrosine kinases, with piceatannol having been shown as a selective inhibitor of the human tyrosine kinase Syk[11].
Flavonoids and stilbenes are synthesized from a coenzyme A (CoA) activated phenylpropanoid starter unit and three malonyl-CoA extender units (Fig.
1
). The first step in phenylpropanoid biosynthesis is the deamination of L-phenylalanine to
trans
-cinnamic acid, catalyzed by phenylalanine ammonia lyase (PAL) (EC 4.3.1.5). Cinnamic acid is hydroxylated by cinnamate-4-hydroxylase (C4H) (EC 1.14.13.11) to make 4-coumaric acid, which is then activated by 4-coumaroyl:CoA ligase (4CL) (EC 6.2.1.12) to make 4-coumaroyl-CoA. A type III polyketide synthase then sequentially adds three acetate extender units, derived from malonyl-CoA, to a single activated 4-coumaroyl-CoA starter unit. Depending on the polyketide synthase activity, chalcone synthase (CHS, EC 2.3.1.74) or stilbene synthase (STS, EC 2.3.1.95), subsequent folding and cyclization of the generated tetraketide intermediate results either in the production of a chalcone or stilbene ring structure.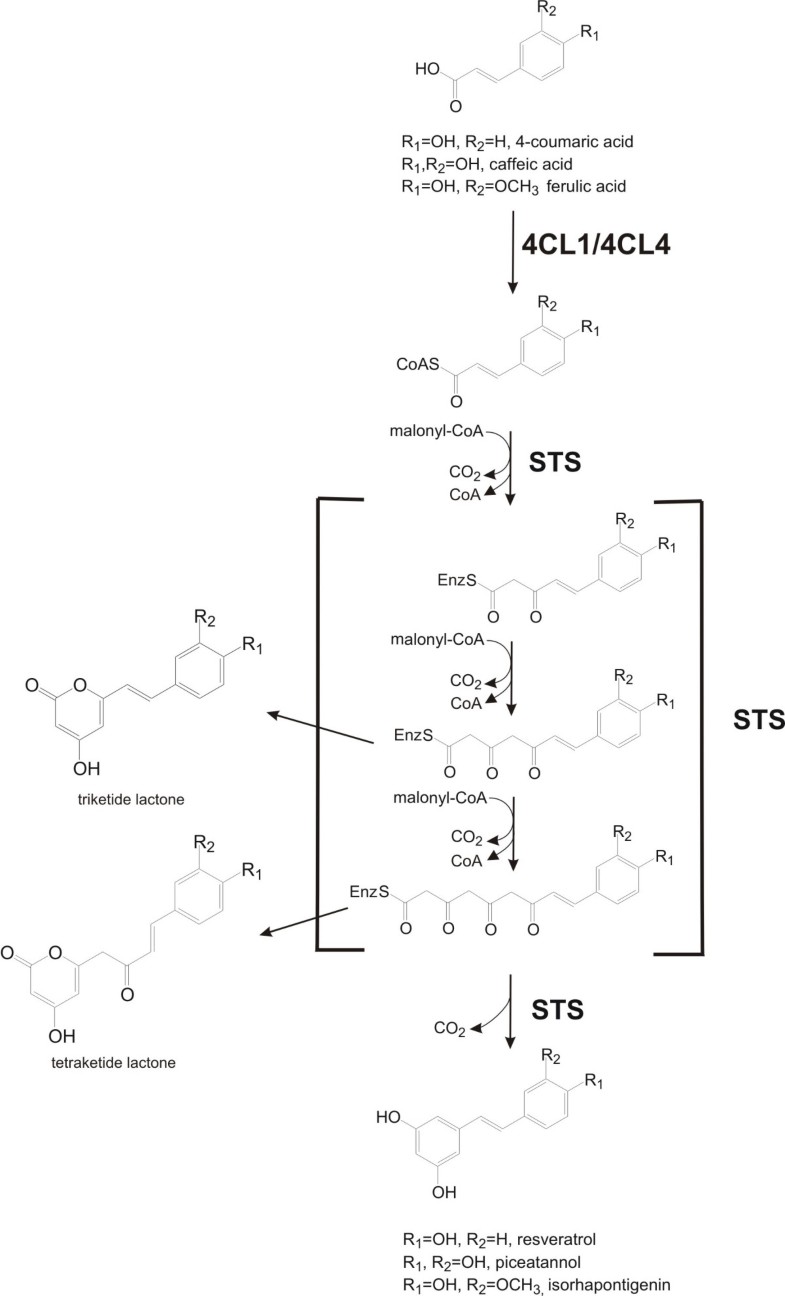 Expression of plant secondary metabolic pathways, including those for flavonoid and stilbene biosynthesis, are typically under tight temporal and spatial control [12–14], which limits the availability of many medicinally important plant natural products. As an alternative biosynthetic host, microbial cells may be engineered for the production of plant derived natural products. In an attempt to access plant-derived flavonoid compounds in engineered microbial cells, we have previously shown that the Arabidopsis thaliana flavonoid biosynthetic pathway can be functionally assembled in recombinant E. coli for the biosynthesis of flavonoids[15]. Here we describe the cloning of a stilbene synthase from Arachis hypogaea (peanut) and its functional co-expression with two 4CL enzymes for the biotransformation of phenylpropionic acid precursors to modified stilbene compounds in E. coli. Biotransformation of structurally diverse phenylpropionic acids using recombinant E. coli opens up the possibility to produce functionalized stilbene compounds without the need of additional biosynthetic enzymes that may be difficult to express functionally in E. coli, such as plant cytochrome P450 monooxygenases. We observe for the first time production of two stilbene compounds by E. coli, with the stilbene resveratrol produced at a level of over 100 mg/L.
Conclusion
For the first time, biosynthesis of stilbene compounds by engineered E. coli was demonstrated. The medicinally important compound resveratrol was produced at a level of over 100 mg/L in about 20 hrs of growth, at which time 4-coumaric acid was no longer detectable. This is a significantly higher yield of resveratrol than the 1–2 μg/L levels previously reported for engineered Saccharomyces cerevisiae[36]. Analysis of protein expression data suggests that the high level of soluble STS appears to be one likely reason for this observation. The quantity of the stilbene piceatannol produced from caffeic acid was also relatively high, around 13 mg/L. While the amount of resveratrol produced is quite high, the conversion yield is less than 50% from the added substrate 4-coumaric acid. This may be partially explained by the capability of E. coli to degrade aromatic acids, including phenylpropanoids[37]. Efforts are currently underway to elucidate the mechanisms of substrate disappearance in order to gain insight into phenylpropanoid transport and metabolism in E. coli.
Ferulic acid was not converted to the corresponding stilbene structure, isorhapontigenin, by E. coli expressing 4CL1, or a ferulic acid specific CoA ligase, 4CL4, in conjunction with STS. The use of 4CL4 was meant to overcome the poor utilization of ferulic acid by 4CL1, but use of 4CL4 had no apparent effect on product formation. It would appear then that feruloyl-CoA utilization by STS is the limiting step in the pathway. CHS likewise does not produce a flavanone product from ferulic acid, but produces tri- and tetraketide lactones. Restricting the active site cavity of CHS with this substrate produces increased triketide lactone[38], suggesting that expansion of the active site may have the opposite effect. Indeed, simple mutations in CHS, and closely related enzymes, have resulted in dramatic changes in substrate specificity and product formation[35, 39, 40]. Since STS has been postulated to have evolved from CHS[41], the ability to expand and modify the active site of CHS may as well be possible in STS.
This work opens up alternative routes for the production of additional stilbene structures from phenylpropionic acid precursors using recombinant E. coli cells. Through manipulation of the biosynthetic enzymes controlling product formation, and eliminating unwanted reactions within the host, improvements may be seen that result in efficient utilization of an expanded range of substrates.
Methods
Chemicals
Caffeic acid, ferulic acid and piceatannol were purchased from Sigma Aldrich (St. Louis, MO). 4-coumaric acid was purchased from ICN (Aurora, OH) and resveratrol was from Calbiochem (San Diego, CA). All solvents used were of HPLC grade and purchased from Fisher Scientific (Pittsburgh, PA). HPLC grade water was purchased from Mallinckrodt Chemicals (Phillipsburg, NJ). T4 DNA ligase and Vent DNA polymerase were from New England Biolabs (NEB, Boston, MA). Restriction enzymes were from NEB or Promega (Madison, WI) and restriction enzyme buffers were the SuRE/Cut buffers from Roche (Indianapolis, IN).
Strains and culture conditions
All cloning and DNA manipulations were carried out in E. coli strain JM109 by following standard techniques described elsewhere[42]. After DNA sequencing, plasmids were transformed into E. coli strain BW27784[43] (E. coli Genetic Stock Center, New Haven, CT) for stilbene biosynthesis. E. coli cultures were grown at 30°C with 250 RPM shaking in a modified M9 or Luria-Bertani (LB) medium, supplemented with carbenicillin or ampicillin (100 mg/mL), and chloramphenicol (50 mg/mL), if necessary. M9 medium was modified by addition of yeast extract (1.25 g/L) and glycerol (0.5% v/v) or glucose (1% v/v) into standard M9 medium [42].
Plant growth and cDNA preparation
A. hypogaea (peanut) seeds were purchased from Burpee Seed Company (Warminster, PA). Plants were grown on a well-lit window ledge, at approximately 23°C, for two weeks prior to harvesting. Tissue samples were cut and frozen immediately in liquid nitrogen and stored at -80°C prior to use. mRNA was extracted using the Qiagen RNeasy Plant Mini Kit (Valencia, CA), followed by DNase I digestion with the DNA-free Kit from Ambion (Austin, TX). mRNA was annealed to oligo dT (Invitrogen, Carlsbad, CA) during a single 65°C treatment for 5 minutes, put on ice, and followed by RT-PCR using Transcriptor Reverse Transcriptase from Roche. Following the RT-PCR step, cDNA was used immediately for subsequent PCR.
Cloning and pathway assembly
Stilbene synthase (STS) was cloned from freshly prepared root cDNA with gene specific primers designed from the published sequence [22] [Genbank: AB027606]. Primers included an XbaI site, followed by an optimized Shine-Dalgarno sequence (5'-TCTAGA AGGAGGATTACAAAATG3') and the start codon, with 10–15 additional nucleotides from the gene sequence immediately after the start codon. Reverse primers contained a NotI site for directional cloning into pUCMod, a modified pUC19 plasmid with a deleted operator sequence for constitutive expression from the lac promoter [20]. PCR was carried out with Vent DNA polymerase and conditions were as follows: 94°C for 2 minutes, 30 cycles of 94°C for 30 seconds, 50°C for 30 seconds, 72°C for 1 minute followed by a final extension step at 72°C for 4 minutes. The resulting STS PCR product was cloned into the XbaI and NotI sites of pUCMod to create pUC-STS.
4CL4 was cloned from a commercial A. thaliana cDNA library with primers designed from the published sequence [33] [Genbank: AY376731]. Primers were designed the same as above, with a 5' XbaI site and a 3' NotI site for directional cloning into pUCMod to create pUC-4CL4. PCR conditions were the same as described above. 4CL4 was subcloned, along with the constitutive lac promoter from pUC-4CL4, into the BamHI site of pACMod to create pAC-4CL4. 4CL1 was subcloned from pBAD-4CL [15] into the NcoI site of pUCMod with gene specific primers containing NcoI sites in both the forward and reverse direction to create pUC-4CL1, which is also transcribed from the constitutive lac promoter. PCR conditions were the same as above. 4CL1 was later subcloned to the BamHI site of pACMod to create pAC-4CL1.
Protein expression analysis
E. coli BW27784 was transformed with pUC-STS and grown overnight at 30°C in 5 mL of modified M9 media containing glycerol or glucose. This culture was used for 1:100 inoculation into 50 mL modified M9 containing glycerol or glucose and grown at 30°C for an additional 24 hours. Cells were harvested by centrifugation at 4000 × g, washed with 10 mL of phosphate buffer (50 mM NaPO4, pH 8.0) and the OD was determined at 600 nm. Cells were diluted to equivalent ODs (1.0) with phosphate buffer and centrifuged. Cell pellets were resuspended in 10 mL phosphate buffer and lysed by sonication (Branson, Danbury, CT). Lysate was centrifuged at 10,000 × g for 30 minutes to pellet insoluble material. Following centrifugation, cleared lysate (10 mL) was transferred to a fresh conical tube, and pelleted material was resuspended in 10 mL fresh phosphate buffer. Equal volumes (50 μL) from each fraction (crude, soluble and insoluble) were removed and mixed with 50 μL SDS running buffer and boiled briefly at 100°C. For gel analysis, 10 μL of each sample mixture was loaded and run on a 12% gel.
Substrate inhibition curves
For determination of growth inhibition by 4-coumaric acid, 500 mL of E. coli BW27784 pACMod + pUCMod was grown at 30°C to an OD of 0.1 – 0.2 and split into 5 flasks containing 50 mL modified M9 medium with glycerol. Growth media was supplemented with 0, 2, 6, 12 or 20 mM 4-coumaric acid in 200 μl DMSO. Cultures were grown for an additional 48 hrs at 30°C, and this process was repeated for three independent measurements. 1 mL samples were removed periodically to record OD at 600 nm.
Biotransformation
5 mL overnight cultures of E. coli pAC-4CL1 or pAC-4CL4 + pUCMod or pUC-STS were inoculated 1:100 into 50 mL modified M9 medium with glycerol containing chloramphenicol and carbenicillin. For biotransformation experiments, 1 mM 4-coumaric acid, caffeic acid or ferulic acid in 200 μl DMSO was added to E. coli cultures at an initial OD of 0.1-0.2. Cultures grew for an additional 48 hrs at 30°C prior to harvest and extraction.
Growth and production curves
Overnight culture of E. coli pAC-4CL1 + pUC-STS was inoculated 1:200 into 700 mL fresh modified M9 medium containing glycerol or glucose, and supplemented with chloramphenicol and carbenicillin. The culture was grown to an OD of 0.1 – 0.2, split into three separate 500 mL flasks, each containing 200 mL of culture, and supplemented with 1 mM 4-coumaric acid. Growth was continued for an additional 48 hrs at 30°C and OD was monitored at 600 nm. 1 mL samples were removed periodically for analysis and quantification of 4-coumaric acid and reaction products.
Extraction of culture media
Previous work had shown that less than 5% of products and phenylpropionic acids were found in the cell pellets [15], therefore only culture media was extracted. For extraction, 1 mL of the culture was centrifuged at maximum speed (>13,000 RPM) to pellet cells. Media was decanted to a fresh 1.5 mL microfuge tube and the pH was adjusted by addition of 50 μl hydrochloric acid (1N), followed by overnight freezing at -20°C. Tubes were thawed at room temperature and extracted twice with an equal volume (1 mL) of ethyl acetate. Ethyl acetate was dried under nitrogen gas, and the dried residue was resuspended in 100 μL methanol. All samples were stored at -20°C prior to HPLC and LC-MS analysis.
HPLC analysis
10 μl of extract was applied to a Zorbax RX-C18 column (4.6 × 150 mm, 5 μm; Agilent Technologies, Palo Alto, CA) using an Agilent 1100 HPLC system equipped with a photodiode array detector. Resveratrol and ferulic acid derived products were eluted with an isocratic mobile phase of water containing 0.1% trifluoroacetic acid (A) and methanol containing 0.1% trifluoroacetic acid (B) in a ratio of 73:27 (A:B, v/v) with a flow rate of 1.0 mL/min. Piceatannol was eluted with a flow rate of 0.5 mL/min using the following conditions: from 0–10 min 75:25 A:B, followed by a gradient from 75:25 A:B to 50:50 A:B in 15 minutes, followed by 5 min 50:50 A:B. Compound peaks were identified by comparison to retention times and UV/Vis spectra of standard compounds and mass spectrometry. For quantification of products, standard curves were constructed by plotting peak areas of known quantities of stilbene standards.
LC/ESI-MS analysis
LC-Mass spectrometry was carried out with a LCQ mass spectrophotometer (Thermo Finnigan, USA) equipped with a Zorbax RX-C18 column (4.6 × 250 mm, 5 μm; Agilent) and eluted at 1.0 mL/min under isocratic conditions of water:methanol (70:30). Mass fragmentation spectra of standard compounds and the extracted compounds were monitored in a mass range of m/z 100–500 with a negative electron spray ionization (ESI) interface as described previously [15]. Negative ion values for standard compounds were as follows: 4-coumaric acid (m/z 163.1), caffeic acid (m/z 179.1), ferulic acid (m/z 193.1), resveratrol (m/z 227.1) and piceatannol (m/z 243.1).
Declarations
Acknowledgements
This investigation has been supported by a grant from the David and Lucile Packard Foundation (grant #2001-18996). Kevin T. Watts was supported by a NIGMS/NIH Biotechnology Training grant (T32 GM08347) and by the University of Minnesota Presidential Initiative on Biocatalysis. The authors would also like to thank Dr. Michelle Graham for the cDNA isolation protocol.
Authors' Affiliations
(1)
Department of Biochemistry, Molecular Biology and Biophysics, University of Minnesota, St. Paul, USA
Copyright
© Watts et al; licensee BioMed Central Ltd. 2006
This article is published under license to BioMed Central Ltd. This is an Open Access article distributed under the terms of the Creative Commons Attribution License (http://creativecommons.org/licenses/by/2.0), which permits unrestricted use, distribution, and reproduction in any medium, provided the original work is properly cited.