Research article
Open Access
The avian cell line AGE1.CR.pIX characterized by metabolic flux analysis
BMC Biotechnology
2014
14:72
Received: 31 October 2013
Accepted: 16 July 2014
Published: 30 July 2014
Abstract
Background
In human vaccine manufacturing some pathogens such as Modified Vaccinia Virus Ankara, measles, mumps virus as well as influenza viruses are still produced on primary material derived from embryonated chicken eggs. Processes depending on primary cell culture, however, are difficult to adapt to modern vaccine production. Therefore, we derived previously a continuous suspension cell line, AGE1.CR.pIX, from muscovy duck and established chemically-defined media for virus propagation.
Results
To better understand vaccine production processes, we developed a stoichiometric model of the central metabolism of AGE1.CR.pIX cells and applied flux variability and metabolic flux analysis. Results were compared to literature dealing with mammalian and insect cell culture metabolism focusing on the question whether cultured avian cells differ in metabolism. Qualitatively, the observed flux distribution of this avian cell line was similar to distributions found for mammalian cell lines (e.g. CHO, MDCK cells). In particular, glucose was catabolized inefficiently and glycolysis and TCA cycle seem to be only weakly connected.
Conclusions
A distinguishing feature of the avian cell line is that glutaminolysis plays only a minor role in energy generation and production of precursors, resulting in low extracellular ammonia concentrations. This metabolic flux study is the first for a continuous avian cell line. It provides a basis for further metabolic analyses to exploit the biotechnological potential of avian and vertebrate cell lines and to develop specific optimized cell culture processes, e.g. vaccine production processes.
Keywords
Avian cell line AGE1.CR.pIXBiomass compositionFlux variability analysisMetabolic network modelingGlutaminolysis
Background
Novel therapeutic options have been made possible with production of animal cell culture-derived biopharmaceuticals. An enormous amount of insight has been published on production of recombinant proteins (including antibodies) since the first products have been licensed for application in humans 1986 and 1987. CHO cells are the main substrate for recombinant proteins and therefore most metabolic studies describe these cells [1, 2]. Regarding vaccine manufacturing, literature on properties and metabolism of host cells during growth and virus replication as well as process design and optimization is less abundant and not as focused. One reason is that safety considerations and execution of pre-clinical and clinical trials are paramount for vaccines because this medication usually is administered to healthy recipients. Another reason is the multitude of process options and host cell systems used for propagation of pathogens. For historic reasons, primary cultures (today usually embryonated chicken eggs or chicken embryo fibroblasts), diploid cell strains (human embryonic WI-38 and MRC-5), and few continuous cell lines (i.e. macaque-derived Vero cells or MDCK cells) are associated with the lowest possible risks to the vaccine recipients. Production with such cellular substrates often is performed in the presence of calf serum and adherent culture with little room for optimization. Furthermore, standardization of experiments is difficult with primary chicken material.
Several virus strains and viral vectors, e.g. Modified Vaccinia Virus Ankara (MVA), only replicate efficiently in avian cells [3]. Accordingly, primary chicken fibroblasts are still a commonly accepted production substrate. As vectored vaccines are gaining increasing importance [4], the potential of continuous suspension cells that proliferate in chemically-defined media are attracting more and more attention. Therefore, continuous avian cell lines are being investigated as a viable option to replace primary material. One possible new cell candidate that meets these criteria is the avian designer cell line AGE1.CR.pIX (in the following: CR.pIX) that proliferates in fully scalable suspension culture and is adapted to growth in a chemically-defined medium [5, 6]. The latter property is an advantage for metabolic flux analysis as no unknown or complex components such as animal sera or hydrolysates that complicate carbon and nitrogen balance closure are present.
Metabolic models have been developed for a variety of cell lines to study physiological states or changes in metabolism as a response to different cultivation strategies, medium composition or stimuli like virus infection or accumulation of toxins. For example, the human cell lines HEK293 [7, 8] and AGE1.HN [9, 10], other mammalian cells like CHO [11], BHK [12], MDCK [13, 14] and hybridoma cells [15, 16] or insect cell lines like Sf9 [17, 18] have been studied because of their relevance for the production of biopharmaceuticals. For all these cell lines, the two main pathways for energy generation and precursor supply were found to be glucose catabolism via glycolysis and glutamine catabolism via the TCA cycle, referred to as glutaminolysis [19–21]. Therefore, cell culture media usually contain substantial amounts of both substrates. Associated with an overflow metabolism based on glucose and a high glutaminolysis activity is the accumulation of lactate and ammonia in the cultivation broth with a negative impact on cell growth and product formation [22, 23].
To describe cell metabolism, various mathematical methods have been developed and comprehensive reviews on applied approaches and their benefits for mammalian cell culture research are available [
24
,
25
]. Mass balancing techniques like metabolic flux analysis (MFA) can be performed for analysis of cellular growth, requiring only a comparatively small set of experimental data. During the exponential growth phase of batch cultivations or continuous cultivations this method can be used to evaluate possible intracellular flux distributions based on measurements of exchange fluxes. However, if the system is underdetermined, no unique flux distribution can be calculated. One approach to circumvent this limitation is to perform
13
C labelling experiments. The higher experimental effort of such studies comes with the advantage of an increased number of constraints and uniquely resolvable flux distributions [
26
]. Another possibility is to apply flux variability analysis (FVA), a method related to MFA that calculates a flux range instead of a distinct flux value [
27
]. The advantage of this method is that it is experimentally less demanding as it requires (as MFA) only extracellular metabolite and cell concentrations as well as the biomass composition. Intracellular flux ranges from measured extracellular rates (uptake and release of metabolites) can then be computed with the help of software tools such as the
CellNetAnalyzer
toolbox [
28
].As a starting point for studying metabolism of avian CR.pIX cells during growth, we developed a network model for the central metabolism oriented in size and scope on other published models of the central metabolism of mammalian and insect cell lines (see Figure
1
). Pathways were selected based on entries from avian species in the Kyoto Encyclopedia of Genes and Genomes (KEGG) database. As it was not known whether biomass composition of avian cells is comparable to other examined cells, we first determined relative proportions of biomass components experimentally. FVA and MFA were then applied to assess the metabolic behaviour of CR.pIX cells during exponential growth in a 1 L stirred tank reactor (STR). Finally, to verify emerging hypotheses regarding metabolic pathways, especially glutaminolysis, enzyme activity measurements and additional growth experiments were performed.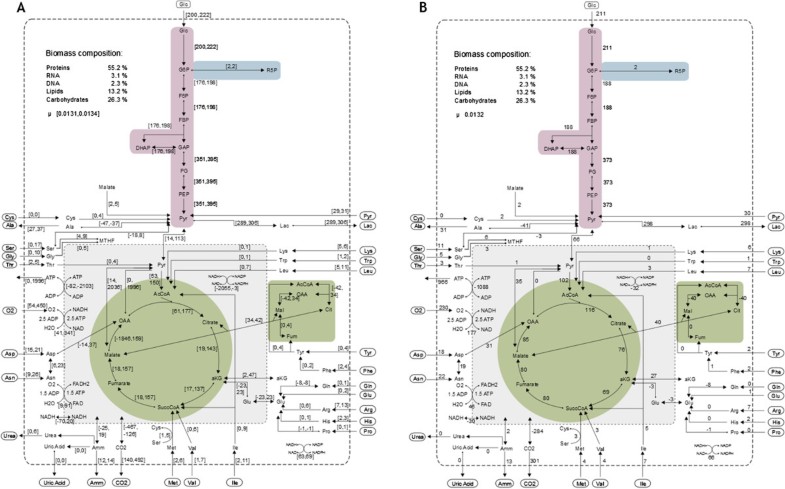 Conclusions
Avian cells are important substrates for producing a number of licensed vaccines and various viral vector-based processes under development. The only avian substrates that are currently approved for production are embryonated chicken eggs or primary chicken embryo fibroblasts. Because processes using primary cultures are difficult to optimize and standardize, access to well characterized continuous avian cell lines, such as the CR.pIX cell line derived from a muscovy duck embryo, would be a significant step forward.
Here, we determined metabolic properties of the CR.pIX cell line to complement previous developments on scalable vaccine production processes in chemically defined media. The current study comprised three parts: i) analysis of biomass composition and measurements of cell and extracellular metabolite concentrations, ii) construction of a stoichiometric network for the central metabolism of avian cells and subsequent analysis with flux variability and metabolic flux analysis, and iii) experiments and analytics to validate hypotheses derived from the stoichiometric analysis.
The first part expands the available data base on the metabolism of immortalized cell lines. Results on biomass composition and growth properties of the avian CR.pIX cell line agree with data determined for other transformed mammalian and insect cell lines used in biopharmaceutical production.
Flux variability and metabolic flux analyses in the second part reveal an overflow metabolism similar to mammalian cells with high uptake of glucose followed by conversion to and release of lactate and alanine. The TCA cycle was only weakly connected to glycolysis and appeared to depend on the influx of amino acids, mainly isoleucine, valine and aspartate. Finally, our measurements together with flux (variability) analysis indicated that glutamine supplementation is not an essential requirement for CR.pIX cell proliferation.
The derived hypothesis on low glutaminolysis activity could be confirmed by enzyme activity measurements. However, the hypothesis of a weak connection between the cytosolic and mitochondrial pyruvate pools could not be confirmed entirely. To elucidate whether cytosolic pyruvate is transported in significant amounts from the cytosol to the mitochondria, e.g. 13C labelling experiments could be helpful, which was beyond the scope of the current contribution. Low dependence on glutamine was confirmed by passaging cells in glutamine-free medium and agrees well with the observation that ammonia is accumulating to very low concentrations in the medium. This is a very beneficial property of CR.pIX cells especially for fed-batch cultivation strategies where ammonia often accumulates to toxic levels.
Overall, the present study provides a basis for a more focused metabolic analysis of avian cell lines and thus helps to further optimize medium and feed requirements. Acute infection and associated take-over of the metabolism by a virus may shift the requirements for certain nutrients. The derived model may therefore also provide a context for future studies on the metabolism of CR.pIX cells during the virus replication phase.
Declarations
Acknowledgements
The authors thank C. Best, N. Wynserski, I. Behrendt and S. König for their excellent technical assistance and A. Lagoda for her advice in RNA, DNA and protein quantification. Also, advice and assistance by Anne-Kareen Blechert in enzyme activity assays was highly appreciated.
Authors' Affiliations
(1)
Max Planck Institute for Dynamics of Complex Technical Systems, Magdeburg, Germany
(2)
ProBioGen AG, Berlin, Germany
(3)
Cell Culture Technology, Bielefeld University, Bielefeld, Germany
(4)
Bioprocess Engineering, Otto von Guericke University Magdeburg, Magdeburg, Germany
Copyright
© Lohr et al.; licensee BioMed Central Ltd. 2014
This article is published under license to BioMed Central Ltd. This is an Open Access article distributed under the terms of the Creative Commons Attribution License (http://creativecommons.org/licenses/by/2.0), which permits unrestricted use, distribution, and reproduction in any medium, provided the original work is properly credited. The Creative Commons Public Domain Dedication waiver (http://creativecommons.org/publicdomain/zero/1.0/) applies to the data made available in this article, unless otherwise stated.