Research article
Open Access
Developing a method for customized induction of flowering
BMC Biotechnology
2011
11:36
Received: 22 September 2010
Accepted: 11 April 2011
Published: 11 April 2011
Abstract
Background
The ability to induce flowering on demand is of significant biotechnological interest. FT protein has been recently identified as an important component of the mobile flowering hormone, florigen, whose function is conserved across the plant kingdom. We therefore focused on manipulation of both endogenous and heterologous FT genes to develop a floral induction system where flowering would be inhibited until it was induced on demand. The concept was tested in the model plant Arabidopsis thaliana (Arabidopsis).
Results
Our starting point was plants with strongly delayed flowering due to silencing of FT with an artificial microRNA directed at FT (amiR-FT) [1]. First, we showed that constitutive expression of a heterologous FT gene (FTa1), from the model legume Medicago truncatula, (Medicago) was able to rescue the amiR-FT late-flowering phenotype. In order to induce flowering in a controlled way, the FTa1 gene was then expressed under the control of an alcohol-inducible promoter in the late flowering amiR-FT plants. Upon exposure to ethanol, FTa1 was rapidly up regulated and this resulted in the synchronous induction of flowering.
Conclusions
We have thus demonstrated a controlled-inducible flowering system using a novel combination of endogenous and heterologous FT genes. The universal florigenic nature of FT suggests that this type of system should be applicable to crops of economic value where flowering control is desirable.
Keywords
Ethanol TreatmentEthanol VapourLate Flowering PhenotypeEarly Flowering PhenotypeArtificial microRNA
Background
Flowering time is an important plant breeding target [reviewed by [2]]. The time at which flowering occurs affects the ensuing success of flower, seed and fruit development, ease of harvest and marketing. In addition, since flowering of vegetative crops and forages can be negatively correlated with yield and nutritive quality, the ability to delay flowering in such plants would be advantageous. Therefore, our goal is to develop molecular-genetic tools for customization of flowering in economically-important plants.
Plants use a combination of environmental and developmental cues to trigger flowering. The genetic networks that are involved in perception and response to these floral signals is best worked out in the model plant Arabidopsis thaliana (Arabidopsis) [3–8]. Many of the flowering time pathways ultimately converge on a set of genes called floral integrators, which includes FLOWERING LOCUS T (FT) and a closely related and partially redundant homologue TWIN SISTER OF FT (TSF) [9–12]. FT strongly activates flowering in Arabidopsis and mutants lacking a functional FT gene flower very late, while transgenic plants over expressing FT flower much earlier than wild type plants [9, 10].
FT is the primary target of several flowering time pathways. These include the long day pathway which promotes flowering in response to long day photoperiods via CONSTANS (CO) mediated up regulation of FT, and the vernalisation and autonomous pathways that function to down regulate the flowering repressor FLOWERING LOCUS C (FLC) thereby alleviating FLC's repression of FT [reviewed by [6, 7]]. FT transcript is expressed in the leaf vasculature where FT protein is produced and moves via the phloem to the shoot tip [1, 13–15]. In the shoot apical meristem, FT partners with FD, a bZIP transcription factor and switches on genes, such as APETALA1, to initiate floral development [16, 17]. Thus, FT protein functions as an important component of the mobile flowering hormone, florigen [see reviews by [6, 8]].
Older physiological studies demonstrated the universal nature of florigen in plants [reviewed by [
18
]]. Consistent with this, orthologues of the Arabidopsis
FT
gene are widespread in the plant kingdom (Figure
1a, b
) and promote flowering even in plants with different day length requirements to Arabidopsis. For example, the tomato
FT
orthologue
SINGLE FLOWER TRUSS
(
SFT
) promotes flowering in day neutral tomato [
19
] and two rice
FT
orthologues,
Heading date 3a
(
Hd3a
) and
RICE FLOWERING LOCUS T 1
(
RFT1
) promote flowering in rice, a short-day plant [
20
,
21
]. Like Arabidopsis
FT
, the
SFT
,
Hd3a
and
RFT1
genes encode a graft transmissible floral signal [
19
,
22
,
23
]. In addition, over expression of
FT
orthologues such as
SFT
can promote flowering in heterologous transgenic plants [
19
]. Thus, despite differences in the upstream signaling pathways in different plants, the induction of FT expression in leaves and its movement to the apex where it triggers flowering appears to be conserved.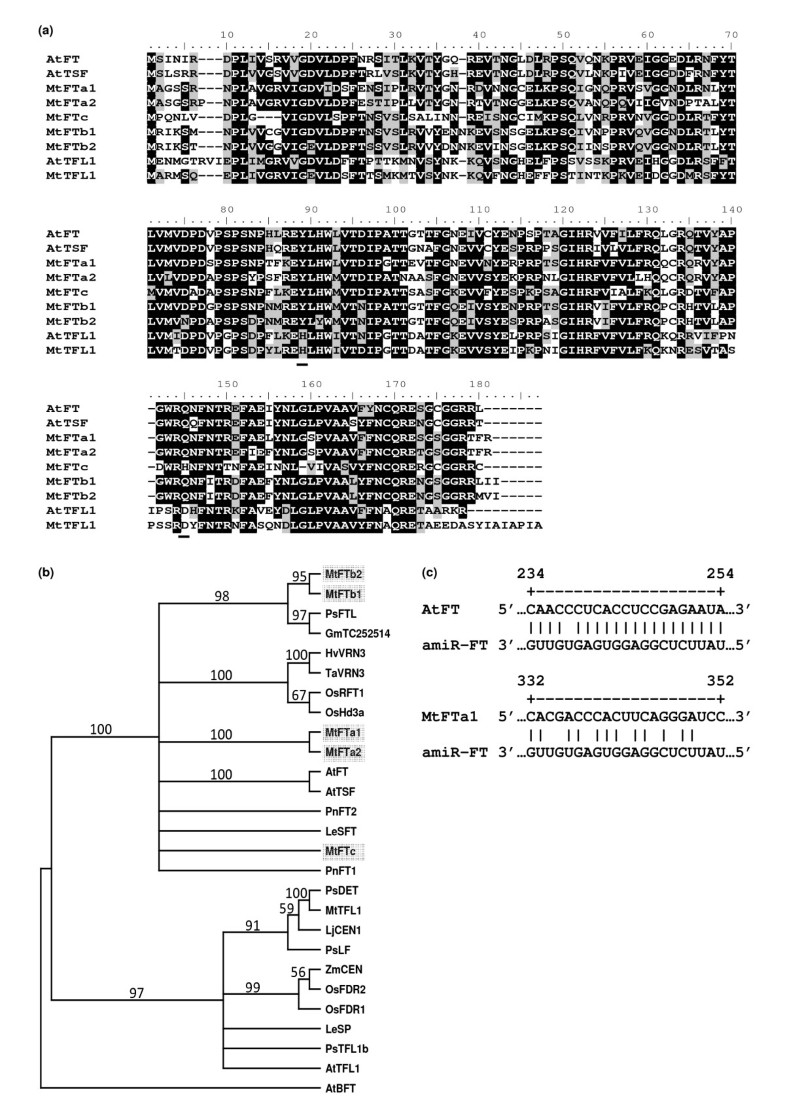 Genetic engineering of flowering time in many cultivated species has been achieved by manipulation of floral repressors or floral promoters, including the over expression or inducible expression of FT to accelerate flowering in transgenic plants [2, 24, 25]. Because of the conservation of FT function across the plant kingdom, we have focused on developing a controlled-inducible flowering system that manipulates endogenous and heterologous FT genes. This utilizes the induction of a heterologous FT gene to trigger flowering in a background in which flowering has been inhibited using an artifical microRNA that targets the endogenous FT gene. The system is based on the idea that artificial microRNAs can be designed to specifically down regulate an endogenous gene, but should not affect the expression of a sufficiently divergent functional orthologue from another species. Here, we report on the development of this system for inducing flowering on demand and demonstrate its utility in Arabidopsis.
Conclusions
Flowering time is a key trait in the breeding of crop and ornamental plants. Our aim was to create a universally-applicable floral induction system that will allow flowering to be induced on demand. Here, we have described such a system and demonstrated its utility in the model plant Arabidopsis.
We showed that the expression of an FT orthologue from Medicago truncatula, FTa1, can overcome the delayed flowering of a transgenic Arabidopsis plants caused by expression of an artificial microRNA to the Arabidopsis FT gene, amiR-FT. Tight, inducible control of floral induction was engineered successfully using an alcohol-inducible version of the FTa1 gene. The timing of flowering could be manipulated by applying ethanol to plants of different ages, to give plants that flowered earlier or later than wild type. Endogenous Arabidopsis FT remained low in the transgenic lines, consistent with ongoing silencing by the amiR-FT. This indicates that the Medicago FTa1 is sufficiently different from Arabidopsis FT to escape being targeted by the amiR-FT, yet has the ability to strongly promote flowering.
The advantage of the FT- based approach tested here in Arabidopsis is that because of the likely universal role of FT in triggering of flowering, it should work in other plants. Inducing flowering when desired has many commercial uses [2]. For example, one application of our strategy might be to delay flowering in forage grasses during grazing to give consistent nutritive value and yield, but then later induce synchronous flowering for seed production. Other applications in crops could include inhibiting flowering, followed by inducing flowering to coincide with important market dates, or to avoid peak summer temperatures. The use of the alc inducible system should allow the system to be used in a field setting [reviewed by [36]]. Thus, our system has all the attributes required of a biotechnological floral induction system.
Although we have demonstrated the ability to overcome an artificial microRNA that targets a single FT gene, in some cultivated species it might be important to down regulate multiple FT genes to more effectively delay flowering. For example, Arabidopsis FT has the closely-related paralogue TSF and double ft tsf mutants flower much later than the single mutants [1, 11]. In rice, two key FT genes have an even stronger impact on flowering as plants with RNAi silencing of both genes had not flowered by 300 days after sowing [21]. Mathieu et al. (2007) demonstrated that it was possible to design an artificial microRNA that could target both the Arabidopsis FT and TSF mRNA simultaneously. Plants overexpressing this amiR construct phenocopied the late flowering of the ft tsf double mutant. Therefore, the use of one or more artifical microRNAs should allow all the FT family members involved in the induction of flowering of a particular species to be targeted. Care would then need to be taken to select an FT orthologue from another species that would be unaffected by the amiR(s).
In some cultivated species, natural variants exist that have strongly delayed flowering [2]. In most cases, the genetic reason for the delayed flowering has not been determined. However, it is likely that often this is caused by alterations to pathways upstream of FT that prevent or delay the induction of FT. Thus, it is an attractive possibility that the late flowering of many natural variants could be utilized in our inducible flowering system so that the targeting of the endogenous FT genes using amiR would not be necessary and that flowering could be induced simply by using the alcohol-inducible FT gene.
In summary, we present proof-of-principle experiments that demonstrate a novel system for inducing flowering on demand, which should provide a biotechnological method for the customization of flowering of commercially important plants.
Declarations
Acknowledgements
We thank Markus Schmid for his kind gift of the amiR-FT transgenic line (SUC2::amiR-FT; #NW48_1-1) and Catherine Perrot-Rechenmann and Lawrence Hobbie for their kind gift of the Gateway-based alcA-alcR vector and the alc::GUS transgenic line (AlcAGus). We thank Hong Liu and Eric Liu for their technical assistance and Robert Schaffer, Karine David and Erika Varkonyi-Gasic for critical reading of the manuscript. We thank the New Zealand Foundation for Research Science and Technology for funding, contract C10X0704.
Authors' Affiliations
(1)
Plant Molecular Sciences, School of Biological Sciences, University of Auckland, Auckland, New Zealand
(2)
Department of Biochemistry, University of Otago, Dunedin, New Zealand
Copyright
© Yeoh et al; licensee BioMed Central Ltd. 2011
This article is published under license to BioMed Central Ltd. This is an Open Access article distributed under the terms of the Creative Commons Attribution License (http://creativecommons.org/licenses/by/2.0), which permits unrestricted use, distribution, and reproduction in any medium, provided the original work is properly cited.