Methodology article

Open Access
Selection of a set of reliable reference genes for quantitative real-time PCR in normal equine skin and in equine sarcoids
BMC Biotechnology
2006
6:24
Received: 19 December 2005
Accepted: 27 April 2006
Published: 27 April 2006
Abstract
Background
Real-time quantitative PCR can be a very powerful and accurate technique to examine gene transcription patterns in different biological conditions. One of the critical steps in comparing transcription profiles is accurate normalisation. In most of the studies published on real-time PCR in horses, normalisation occurred against only one reference gene, usually GAPDH or ACTB, without validation of its expression stability. This might result in unreliable conclusions, because it has been demonstrated that the expression levels of so called "housekeeping genes" may vary considerably in different tissues, cell types or disease stages, particularly in clinical samples associated with malignant disease. The goal of this study was to establish a reliable set of reference genes for studies concerning normal equine skin and equine sarcoids, which are the most common skin tumour in horses.
Results
In the present study the gene transcription levels of 6 commonly used reference genes (ACTB, B2M, HPRT1, UBB, TUBA1 and RPL32) were determined in normal equine skin and in equine sarcoids. After applying the geNorm applet to this set of genes, TUBA1, ACTB and UBB were found to be most stable in normal skin and B2M, ACTB and UBB in equine sarcoids.
Conclusion
Based on these results, TUBA1, ACTB and UBB, respectively B2M, ACTB and UBB can be proposed as reference gene panels for accurate normalisation of quantitative data for normal equine skin, respectively equine sarcoids. When normal skin and equine sarcoids are compared, the use of the geometric mean of UBB, ACTB and B2M can be recommended as a reliable and accurate normalisation factor.
Keywords
Reference GeneNormal SkinAccurate NormalisationPrimer Dime FormationAdequate Normalisation
Background
Gene expression analysis has become increasingly important in biological research where e.g. gene expression profiles from tissues associated with diseases and disorders have to be compared with each other and with those from normal tissues. One of the most powerful tools in this area is real-time quantitative reverse transcription PCR (qRT-PCR). To account for differences in starting material, RNA preparation, RNA quality and cDNA synthesis, adequate normalisation is frequently performed by comparing expression profiles of the genes of interest with those of constitutively expressed genes (= reference genes). Housekeeping genes are most widely used as reference genes, based on the assumption that they are constitutively expressed in most tissues and under certain circumstances, and that they are more or less resistant to cell cycle fluctuations [1, 2]. However, it has been demonstrated that the expression levels of these genes may vary considerably in different tissues, different cell types and different disease stages, particularly in clinical samples associated with malignant disease [3, 4]. Housekeeping genes are not only involved in the basal cell metabolism, but appear to participate in other functions too, and therefore are prone to regulation [5–7]. Especially in tumours, the metabolism is generally elevated because of permanent proliferation and expansion. Moreover, some housekeeping genes may have a specific function essential for the tumour metabolism and therefore be up or down regulated [8]. Because of these findings, Vandesompele et al [9] proposed to identify a set of stable housekeeping genes in the tissue of interest and use them as internal reference genes for accurate normalisation.
Up till now, only a few gene expression studies using real-time qRT-PCR have been performed in horses. GAPDH or ACTB were commonly used as a single non-validated reference gene [10–15], since at that time not much information was available concerning this issue. Recently, Waguespack et al [16] compared 4 housekeeping genes (ACTB, B2M, GAPDH and TBP) in the lamellae of the hoof in horses.
In this study, 6 commonly used reference genes in both human and animal studies were investigated, both in normal skin and in equine sarcoids of horses. Equine sarcoids are fibroblastic skin tumours and are the most common tumours in horses. The disease not only induces esthetical defects, but also diminishes the economical value of affected horses [17]. Moreover affected horses show a genetic predisposition for the development of equine sarcoids, through which the breeding value of an animal with sarcoids sharply declines [18–20]. The bovine papillomavirus (BPV) plays an important role in the aetiology of equine sarcoids [21–23]. Several clinical types exist, ranging from small, stable patches to large, aggressive and fast growing tumours [24]. To be able to examine the gene expression profile of BPV in these different clinical types and to compare equine sarcoids with normal skin asymptomatically infected with BPV, a well suited internal control should first of all be established.
Results and discussion
Transcription profiling of the candidate genes
cDNA was synthesised from DNA-free RNA (checked with minus RT control) isolated from 8 normal equine skin and 8 equine sarcoid samples. A real-time PCR assay, based on SYBR® Green detection, was designed for the transcription profiling of six frequently used reference genes (ACTB, B2M, HPRT1, UBB, TUBA1 and RPL32 )in these cDNA samples. During optimisation of the protocol, real-time PCR products were visualised by gelelectrophoresis and sequenced for verification. For every assay, a single amplicon with the expected size was generated without primer dimer formation. Indeed, the formation of primer dimers and unspecific amplification, which can falsely increase the gene expression levels, is a major point of attention, particularly when using intercalating dyes such as SYBR® Green.
Amplicon sequences of ACTB, B2M, HPRT1, and TUBA1 were 100% identical with the described sequences on which primer design was based. The sequencing of UBB revealed 1 gap and 3 SNPs compared to the original sequence (98% identity). The gap is probably due to sequencing errors; the SNPs did not result in an amino acid variation. When translated to amino acid sequence, the RPL32 sequence was 100% identical to publicly accessible horse ESTs and human RPL32 amino acid sequences.
After optimisation, gene-specific amplification was confirmed by a single peak in melt-curve analysis. For each assay, a standard curve was generated by using 10-fold serial dilutions of pooled cDNA, generated of both normal skin and equine sarcoid tissue, characterised by a linear correlation coefficient (R2) varying from 0.991 to 0.998 and a PCR efficiency between 88.1 and 104.6%. These findings showed that these assays are suitable for quantitative purposes.
In order to select a reliable set of reference genes, each assay was performed in duplicate and included the appropriate control samples. To compare the transcription level of the selected genes across the different samples, the Ct values, ranging from 16.4 to 31.4 were converted into raw data based on the PCR efficiency, gathered by standard curve analyses.
GeNorm analysis
The gene expression stability over the different samples was analysed using the geNorm software [
9
]. The ranking of the 6 candidate reference genes according to their M value was not equivalent between the normal skin samples, the equine sarcoid samples and the combination of both kinds of samples. For normal skin
ACTB, TUBA1
and
UBB
were the 3 most stable genes (Figure
1A(a)
). In equine sarcoids on the other hand,
ACTB, B2M
and
UBB
proved to be the most stable genes with
TUBA1
being the least stable gene (Figure
1B(a)
). When both sets of samples were analysed together, the results showed that the combination of 3 genes (
ACTB, UBB
and
B2M
) is sufficient for adequate normalisation (Figure
1C(a)
). The results are listed in Table
1
. In another study [
16
], where
ACTB, B2M, GAPDH
and
TBP
were compared as reference genes,
ACTB
and
B2M
were found to be the best endogenous control genes for real-time qPCR of lamella in the hoof of horses.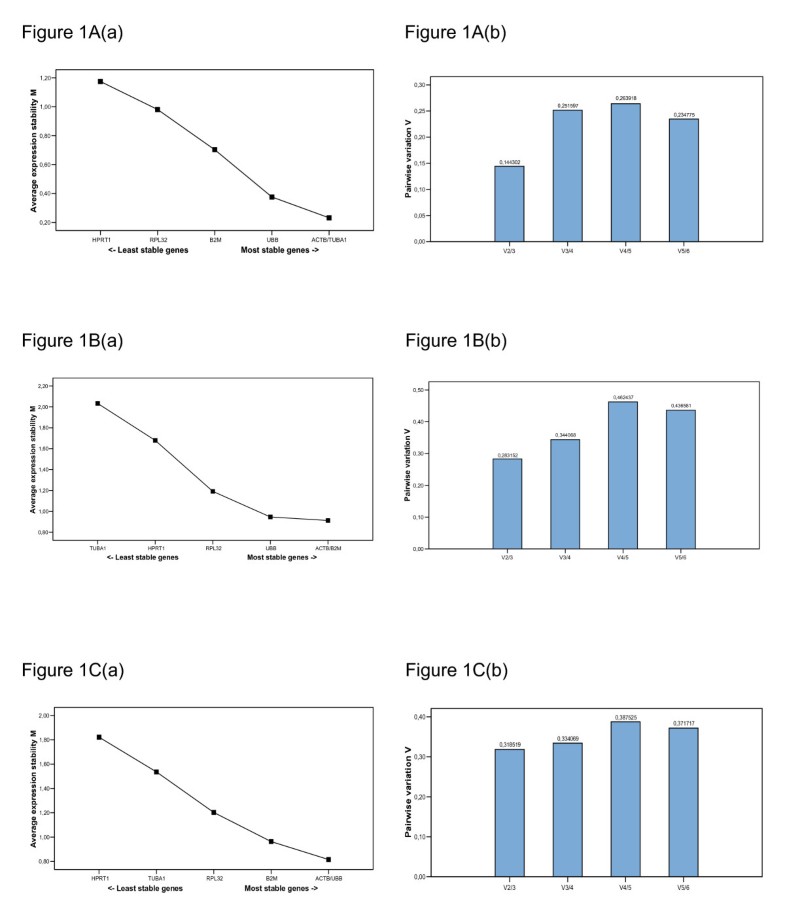 Table 1
Ranking of the reference genes. The reference genes are ranked in order of their expression stability in normal equine skin, in equine sarcoids and in the combination of both kinds of samples, decreasing from top to bottom. The reference genes chosen to calculate the normalisation factor, used for comparing equine sarcoids and normal skin, are printed in bold.
| Normal skin | Equine sarcoid | Combination |
| --- | --- | --- |
| TUBA1 | B2M | UBB |
| ACTB | ACTB | ACTB |
| UBB | UBB | B2M |
| B2M | RPL32 | RPL32 |
| RPL32 | HPRT1 | TUBA1 |
| HPRT1 | TUBA1 | HPRT1 |
When calculating a normalisation factor (NF), a careful choice of the number of reference genes should be made. The more genes included, the more accurate the NF is. However, including too many genes may increase the risk of using unsuitable genes, and is also impractical. On the other hand, if the cut off is made too stringent, stably expressed reference genes may be excluded and accuracy might drop. In order to determine how many reference genes should be included, normalisation factors (NFn), based on the geometric mean of the expression levels of the n best reference genes, were calculated by inclusion of an extra, less stable, reference gene according to Vandesompele et al [9]. Figures 1A(b), 1B(b) and 1C(b) show the pairwise variation Vn/Vn+1 between 2 sequential normalisation factors NFn and NFn+1 for normal skin, equine sarcoids and the combination of both kinds of samples. In all 3 cases, the inclusion of a 4th gene had no significant contribution (low V3/4 value) to the NF. The 3 member sets as described above are a good choice for the calculation of the NF.
Implementation of results in clinical research
For the reasons discussed above, we have confidence that our gene expression results are accurate and reliable. The described set of reference genes can be used in gene expression studies both in normal skin, equine sarcoids and the combination of both. One of the points of interest in veterinary medicine is the expression level of BPV in different kinds of equine sarcoids. With the normalisation technique described in this study, reliable results can be obtained. Another research topic in this domain is the study of BPV expression in normal skin, showing latent infection with BPV. Also, the expression level of specific horse genes with a putative role in tumourigenesis, can be investigated.
Conclusion
In conclusion, a method for genomic DNA-free RNA extraction from normal equine skin and equine sarcoids was optimised and a reference gene assay for reliable normalisation of real-time qPCR data, obtained from normal skin, equine sarcoids and the combination of both, was designed. The profiling of the gene expression pattern of 6 putative reference genes showed that 3 reference genes should be used. ACTB, TUBA1 and UBB can be used in normal skin, while ACTB, B2M and UBB are the best choice in equine sarcoids. If normal skin and equine sarcoids have to be compared, the same member set as proposed for equine sarcoids can be used.
Declarations
Acknowledgements
This research was funded by the Special Research Fund, Ghent University, grant no. 01D01103.
Authors' Affiliations
(1)
Department of Surgery and Anaesthesiology of Domestic Animals, Faculty of Veterinary Medicine, Ghent University - UGent, Merelbeke, Belgium
(2)
Department of Animal Nutrition, Genetics, Breeding and Ethology, Faculty of Veterinary Medicine, Ghent University - UGent, Merelbeke, Belgium
Copyright
© Bogaert et al; licensee BioMed Central Ltd. 2006
This article is published under license to BioMed Central Ltd. This is an Open Access article distributed under the terms of the Creative Commons Attribution License (http://creativecommons.org/licenses/by/2.0), which permits unrestricted use, distribution, and reproduction in any medium, provided the original work is properly cited.