Methodology article

Open Access
Development of an improved polykaryon-based influenza virus rescue system
BMC Biotechnology
2012
12:69
Received: 8 June 2012
Accepted: 13 September 2012
Published: 25 September 2012
Abstract
Background
Virus rescue from transfected cells is an extremely useful technique that allows defined viral clones to be engineered for the purpose of rational vaccine design or fundamental reverse genetics studies. However, it is often hindered by low primary rescue success rates or yields, especially with field-derived viral strains.
Approach
We investigated the possibility of enhancing influenza virus rescue by eliciting cell fusion to increase the chances of having all necessary plasmids expressed within the same polykaryon. To this end we used the Maedi-Visna Virus envelope protein which has potent fusion activity in cells from a wide range of different species.
Results
Co-transfecting cells with the eight plasmids necessary to rescue influenza virus plus a plasmid expressing the Maedi-Visna Virus envelope protein resulted in increased rescue efficiency. In addition, partial complements of the 8-plasmid rescue system could be transfected into two separate populations of cells, which upon fusion led to live virus rescue.
Conclusion
The simple modification described here has the potential to improve the efficiency of the virus rescue process and expand the potential applications for reverse genetic studies.
Keywords
InfluenzaVirus rescueCell fusionReverse genetics
Background
Influenza is a contagious disease that represents a serious health threat to humans and other animals worldwide. Influenza A viruses, in particular, can infect a variety of species. A global reservoir for these viruses exists in wild waterfowl and shorebirds, from which novel viruses can emerge to infect mammalian species. Influenza is therefore a potential threat to humans, pigs, horses, sea mammals, ferrets, mink as well as many terrestrial bird species [1]. In the past decades, several dramatic episodes of large-scale mortality have occurred in domestic birds, humans, and other species. To date, the main approach to control influenza epidemics and pandemics in human and other animal populations is through vaccination (reviewed in [2]) and biosecurity, although other approaches may help prevent the transmission of highly pathogenic influenza in some species [3].
Strategies for regenerating RNA viral genomes from plasmid DNA clones ("virus rescue") have enabled the powerful technique of reverse genetics to be applied to many different RNA viruses including, among others, influenza, rabies, Coronavirus, Rift Valley fever virus or fish RNA viruses [4–8]. This technique allows clonal virus stocks with a defined genotype to be engineered. It therefore has major medical applications as it enables vaccines to be rationally designed by inserting attenuating mutations or chosen antigens into a defined viral background, enhancing our control options for pathogens such as influenza virus [9–15]. In fundamental virus studies, it also enables researchers to test the consequences of defined genetic differences on phenotype, such as growth properties, cell-virus interaction, replication cycle characteristics, pathogenicity, or others - the approach known as "reverse genetics". Various solutions have been developed for satisfying the requirements for the transcribed RNAs to become infectious when produced inside a permissive cell. Among the most complex and demanding systems is that required for the segmented negative stranded RNA viruses such as influenza virus.
The basic strategy for the most commonly used influenza virus rescue systems comprises a set of plasmids that each drives the expression of one viral genome-sense transcript corresponding to each of the eight viral segments. Accurately tailored 5' and 3' termini are achieved by positioning RNA Polymerase I (Pol I) transcription initiation and termination sites respectively (or by using the Hepatitis Delta virus ribozyme to cleave the correct 3' end). Because the RNA is negative sense, the virus polymerase must be produced before replication can ensue. This can be achieved by co-transfecting a further four plasmids that produce the replication proteins (PB2, PB1, PA, NP) in the so-called "12-plasmid system" [16, 17]. A derivative of this system uses tandem opposing RNA Pol I and Cytomegalovirus (CMV) promoters to drive expression of viral genome RNAs and mRNAs respectively encoding all the viral proteins, commonly referred to as the "8-plasmid system" [18, 19]. Another development has been the production of vectors carrying multiple genome segment expression cassettes [20].
These strategies can be effective and have proven very useful for a number of purposes. However regenerating field strains and some mutants and reassortants is often less efficient than for well-adapted laboratory strains and it is not uncommon for several attempts to be needed before a particular viral construct is successfully rescued. This suggests the existence of one or more limiting factors in the process and prompted us to test whether some of these could be overcome to increase rescue efficiency. Several factors may impact virus rescue efficiency. Examples include the replicative ability of a field-derived avian virus in mammalian cells or the balance of the virus' haemagglutinin and neuraminidase activities [21]. We hypothesized that one limitation might be the ability to successfully transfect and simultaneously express eight different plasmids within an individual cell. We therefore reasoned that cell fusion might maximize the likelihood of all eight influenza gene-bearing plasmids being present in the same polykaryon and thereby enhance rescue efficiency.
The Maedi-Visna virus (MVV) is a Lentivirus causing chronic pneumonia or a progressive demyelinating disease in sheep. Its envelop glycoprotein (hereafter referred to as Env) is a major target for virus neutralization and can cause substantial host cell fusion. Receptor to this protein has not yet been identified but is known to be expressed on cells from a wide range of species including primates, avians and rodents [
22
]. We therefore examined co-transfecting an Env expression vector along with the eight plasmid rescue system into HEK 293T/17 cells to determine its effect on virus rescue efficiency (Figure
1
).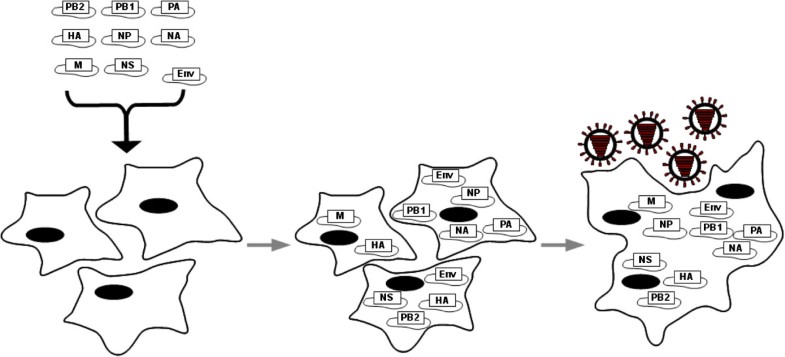 Discussion
Increased rescue efficiency with the Env-expressing plasmid
Virus rescue has major applications in the rational design of influenza A vaccines [12, 15, 23–25], which are to date the main control options in use against this disease. It is also a powerful technique in fundamental research on influenza A, B and C [4, 26–28] and many other RNA viruses [29]. It is useful in this context to enhance the technique and improve our ability to rescue viruses bearing a variety of gene combinations. This report shows that cell fusion mediated by the Maedi-Visna virus envelope protein can be an effective tool in overcoming the challenge of having eight different plasmids expressed together in a single cell for the purpose of influenza A virus rescue.
Virus rescue yields remain highly variable as shown by yield variability between replicate transfections observed also when using fusion. However, using fusion increased yields which can help maximize the chances of rescuing some constructs bearing relevant specific gene combinations that make them difficult to rescue. We showed here that it is possible to use up to 0.4 μg Env-expressing DNA together with 0.6 μg of viral rescue DNA in a 24-well plate format to optimize rescue efficiency. We have found that these conditions improved our ability to rescue some artificially reassorted strains bearing specific gene combinations that we had previously not been able to rescue (unpublished results). The difference in transfected DNA concentration between 24- and 6-well plate formats may explain the apparently better virus yield observed in 24-well plates (Figure 3). Cell fusion also allows virus rescue using only a fraction of the amount of cloned viral genes that would normally be required (Figure 2), a potential advantage when large numbers of different constructs have to be made or where some genes that are challenging to clone are available in limiting quantity.
Cell fusion may enhance influenza virus rescue through different mechanisms. We assumed that one limiting factor was the requirement to successfully deliver eight separate plasmids to the same cell and anticipated that this could be enhanced by using cell fusion. This is supported by the "4 + 4" and "7 + 1" experiment results (Table 1) where the complement of plasmids was deliberately incomplete. It is also supported by experiments where the concentration of viral genes-carrying plasmids was reduced to limiting levels, and where inclusion of the Env plasmid restored rescue efficiency (Figure 2). Another hypothesis to account for enhanced yield is that the MVV envelope protein from the host cell might be incorporated into the primary progeny virus envelope and facilitate the first round of infection and hence amplification. However we believe the latter to be unlikely as in order for viral RNPs to uncoat from the matrix protein, they must be exposed to the acid environment of the endosome (reviewed in [30]). Direct membrane fusion mediated via MVV Env is expected to release viral cores directly into the cytoplasm without prior acid exposure and thus non-infectious.
Other applications of the fusion methodology
In one experiment (Figure 4), we used the trypsin dependence of the PR8 virus in cell culture to eliminate the contribution of amplified virus to the overall yield. Firstly, if it is possible to generate sufficient quantities of primary progeny, one can examine the effect of lethal mutations that may otherwise be unable to undergo amplification (for example mutations in viral proteins or genome RNA that impact on packaging). Viral progeny can be analysed directly for genome complement and ability to initiate a first round of infection. Our method can generate about 104 p.f.u./mL of primary progeny in a 24-well plate format, which could be sufficient for such purposes.
A second application results from the potential offered by fusing cells transfected with different complements of virus segments. It may be possible to establish partial infections in two cell populations, then allow fusion and assay the completion of the virus life cycle. This would be a novel tool studying interactions between different segments during the packaging process and trafficking of viral components.
Conclusion
The simple modification described herein has the potential to improve the efficiency of the virus rescue process and expand the potential application for reverse genetic studies.
Declarations
Acknowledgements
This work was supported by a grant from DEFRA and HEFCE under the Veterinary Training and Research Initiative to the Cambridge Infectious Disease Consortium (VB, LT) and BBSRC grants BB/H014306/1 (LT), BB/G00479X/1 (LT, JL), and the French Ministry of Agriculture and INRA (MD, J-LG, VB).
The empty virus rescue plasmid RF483 was modified in Ron Fouchier's laboratory from the pHW2000 plasmid. We are grateful to Josiane Loupias and Angélique Teillaud for technical help in the lab, to Helen Wise who donated the empty RF483 and the virus PR8 rescue plasmids, to Astrid Canivet and Loïc Dupré for help with the video footage, to Sarah Leclaire for help with the statistical analyses, to Christelle Camus-Bouclainville for help with manuscript preparation, and to James Wood and Meg Staff from CIDC for support.
Authors' Affiliations
(1)
Cambridge Infectious Disease Consortium, Department of Veterinary Medicine, University of Cambridge, Cambridge, UK
(2)
INRA, UMR 1225, IHAP, Toulouse, France
(3)
Université de Toulouse, INP, ENVT, Toulouse, France
(4)
Department of Veterinary Medicine, University of Cambridge, Cambridge, UK
Copyright
© Bourret et al.; licensee BioMed Central Ltd. 2012
This article is published under license to BioMed Central Ltd. This is an Open Access article distributed under the terms of the Creative Commons Attribution License (http://creativecommons.org/licenses/by/2.0), which permits unrestricted use, distribution, and reproduction in any medium, provided the original work is properly cited.