Methodology article
Open Access
RNA interference in marine and freshwater sponges: actin knockdown in Tethya wilhelma and Ephydatia muelleriby ingested dsRNA expressing bacteria
BMC Biotechnology
2011
11:67
Received: 9 December 2010
Accepted: 16 June 2011
Published: 16 June 2011
Abstract
Background
The marine sponge Tethya wilhelma and the freshwater sponge Ephydatia muelleri are emerging model organisms to study evolution, gene regulation, development, and physiology in non-bilaterian animal systems. Thus far, functional methods (i.e., loss or gain of function) for these organisms have not been available.
Results
We show that soaking developing freshwater sponges in double-stranded RNA and/or feeding marine and freshwater sponges bacteria expressing double-stranded RNA can lead to RNA interference and reduction of targeted transcript levels. These methods, first utilized in C. elegans, have been adapted for the development and feeding style of easily cultured marine and freshwater poriferans. We demonstrate phenotypic changes result from 'knocking down' expression of the actin gene.
Conclusion
This technique provides an easy, efficient loss-of-function manipulation for developmental and gene regulatory studies in these important non-bilaterian animals.
Keywords
SpongeSponge TissueFreshwater SpongePhalloidin StainingCytoplasmic Actin
Background
The ability to reconstruct the evolution of animals relies heavily on the availability of comparative data to facilitate understanding of evolutionary trends from the molecular to the organismal level. Among the non-bilaterian animals, recent utilization of phylogenomics has increased our understanding of metazoan relationships [
1
–
5
]. Comparative genomic approaches were used to reconstruct ancestral genomes like the putative genome of the last common ancestor of the Metazoa (LCAM) [
6
–
8
]. Moreover, the same genomic data is used to evaluate hypotheses regarding the evolution of metazoan-specific pathways like those involved in development [
9
–
11
] or cell signaling [
12
–
15
]. For example, the genome of the demosponge
Amphimedon queenslandica
is playing a key role in deciphering evolutionary trends in Metazoan specific gene networks and pathways [e.g. [
8
,
16
]]. Nevertheless, evolutionary biology relies on more than genomic data. Functional studies based on reverse genetics techniques are needed to test the hypotheses provided by genomic analyses. However, the availability of genomic resources and reverse genetic techniques in the non-bilaterian animals is limited compared to the other animals (Figure
1
, tree after [
2
,
17
]). For the Cnidaria, the Placozoa, and the Ctenophora genomic data and reverse genetic techniques are available [e.g. [
18
–
22
]]. However, thus far, only some genomic data is available for the Porifera, and the sister group of Metazoa, the Choanoflagellata. Reverse genetic techniques for these animal groups is of high priority for a comprehensive analysis of evolution and development of the non-bilaterian Metazoa.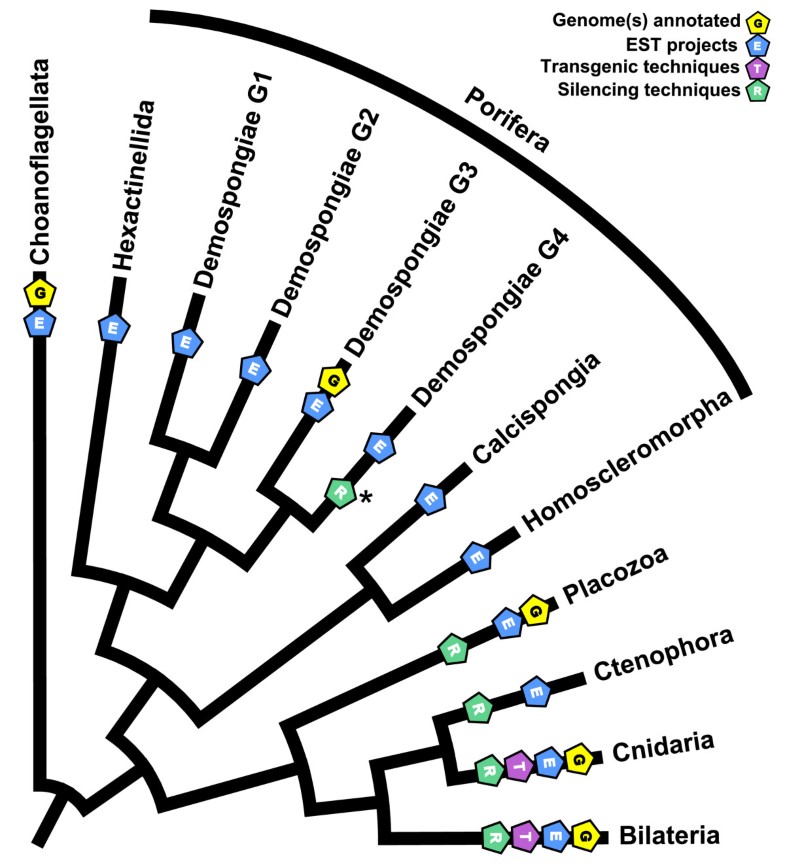 Apart from permanent knockout and/or transgenic lines [e.g. [23]], RNA interference (RNAi) is a powerful tool to alter the expression of genes [24–26]. RNAi can be mediated in a variety of ways, for example soaking animals in double-stranded RNA (dsRNA) or morpholinos [18, 19, 27], injecting dsRNA or morpholinos [28, 29], or feeding dsRNA expressing bacteria [24, 25, 30]. Among these techniques, certain limitations have to be considered: (1) Soaking animals in dsRNA appears to be most problematic in seawater due to issues of RNA stability. This might be one of the reasons why functional genomic studies in marine non-Bilateria are scarce. So far, soaking techniques have only been adapted to Eleutheria dichotoma, Aiptasia pallida and Trichoplax adhaerens [18, 19, 27]. In some studies, the salinity has been altered [18, 19], which cannot be tolerated by most marine organisms. (2) The injection of dsRNA or morpholinos is only efficient if early embryos can be investigated. (3) Feeding of dsRNA-expressing bacteria requires efficient uptake of bacteria either naturally or by mimicking other food sources [30].
Because sponges represent a key group for our understanding of Metazoan evolution including the changes in gene regulation that took place leading to multicellularity and complex body plans in this lineage, our aim was to test and establish RNAi protocols in one freshwater and one marine sponge species. By addressing both living modes we intended to provide a broad basis for future adaptations of this method to other sponge species.
The marine species Tethya wilhelma Sarà, Sarà, Nickel & Brümmer, 2001 (Demospongiae, Hadromerida, Tethyidae) and the freshwater species Ephydatia muelleri (Lieberkühn, 1856) (Demospongiae, Haplosclerida, Spongillidae) are emerging basal animal model organisms. Ephydatia is an abundant and common sponge found on all major land masses in the world [31]. Recent research has lead to a better understanding of Ephydatia biology including cellular physiology and function as well as the role of conserved signaling pathways [e.g., [32–35]]. One of the most important aspects is that during winter Ephydatia forms thousands of gemmules which are cysts containing totipotent stem cells (archeocytes). These gemmules can be collected, stored at 4°C for up to one year, and easily induced to hatch into fully differentiated adults on the laboratory bench. This cultivation routine provides a system to study stem cell differentiation and animal body plan development in these animals [32, 36]. A genome and a transcriptome are currently in the process of being sequenced for this species. Tethya wilhelma is one of the few marine sponges that can currently be permanently maintained in the laboratory based on its capability to reproduce asexually through buds [37–39]. In addition, this species has been studied on a broad scale including functional anatomy [40–42], contractile and movement behavior [13, 37, 43], physiology of integration [13, 44, 45] and bud development [39]. A transcriptome has been sequenced recently and is currently being annotated, and sequencing of the genome is in the planning stage.
To enable functional studies in sponges we developed a protocol for bacterial mediated RNAi-induced silencing based on gene silencing techniques developed for Caenorhabditis elegans [24, 25]. The protocol has been adapted to the marine and freshwater environments and tested by knocking down cytoplasmic actin mRNA levels in juvenile specimens of T. wilhelma and E. muelleri. Our results indicate that this pathway is able to function in both marine and freshwater sponge species.
Conclusions
For the first time, we report successful RNAi techniques for gene knockdown in the sponges E. muelleri (freshwater) and T. wilhelma (marine). We used dsRNA soaking methodology for E. muelleri and a bacterial feeding method adapted to freshwater and marine culture media for both species. Our experiments demonstrate a significant reduction of endogenous mRNA levels in both species after feeding and represent the successful proof-of-principle for bacteria-mediated feeding induced RNA interference in marine and freshwater demosponges. We tested dsRNA methodology using cytoplasmic actin orthologs, a ubiquitously expressed gene involved in cell shape and motility.
In E. muelleri, qRT-PCR analysis showed a modest (~25%) but significant (p <0.05) knockdown of Em-actb after feeding sponges bacteria expressing dsRNA against Em-actb for 24 hours compared to controls, with a maximum knockdown of about 55%. T. wilhelma sponges treated for 33 or 57 hours showed similarly modest but significant (p < 0.05) reductions. T. wilhema treated for up to 8 days showed actin mRNA reductions throughout the entire period of the experiment. The maximum knockdown caused by dsTw-actb-expressing bacteria was almost 50% compared to the control-group mRNA level. We also demonstrated in E. muelleri, at both the mRNA and protein level, that it is possible to knock down additional genes (Em-annexin and Em-six), thus illustrating this method should be applicable for other target genes.
The reduction in expression for actin demonstrates an efficient silencing for a highly expressed gene that may account for about 5% of the total protein content of a cell [53]. Furthermore, in order to increase the level of reduction, longer periods of treatment with dsRNA might be required for highly expressed genes or stable proteins like Actin. Hints of this were seen in the long-term T. wilhelma feeding and E. muelleri soaking experiments (Figure 3C, Figure S6, Additional File 1). It is possible that the RNAi effect may be greater than measured, because the knockdown effect may only be measured in surviving cells. Sponges are known to have high proliferation activity, a short cell cycle duration and cell shedding that is predominantly confined to the choanocytes [e.g. [54]]. This high cell turnover rate may be part of the reason that actin (or probably any gene) will not be knocked down at great levels. Due to the biology of these organisms and the method used, feeding sponges dsRNA will likely be a technique that can be utilized to knockdown, but not knockout gene expression. However, the overall significantly reduced mRNA levels during the entire period of the experiment clearly demonstrated the potential of bacterial-mediated RNAi-induced silencing for functional gene knock down studies in poriferans.
After feeding Em-actin dsRNA, E. muelleri did not display a macroscopic phenotype that could be clearly described at the cellular level. However, the primary Actin knockdown phenotype shown by phalloidin staining was a less extensive Actin network that was manifested in a "crumpled" edge, where tissues should be adhering to the substrate and migrating outwards. Additionally, a reduction of cellular connections in the choanocyte-rich regions and canals due to loss of Actin in endopinacocytes was observed. T. wilhelma showed neither a reduced survival rate nor alterations of rhythm or kinetics of body contractions. Like in E. muelleri, RNAi treated specimens of T. wilhelma displayed no distinct macroscopic phenotype. However, we found strong effects on mesohyle and pinacoderm cell anatomy of T. wilhelma. Apart from reduced Actin content and altered Actin network appearance in pinacocytes, the most prominent effects were hypertrophic mesohyle cells and the lack of mobile bipolar cells, indicating a reduced mobility and cell shape dynamics in dsRNA-treated specimens.
RNAi methods allow us to begin to study sponge gene function in a directed manner, including questions regarding evolution of gene regulatory networks, nervous system and muscle evolution, and also functional studies concerning biomineralization and other metabolic processes. Our results also suggest that RNAi might be a valuable tool to investigate cell-type functionality in sponges, as has been shown for other organisms, like Hydra [e.g. [30]]. This would facilitate studies on the evolution of cell differentiation in sponges. Additionally, it might help us to differentiate variable morphotypes of one single cell type versus other cell types. Thus, RNAi would help solve a long-standing problem for sponge biologists and evolutionary biologists interested in cell type evolution [e.g. [55]] by allowing unique studies to clearly define and distinguish sponge cell types, most likely in conjunction with in situ hybridization. We assume that our protocol will be readily applicable to other marine sponge species like the homoscleromorph Oscarella lobularis [56, 57] or the calcareous Sycon ciliatum and S. raphanus [58–60]. It will also be adaptable to the freshwater species E. fluviatilis and Spongilla lacustris, which are also commonly used to study sponge biology [36, 61–63]. In conclusion, our present study closed an existing gap for a functional genomics protocol for the Porifera and will thus stimulate a number of comparative functional studies, which will deepen our understanding of metazoan evolution.
Declarations
Acknowledgements
We are grateful to Martin S. Fischer (Jena) for supporting our work and providing infrastructure, Erika Kothe (Jena), Michael Friedrich and Peqlab Biotechnologie GmbH (Erlangen) for providing access to qPCR machines, Jürgen Bolz, Michael Richter & André Steinecke (Jena) for access to and assistance at the cLSM, Isabel Koch and Alex Mendosa (both Stuttgart) for access to sponge material supplementing our own culture, and Mareike Klinger, Katja Felbel and Benjamin Weiss (all Jena) for excellent technical support. JUH received funding from Studienstiftung des Deutschen Volkes. MN was supported through FSU Jena DRM program. GW acknowledges funding from the German Science Foundation (DFG). We are also grateful to Carolyn Marks for help with confocal and electron microscopy (Richmond). We thank Heather Babka (ISU) and Martin Dohrmann (Smithsonian Institution) for comments on a previous version of the manuscript. ALH was supported by a grant from the Thomas F. and Kate Miller Jeffress Memorial Trust and ALH, MSH and DVL acknowledge funding from the National Science Foundation (AToL).
Authors' Affiliations
(1)
Department of Biology, University of Richmond, Richmond, USA
(2)
Institut für Spezielle Zoologie und Evolutionsbiologie mit Phyletischem Museum, Friedrich-Schiller-Universität, Jena, Germany
(3)
Iowa State University, Ames, USA
(4)
Department of Earth and Environmental Sciences & GeoBio-CenterLMU, Ludwig-Maximilians-University Munich, Germany
(5)
Biology Department, College of the Pacific, Stockton, USA
(6)
Molecular Cell Biology, Washington University, St. Louis, USA
(7)
Molecular and Cellular Biology, Stony Brook University, Stony Brook, USA
(8)
Sigma-Aldrich Biotechnology, St. Louis, USA
Copyright
© Rivera et al; licensee BioMed Central Ltd. 2011
This article is published under license to BioMed Central Ltd. This is an Open Access article distributed under the terms of the Creative Commons Attribution License (http://creativecommons.org/licenses/by/2.0), which permits unrestricted use, distribution, and reproduction in any medium, provided the original work is properly cited.