Methodology article
Open Access
Nano-biolistics: a method of biolistic transfection of cells and tissues using a gene gun with novel nanometer-sized projectiles
BMC Biotechnology
2011
11:66
Received: 24 June 2010
Accepted: 10 June 2011
Published: 10 June 2011
Abstract
Background
Biolistic transfection is proving an increasingly popular method of incorporating DNA or RNA into cells that are difficult to transfect using traditional methods. The technique routinely uses 'microparticles', which are ~1 μm diameter projectiles, fired into tissues using pressurised gas. These microparticles are efficient at delivering DNA into cells, but cannot efficiently transfect small cells and may cause significant tissue damage, thus limiting their potential usefulness. Here we describe the use of 40 nm diameter projectiles - nanoparticles - in biolistic transfections to determine if they are a suitable alternative to microparticles.
Results
Examination of transfection efficiencies in HEK293 cells, using a range of conditions including different DNA concentrations and different preparation procedures, reveals similar behaviour of microparticles and nanoparticles. The use of nanoparticles, however, resulted in ~30% fewer damaged HEK293 cells following transfection. Biolistic transfection of mouse ear tissue revealed similar depth penetration for the two types of particles, and also showed that < 10% of nuclei were damaged in nanoparticle-transfected samples, compared to > 20% in microparticle-transfected samples. Visualising details of small cellular structures was also considerably enhanced when using nanoparticles.
Conclusions
We conclude that nanoparticles are as efficient for biolistic transfection as microparticles, and are more appropriate for use in small cells, when examining cellular structures and/or where tissue damage is a problem.
Keywords
Gold ParticleSpermidineDendritic SpineMaximum Depth PenetrationHuman Embryonic Kidney HEK293
Background
Gene delivery using biolistics is a useful mechanism to transfect DNA into cells that cannot readily be transfected by other methods, and also has potential for delivery of other macromolecules such as RNA [1.2]. The technique was originally widely used for plant transfections [3], but, as it is a physical and not a chemical transfection procedure, its use is not limited to compliant cell types. It has, for example, been successfully used to transfect neurones (some of which are notoriously difficult to transfect), cells deep in tissues (DNA can be carried considerable distances through other cells such as layers of skin), and bacteria [4–7]. Currently there is much interest in its use for nucleic acid mediated immunizations; studies in the 1990s revealed that DNA vaccination could mediate protective immunity, as plasmid DNA incorporated into cells results in an antigen-specific antibody responses (see [8–10] for reviews).
A variety of systems have been developed for biolistic transfections and currently the Helios gene gun (Bio-Rad, Hercules, CA) is one of the most widely used. This gene gun, which delivers particles superficially over a relatively wide area, has proved useful for cultured cells or thin tissue sections, and the use of a modified barrel has allowed deeper, more targeted delivery [11]. Use of either barrel, however, results in tissue damage e.g. loss of cultured cells at the centre of the 'shot', or significant numbers of damaged cells in tissues [11–14]. This is problematic as the gene gun has considerable potential for use in human and animal gene therapy, and for transfecting delicate cell preparations. One potential route to decrease tissue damage is to decrease the size of the particles carrying the DNA. Most protocols currently use microparticles, which are usually ~1 μm diameter projectiles e.g. [1, 2, 11–15], but smaller particles (100-180 nm) have been used with some success [16, 17]. The use of smaller particles has the potential advantage of allowing more efficient transfection of smaller cells and specific cellular regions. For example, one of us has recently been examining the structures of dendritic spines using diolistics (insertion of dyes into cells using projectiles) [18]. The length of these spines (0.5 - 3 µm) required the use of nanometer-sized projectiles, which have recently become available. However it was not clear if such particles would be suitable for carrying DNA into cells, and so in this study we have examined the efficiency, depth penetration and tissue damage of the 40 nm projectiles as compared to 1 μm projectiles.
Methods
Micro and nano-particles
The core diameter of the particles used was 40 ± 0.8 nm or 991 ± 11 nm for the 40 nm (Alfa Aesar, MA, USA) and 1 μm (Bio-Rad laboratories, USA) particles respectively. These particles have a hydrodynamic diameter of 47.2 ± 1.3 and 1060.7 ± 2.4 nm respectively as determined by light scattering. Their electrokinetic properties are similar (54 mV and 55 mV respectively). To confirm the sizes we also examined the particles using electron microscopy (Figure
1
).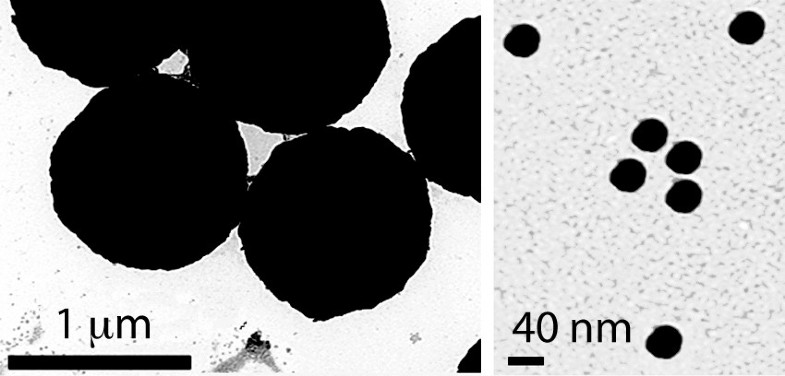 Preparation of projectiles
We define projectiles as gold particles upon which DNA has been precipitated by the use of spermidine and Ca2+. Electron microscope images (Figure 1) reveal that the size when coated is similar to uncoated particles i.e. 40 nm and 1 µm. Particles were prepared as previously described [15] using 1 µm or 40 nm diameter gold particles. Briefly, 50 µl of 0.05 M spermidine and 10 µl DNA at 0.5, 1, 2 or 4 mg/ml (pEYFP-N1; Clontech, USA) were added to 10 mg particles (final amounts of DNA/bullet were 0.25, 0.5, 1 or 2 μg). The mix was agitated by vortexing while adding 50 µl 1 M CaCl2 in 10-15 µl drops. After 5 min with intermittent mixing the supernatant was removed by centrifugation (1,000 × g for 30 s) and the gold pellet resuspended in 3.5 ml 0.075 M polyvinylpyrrollidone (PVP; Sigma). This suspension was then inserted into Tefzel tubing (0.1 mm internal diameter; Bio-Rad), the gold particles allowed to settle, and the supernatant removed. Then the tubing was rotated to ensure an even spread of the gold particles, which were subsequently dried with a flow of nitrogen. The tubing was cut using a tubing cutter (Bio-Rad) into 1 cm lengths to create bullets, which were either used immediately or stored with desiccant at 4°C until required.
Biolistic transfection
Human embryonic kidney HEK293 cells were maintained in DMEM/F12 media at 7% CO2. For transfection they were grown on 22 mm diameter glass coverslips in 35 mm plates until 60-80% confluent. They were biolistically transfected with the modified gene gun [11] loaded with the coated projectiles using a gas pressure of 50 psi at a distance of 1 cm. After 24 h they were fixed with 4% paraformaldehyde (PFA; Sigma-Aldrich), counterstained with diamidino-2-phenylindole (DAPI; Vector), and mounted using Vectashield (Vector). Samples of adult mouse ear tissue (removed from dead mice) were shot with the modified gene gun using a gas pressure of 75 psi at a distance of 5 mm. They were fixed in 4% PFA and 50 µm sections obtained using a microtome. The sections were counterstained with DAPI for 5 min. Brain slices were prepared as previously described [11] and transfected with the modified gene gun using a gas pressure of 50 psi at a distance of 10 mm. After 24 h they were counterstained with DAPI for 5 min. No significant aggregation of particles was observed either before or after transfection. All images were viewed using a Bio-Rad Radiance Plus confocal microscope. Data is presented as mean ± SEM.
Discussion
We describe here the use of nanometre-sized particles to transfect cell and tissue samples using biolistic methods. The method for preparing these particles is the same as that for the preparation of microparticles, which are widely used in biolistics. Our data show that efficiency of nanoparticles is similar to that of microparticles, and that their use results in less tissue damage. Efficiency of transfection in culture cells can be considerably higher using other transfection techniques using lipids, polymers or electroporation, for which we have observed levels > 80% in HEK 293 cells (data not shown). The particular advantage of the gene gun, however, is its use for transfecting cells that cannot be easily transfected by these methods, and for transfecting cells deep in tissues. There is currently much interest in using the gene gun for delivery of DNA vaccines into skin and muscle, and in gene therapy e.g. [8–10, 19–21]. The introduction of dystrophin cDNA in a mouse Duchenne dystrophin model using microparticles, for example, has resulted in detectable levels of dystrophin protein for up to 60 days after bombardment [22]. The discovery that smaller projectiles are equally effective but cause less tissue damage could therefore have a significant impact on the feasibility of biolistic transfection as a therapeutic technique. It may also be possible to modify the nanoparticles, e.g. with polyethyleneimine to create cationic gold particles, which have been shown to deliver increased amounts of DNA, although the efficiency and damage-propensity of these particles has not been examined [23–25]. The use of such small particles as efficient carriers of genetic material also enhances the prospects of efficiently transfecting smaller organisms or specific regions of cells such as dendritic spines.
Conclusions
Nanoparticles have similar efficiency to microparticles for biolistic transfection, and can be used to efficiently transfect small cells, organelles, or specific cell regions. In addition their smaller size results in less tissue damage, indicating that they are more appropriate for use where tissue damage is a problem.
Declarations
Acknowledgements
We would like to thank the MRC (JAOB) and the Wellcome Trust (SCRL) for supporting this work, and Nigel Unwin for producing the image of the particles. SCRL is a Wellcome Trust Senior Research Fellow in Basic Biomedical Science.
Authors' Affiliations
(1)
Neurobiology Division, MRC Laboratory of Molecular Biology, Cambridge, UK
(2)
Department of Biochemistry, University of Cambridge, Cambridge, UK
Copyright
© O'Brien and Lummis; licensee BioMed Central Ltd. 2011
This article is published under license to BioMed Central Ltd. This is an Open Access article distributed under the terms of the Creative Commons Attribution License (http://creativecommons.org/licenses/by/2.0), which permits unrestricted use, distribution, and reproduction in any medium, provided the original work is properly cited.