Methodology article
Open Access
Novel concept microarray enabling PCR and multistep reactions through pipette-free aperture-to-aperture parallel transfer
BMC Biotechnology
2010
10:71
Received: 1 March 2010
Accepted: 6 October 2010
Published: 6 October 2010
Abstract
Background
The microarray has contributed to developing the omic analysis. However, as it depends basically on the surface reaction, it is hard to perform bulk reactions and sequential multistep reactions. On the other hand, the popular microplate technology, which has a great merit of being able to perform parallel multistep reactions, has come to its limit in increasing the number of wells (currently, up to 9600) and reducing the volume to deal with due to the difficulty in operations.
Results
Here, we report a novel microarray technology which enables us to explore advanced applications, termed microarray-with-manageable volumes (MMV). The technical essence is in the pipette-free direct parallel transfer from well to well performed by centrifugation, evading the evaporation and adsorption-losses during handling. By developing the MMV plate, accompanying devices and techniques, generation of multiple conditions (256 kinds) and performance of parallel multistep reactions, including PCR and in vitro translation reactions, have been made possible. These were demonstrated by applying the MMV technology to searching lysozyme-crystallizing conditions and selecting peptides aimed for Aβ-binding or cathepsin E-inhibition.
Conclusions
With the introduction of a novel concept microarray (MMV) technology, parallel and multistep reactions in sub-μL scale have become possible.
Keywords
Polymerase Chain ReactionGreen Fluorescent ProteinPDMSMagnetic BeadProtein Chip
Background
Introduction of the microarray has brought about a revolutionary change in biological studies, leading to the development of omic world studies: genome, transcriptome, proteome, and others [1, 2]. The microarray technology has a wide range of applications and is still developing. Among the most common applications, there are cDNA and oligonucleotide chips [3, 4] and expression array of proteins [5, 6]. Much advanced applications are appearing as the living protein chip [7, 8]. In essence, the current microarray technology is based on the surface reaction allocated at each spot. Therefore, in a microarray experiment, the elements of reactants (e.g., a set of mRNAs expressed in a particular cell) can be sorted and arrayed by a set of counter-reactants (e.g., oligonucleotides of different sequences) at a single operation, saving laborious experiments and costly reagents. For the researcher's convenience, microarrays which deal with a high density of information need to be supplied commercially due to the requirement of elaborate apparatuses and software. Obviously, most of the data obtained by the microarray technology could not have been addressed by any other method, featuring the exceptional power of this technology.
Nevertheless, the current microarray technology still leaves room to be developed. One of the emerging desires to it is the ability of multistep operations and reactions: e.g., if an mRNA binding to a particular oligonucleotide could be translated into a protein in situ and then could be monitored about the function of the product (protein), functional analyses of proteins would be much boosted up. On the other hand, in an in vitro evolution study, a huge number of clones (more than 103-4) need to be screened at once, meaning that each clone can be in a very small amount (less than μL) and highly parallel (more than thousands) and multistep operations are required [9–12]. In other words, the conventional micro-plate (96- and 384-wells) technology, though it allows us to operate in multisteps, requires not a tiny amount of reagents (more than 10 μL or so) if we consider the high degree of parallelism. Therefore, technologies dealing with less than μL aliquots have been pursued. Although there are not a few studies on dealing with sub-μL solutions [13–15], they are basically microfluidics approaches and are currently limited in the degree of parallelism and the number of possible reaction steps [16]. This may be because they are adopting, in a sense, a closed system so as to prevent from evaporation-loss of a tiny volume of sample, leading to rather elaborate and complicated systems. Another approach to earn the multiplicity and smallness of samples is the beads-based one [17] and the essence of it has been successfully adopted in the machine of giga-base (next-generation) sequencers [18]. However, in this approach, there is a difficult problem to cope with: multi-parallel and multistep reactions require the compartmentation of beads. This has already been challenged by some scientists [19]. We made a quite different, unique approach for this challenge: open well type compartmentation.
In this stream, we have devised a multi-well type microarray (open system) made of plastics (dry) and gel (wet) and developed its operational method through pilot experiments such as an arrayed-colony formation, a parallel monitoring of various conditions (for crystallization), and an application to multistep reactions. To develop such technologies, fabricating microarrays in-house was actually prerequisite. As is well-known, the conventional microarray technology has been developed based on the highly sophisticated photo-lithographic technology developed for the IC industry [
20
]. Therefore, the technological framework was well-established and rather easy to attain a high density of arrays (
e.g
., millions per square inches). Though the IC-derived technology is good at surface reactions, this technology developed for handling 'information (state)' but not 'materials (molecules)' has a limitation in being applied to a bulk reaction of molecules. One typical inconvenience is, as shown in Fig.
1
, in the inability to succeed individual reaction products at each spot for the next reaction independently, thus making the parallel multistep reactions impossible. Since almost all reactions
in vitro
need to be multistep ones, a number of separate tubes (or their collective form termed as microplate) have been traditionally used with an aid of robotics, resulting in a massive system [
21
–
23
]. Currently, the number of wells per micro-plate has boosted up to almost the limit of 3456 to 9600 with increase of difficulties in operation time and throughput accuracy [
24
]. In this paper, a novel method depending on a wet and dry microarray system was developed, which enables parallel operations of sub-μL aliquots by overcoming difficult problems such as measuring and transferring sub-μL solutions in parallel without critical evaporation and adsorption-losses of samples. As a result, multi-different conditions were formed for crystallization of proteins and multistep reactions were successively performed in parallel beginning with PCR followed by transcription, translation, modifying enzyme reaction, and protease-activity assay. Thus, this paper reports a great potentiality of a novel concept microarray MMV for the first time.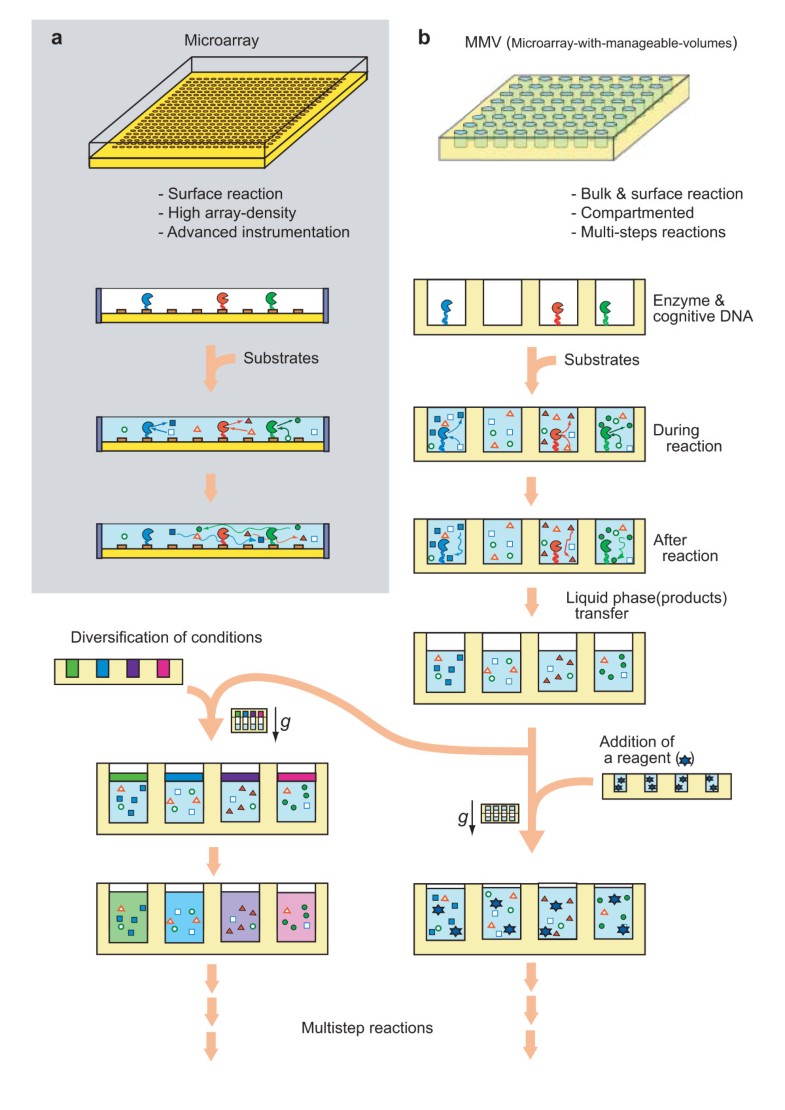 Results and discussion
First, we need to describe how to make and handle the novel microarray MMV and then proceed to its applications.
Conclusions
We have first introduced a novel concept microarray that can handle sub-μL scale bulk reactions, which enables 1000-fold parallel and multistep reactions. For this purpose we fabricated wet and dry microarrays with manageable volumes (MMVs). MMVs could be used for setting multi-different conditions and for culturing cells in an array mode (Fig. 6, Fig. 7 and Fig. 8). Especially, MMVs were powerful for in vitro selection experiments as shown regarding the selections of Aβ-binding peptides and CE inhibitory ones (Fig. 9 and Fig. 10). Conclusively, the MMV has two prominent merits: an ability to generate multiple conditions (1000-fold and more) and another ability to succeed well-specific products well-to-well (leading to multistep parallel reactions). Both were proven effective experimentally in this paper. We sometimes experienced mis-transfers in the aperture-to-aperture (well-to-well) mode because of side diffusion in-between two MMVs (partly discussed in Fig. 4). This problem must be solved controlling the quality of MMVs (Recently, this was verified by an experiment using MMVs made of PDMS (data not shown)). This technology is relatively free from the problems of evaporation (see Additional file 3) and adhesion losses owing to the direct transfer from well to well and the introduction of wet vessels made of gel. Since the volume of a solution is measured by the capacity of a well, there are some errors in the volume precision by around 10% or so, which is still permissible for the current studies. Moreover, this fault must be conquered by the improvement of the surface nature of dry MMVs (which sometimes work as a scale). Therefore, sub-μL volume, which is almost beyond the pipette operation, could be first manipulated quantitatively without depending on pipettes.
Finally, drawing a possible application of the MMV technology must be helpful to visualize the utility of this novel one. Namely, we will be able to fabricate a protein chip more conveniently and effectively than currently done. The procedures will be: i) make an oligonucleotide-array based on the conventional microarray technology, ii) trap cDNAs by hybridization at each cognitive oligonucleotide spot, iii) transfer each DNA parallelly to each corresponding well of an MMV by electrophoresis or diffusion (from spot to aperture), iv) do successive reactions in MMVs including PCR, in vitro transcription and in vitro translation on beads within a well, v) transfer the resultant peptides/proteins on beads on a chip surface and fix there by a tag sequence or else, completing a protein chip. This approach will drastically reduce the cost and labor to make arbitrarily designed protein chips. The protein chip thus constructed must be used for 'proteomic diagnosis' which aims to survey all biomarkers such as cancer, diabetes, neurodegenerative diseases, and others at once and quantitatively. To be encouraging enough, in vitro evolution utilizing the MMV itself (partly shown in Fig. 9 and Fig. 10) must be able to find such biomarkers.
Methods
Tools and methods to construct the system of microarray-with-manageable-volumes (shortly, MMV) have been developed in this study, including an MMV generator, various types of MMV plates (made of gel or plastics with wells of different size and number), MMV containers for centrifugation and incubation and sample transfer/solution preparation methods.
Declarations
Acknowledgements
This study was supported by the Grants provided by JST (Collaboration of Regional Entities for the Advancement of Technological Excellence (Saitama-Bio, REDS)) and MEXT (City Area Program (Saitama Metropolitan Area)). One of the authors (KN) expresses thanks to H. Kobukata and T. Ohashi for their forerunning experiments related to this study.
Authors' Affiliations
(1)
Department of Functional Materials Science, Graduate School of Science and Engineering, Saitama University, Saitama, Japan
(2)
Janusys Corporation, Kawaguchi, Japan
(3)
Rational Evolutionary Design of Advanced Biomolecules, Saitama (REDS), Saitama Small Enterprise Promotion Corporation, Kawaguchi, Japan
(4)
City Area Program (Saitama Metropolitan Area), Saitama Small and Medium Enterprises Development Corporation, Saitama City, Japan
(5)
Department of Electrical and Electronic System, Graduate School of Science and Engineering, Saitama University, Japan
Copyright
© Kinoshita et al; licensee BioMed Central Ltd. 2010
This article is published under license to BioMed Central Ltd. This is an Open Access article distributed under the terms of the Creative Commons Attribution License (http://creativecommons.org/licenses/by/2.0), which permits unrestricted use, distribution, and reproduction in any medium, provided the original work is properly cited.