Methodology article
Open Access
A simple fluorescence based assay for quantification of human immunodeficiency virus particle release
BMC Biotechnology
2010
10:32
Received: 10 November 2009
Accepted: 20 April 2010
Published: 20 April 2010
Abstract
Background
The assembly and release of human immunodeficiency virus (HIV) particles from infected cells represent attractive, but not yet exploited targets for antiretroviral therapy. The availability of simple methods to measure the efficiency of these replication steps in tissue culture would facilitate the identification of host factors essential for these processes as well as the screening for lead compounds acting as specific inhibitors of particle formation. We describe here the development of a rapid cell based assay for quantification of human immunodeficiency virus type 1 (HIV-1) particle assembly and/or release.
Results
Using a fluorescently labelled HIV-derivative, which carries an eYFP domain within the main viral structural protein Gag in the complete viral protein context, the release of virus like particles could be monitored by directly measuring the fluorescence intensity of the tissue culture supernatant. Intracellular Gag was quantitated in parallel by direct fluorescence analysis of cell lysates, allowing us to normalize for Gag expression efficiency. The assay was validated by comparison with p24 capsid ELISA measurements, a standard method for quantifying HIV-1 particles. Optimization of conditions allowed the robust detection of particle amounts corresponding to 50 ng p24/ml in medium by fluorescence spectroscopy. Further adaptation to a multi-well format rendered the assay suitable for medium or high throughput screening of siRNA libraries to identify host cell factors involved in late stages of HIV replication, as well as for random screening approaches to search for potential inhibitors of HIV-1 assembly or release.
Conclusions
The fast and simple fluorescence based quantification of HIV particle release yielded reproducible results which were comparable to the well established ELISA measurements, while in addition allowing the parallel determination of intracellular Gag expression. The protocols described here can be used for screening of siRNA libraries or chemical compounds, respectively, for inhibition of HIV in a 96-well format.
Keywords
Human Immunodeficiency VirusPost TransfectionHuman Immunodeficiency Virus ReplicationLate DomainTissue Culture Supernatant
Background
The acquired immunodeficiency syndrome (AIDS), caused by infection with the human immunodeficiency virus (HIV), is a major cause of disease and death worldwide. In the absence of a protective vaccine, prevention of infection and the treatment with antiretroviral drugs remain the only options to prevent the spread of HIV and combat the disease. Current therapy of HIV infection (highly active antiretroviral therapy, HAART) involves treatment with a combination of three or more drugs targeting different steps in HIV replication [reviewed in [
1
]]. The benefits of HAART are limited by viral resistance development and the transmission and spread of resistant HIV variants. Therefore, additional treatment options targeting alternative steps in the viral replication pathway are needed. The late replication steps of virion assembly and release are not targeted by any of the currently approved antiretroviral drugs and thus present targets for alternative inhibition strategies. The processes of HIV particle assembly and release, as well as the morphological maturation of particles into infectious virions, are orchestrated by the main structural polyprotein Gag. Compounds that do interfere with HIV infectivity in tissue culture by interaction with the Gag polyprotein or its capsid domain (CA), respectively, have been described. The compounds bevirimat [[
2
]; reviewed in [
3
]] and CAP-1 [
4
,
5
], do not impair HIV immature particle release, but affect the maturation into infectious particles by binding to a proteolytic processing site in the Gag polyprotein precursor or to the N-terminal domain of the CA protein, respectively. Furthermore, a peptide (CAI), which acts as a
bona fide
inhibitor of particle assembly from purified HIV structural protein
in vitro
has been reported [
6
,
7
]. A cell-permeable derivative of this peptide has been shown in a proof of principle study to inhibit HIV replication in tissue culture, albeit with IC50 values in the low to mid μM range and a low selectivity index [
8
]. Small molecule chemical compounds which specifically inhibit the steps of immature Gag assembly or particle release have not yet been identified. Rational development of such compounds is hindered by the fact that the late stages in the viral life cycle are highly complex processes involving the interaction of viral components with intricate cellular machineries, which are currently only partly understood. It is well established that components of the cellular ESCRT machinery [
9
], which are recruited by a so-called 'late domain' motif within Gag, are involved in the budding of HIV particles from the host cell [for review see [
10
]] and a number of additional cellular factors have been implicated to be involved in the late stages of HIV replication [reviewed in [
11
,
12
]]. However, a comprehensive picture of cellular factors and pathways involved in the transport, assembly and release of viral components is currently lacking. Genome-wide siRNA screening approaches have been carried out with the aim of identifying host cell factors essential or inhibitory for HIV replication [
13
–
15
]. So far, only two published studies include late stages of virus replication in their analysis, and the results from the different studies showing surprisingly little overlap [
16
–
18
]. The availability of simplified cell based assay procedures specifically monitoring the steps of HIV assembly and particle release in tissue culture would greatly facilitate both large-scale siRNA analyses focussing in particular on the late stages of virus replication, as well as the random screening of chemical compound libraries in order to identify lead substances which interfere with HIV particle formation. A well established and widely used method for quantification of HIV particle production is an enzyme linked immunosorbent assay (ELISA) detecting the viral capsid (CA) protein p24 in tissue culture supernatants. However, ELISA measurements display a limited linear range and require many handling steps and expensive reagents. In contrast, measurement of fluorescence intensity is a direct, quantitative readout which can easily be performed in a multi-well format. Thus, we decided to establish a simplified assay based on our previously described fluorescently labelled HIV derivative carrying an eGFP moiety inserted as a separate domain into the main viral structural polyprotein Gag [[
19
,
20
]; Figure
1A
]. Cells transfected with the
egfp
-carrying proviral construct release fluorescent virus like particles in a late domain dependent manner and we have previously used these labelled derivatives to analyze the dynamics of HIV-1 particle formation [
21
]. Here, we describe a simple and direct assay for monitoring HIV particle release through quantitation of fluorescent VLPs in tissue culture supernatant. Based on this principle, we have established protocols suitable for the screening of either siRNAs or chemical compounds for their interference with HIV assembly and/or release in a multi-well, medium to high throughput format.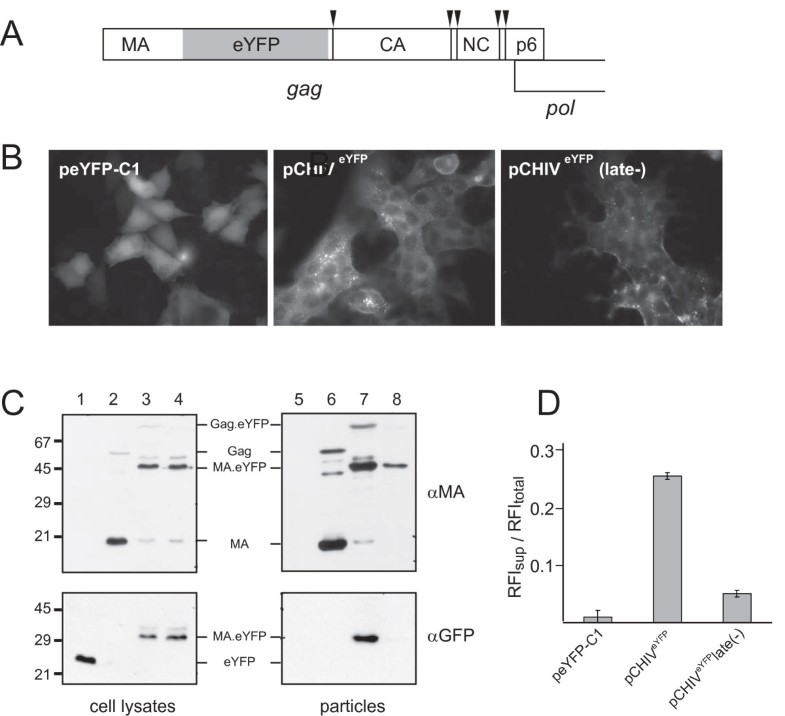 Conclusion
We conclude that direct measurement of fluorescence intensities after transfection of cells with a labelled HIV derivative represents a reliable method for monitoring HIV particle release, which is suitable for use in random screening approaches to search for chemical inhibitors or siRNAs specifically interfering with HIV assembly or release.
Methods
Plasmids
Plasmid pCHIVeYFP was constructed by inserting a PCR fragment comprising the complete eYFP coding sequence from peYFP-C1 (Invitrogen) into an engineered ClaI-site between the codons for amino acids 128 and 129 of MA. The cloning strategy for this construct, as well as for its late domain defective variant was analogous the cloning strategy previously described for eGFP labelled virus variants [19, 20]. Plasmids for the expression of recombinant His-tagged eGFP, eYFP and eCFP were generated by cloning PCR fragments comprising the respective coding sequences into the NdeI and BamHI sites of pET16b (Novagen). Plasmid pmRSETmRFP1 was a kind gift of R. Tsien.
Tissue culture and virus preparation
293T and HeLaP4 cells were cultured at 37°C, 5% CO2 in Dulbecco's modified Eagle's medium (DMEM) supplemented with 10% fetal calf serum (FCS), penicillin, streptomycin, 4 mM glutamine and 10 mM Hepes. For viral particle preparation, 293T cells were transfected with pCHIVeYFP or with an equimolar mixture of pCHIVeYFP and pCHIV as indicated by standard calcium phosphate precipitation. Tissue culture supernatants were harvested at 40-44 h post transfection, filtered through 0.45 μm filters and particles were concentrated by ultracentrifugation through a 20% (w/w) sucrose cushion. Virus preparations and cell lysates were separated by SDS-PAGE (17.5%, acrylamide:bisacrylamide 200:1) transferred to nitrocellulose and analyzed by ECL immunoblot (Pierce) using polyclonal rabbit antisera raised against purified recombinant His-tagged HIV MA and GFP, respectively. The antiserum raised against GFP displays cross-reactivity with the GFP derivative eYFP. For quantitation of virus by ELISA, tissue culture supernatants or particle preparations, respectively, were diluted with SDS-Sample buffer (final concentration 0.1% SDS) and incubated for 5 min at 95°C to enhance antibody recognition of unprocessed Gag. Samples were subsequently diluted in PBS/0.1% Tween 20 before incubation with capture antibody. The concentration of CA p24 in the samples was determined by ELISA as previously described [32].
Fluorescence measurements of particle preparations were carried out at room temperature in phosphate buffered saline or DMEM/10% FCS as indicated using a TECAN Safire multi-well reader set to excitation and emission wavelengths of 512 nm and 528 nm, or an Aminco-Bowman SLM-2 spectrophotometer for cuvette based measurements, respectively.
Release assay
293T cells were transfected with pCHIVeYFP, pCHIVeYFPlate(-) or peYFP-C1, respectively, using calcium phosphate or FuGene 6 (Roche) according to standard procedures. At the indicated time points, samples of tissue culture supernatant were removed, briefly centrifuged to remove cell debris (5 min, 3000 g) and subjected to fluorescence measurement. At the end of the indicated incubation period, the remaining medium was removed, cells were briefly washed with phosphate buffered saline (PBS) and incubated in lysis buffer (PBS/0.5% Igepal) at a volume corresponding to the volume of the tissue culture supernatant. Cells were incubated for 10 min at room temperature and cell debris was removed by brief centrifugation (2 min, 1500 g). Fluorescence measurements of supernatants and cell lysates were carried out using an SLM Aminco 2 spectrofluorometer.
For the semi-automated multi-well screening approach, a protocol for batch transfection of cells in suspension was established. 293T cells grown on 10 cm dishes were harvested by trypsinization and adjusted to 3 × 105cells/ml in DMEM without FCS. Per 96-well plate, 960 μl of DMEM without FCS was mixed with 38.4 μl FuGene6 (Roche). Following 5 min incubation at room temperature 19.2 μg of total plasmid DNA were added and the mixture incubated for further 15 min at room temperature. Subsequently, 9.6 ml of the cell suspension were added and 110 μl of the transfection mixture was seeded per well onto 96-well plates (Corning COSTAR #3603) or 25 μl per well onto 384-well plates (BD FALCON 353962, BD Biosciences) using an automated reagent dispenser (MultiDrop® Combi). Plates were incubated at 37°C. At 36 h post transfection, plates were centrifuged (1500 rpm, 8 min) and 87.5 μl of the supernatant was transferred to new 96-well plates (Corning COSTAR #3916) or 20 μl to 384-well plates (BD FALCON 353962) using the compact automated liquid handler Hydra DT (Matrix, Thermo Fisher Scientific). The residual supernatant was removed and 100 μl (96-well plates) or 25 μl (384-well plates) 0.1% Igepal CA630 (Sigma-Aldrich) in PBS were added to each well, followed by one freeze-thaw cycle to promote cell lysis. Fluorescence intensities of supernatants and cell lysates were determined using a multi-well fluorescence reader (Tecan SAFIRE).
Screening of an siRNA library required several modifications of this procedure. The plates used for seeding the cells were pre-coated with an siRNA transfection mixture using a previously described reverse transfection protocol [29, 30] and liquid handling platform [33]. Briefly, a mixture of the respective siRNA, the transfection reagent Lipofectamine 2000 (Invitrogen), fibronectin (Sigma-Aldrich), sucrose and gelatine were transferred automatically to 96-well plates (Corning COSTAR #3603). Silencer® Select Negative Control #1 siRNA (Ambion Applied Biosystems) was used as a non-silencing control. For the knock-down of Tsg101 we used siRNA with the sequence 5'CCUCCAGUCUUCUCUCGUC3' selected according to Garrus et al. [31]. 293T cells were seeded on top of the dried transfection mixture (7500 cells/well in 100 μL D-MEM 10% FCS) using the reagent dispenser MultiDrop® Combi. Following a 30 hour incubation period at 37°C (18 h for Tsg101, respectively) for target gene knockdown, medium was removed and cells were transfected with an equimolar mixture of plasmids pCHIV and pCHIVeYFP using FuGene6 (Roche) according to the manufacturer's instructions. Per well, 100 ng plasmid DNA in 100 μl medium were added. After an additional 42 h at 37°C (36 h for Tsg101) tissue culture supernatants and cell lysates were harvested and their RFI values were quantitated as described above.
Abbreviations
HIV:

human immunodeficiency virus
ESCRT:

endosomal complex required for transport
eYFP:

enhanced yellow fluorescent protein
MA:

matrix protein
CA:

capsid protein
ELISA:

enzyme linked immunosorbent assay
RFI:

relative fluorescence intensity
PBS:

phosphate buffered saline
siRNA:

short interfering RNA.
Declarations
Acknowledgements
We sincerely thank Hans-Georg Kräusslich for continuous support and critical reading of the manuscript. The help of Holger Erfle and his group for help with the preparations for the siRNA experiments is gratefully acknowledged. We thank Roger Tsien for the gift of plasmid pmRSET.mRFP1. This work is part of the activities of the HIV-ACE research network (HEALTH-F3-2008-201095), which is supported by a grant of the European Commission within the Priority 1 "Health" work programme of the 7th Framework Programme of the EU. The work has also been funded in part by a grant from the Deutsche Forschungsgemeinschaft (MU885/4-2) and by the BMBF funded project Viroquant (0313923).
Authors' Affiliations
(1)
Department of Infectious Diseases, Virology, University Hospital Heidelberg, Heidelberg, Germany
References
Hofmann WP, Soriano V, Zeuzem S: Antiviral combination therapy for treatment of chronic hepatitis B, hepatitis C, and human immunodeficiency virus infection. Handbook of experimental pharmacology. 2009, 321-346. full_text. 189Google Scholar
Li F, Goila-Gaur R, Salzwedel K, Kilgore NR, Reddick M, Matallana C, Castillo A, Zoumplis D, Martin DE, Orenstein JM, Allaway GP, Freed EO, Wild CT: PA-457: a potent HIV inhibitor that disrupts core condensation by targeting a late step in Gag processing. Proceedings of the National Academy of Sciences of the United States of Americ. 2003, 100 (23): 13555-13560. 10.1073/pnas.2234683100.View ArticleGoogle Scholar
Salzwedel K, Martin DE, Sakalian M: Maturation inhibitors: a new therapeutic class targets the virus structure. AIDS reviews. 2007, 9 (3): 162-172.Google Scholar
Tang C, Loeliger E, Kinde I, Kyere S, Mayo K, Barklis E, Sun Y, Huang M, Summers MF: Antiviral inhibition of the HIV-1 capsid protein. Journal of molecular biology. 2003, 327 (5): 1013-1020. 10.1016/S0022-2836(03)00289-4.View ArticleGoogle Scholar
Kelly BN, Kyere S, Kinde I, Tang C, Howard BR, Robinson H, Sundquist WI, Summers MF, Hill CP: Structure of the antiviral assembly inhibitor CAP-1 complex with the HIV-1 CA protein. Journal of molecular biology. 2007, 373 (2): 355-366. 10.1016/j.jmb.2007.07.070.View ArticleGoogle Scholar
Sticht J, Humbert M, Findlow S, Bodem J, Müller B, Dietrich U, Werner J, Kräusslich HG: A peptide inhibitor of HIV-1 assembly in vitro. Nature structural & molecular biology. 2005, 12 (8): 671-677.View ArticleGoogle Scholar
Ternois F, Sticht J, Duquerroy S, Kräusslich HG, Rey FA: The HIV-1 capsid protein C-terminal domain in complex with a virus assembly inhibitor. Nature structural & molecular biology. 2005, 12 (8): 678-682.View ArticleGoogle Scholar
Zhang H, Zhao Q, Bhattacharya S, Waheed AA, Tong X, Hong A, Heck S, Curreli F, Goger M, Cowburn D, Freed EO, Debnath AK: A cell-penetrating helical peptide as a potential HIV-1 inhibitor. Journal of molecular biology. 2008, 378 (3): 565-580. 10.1016/j.jmb.2008.02.066.View ArticleGoogle Scholar
Wollert T, Yang D, Ren X, Lee HH, Im YJ, Hurley JH: The ESCRT machinery at a glance. Journal of Cell Science. 2009, 122 (Pt 13): 2163-6. 10.1242/jcs.029884.View ArticleGoogle Scholar
Morita E, Sundquist WI: Retrovirus budding. Annual review of cell and developmental biology. 2004, 20: 395-425. 10.1146/annurev.cellbio.20.010403.102350.View ArticleGoogle Scholar
Klein KC, Reed JC, Lingappa JR: Intracellular destinies: degradation, targeting, assembly, and endocytosis of HIV Gag. AIDS Reviews. 2007, 9 (3): 150-61.Google Scholar
Bieniasz PD: The cell biology of HIV-1 virion genesis. Cell host & microbe. 2009, 5 (6): 550-8.View ArticleGoogle Scholar
Brass AL, Dykxhoorn DM, Benita Y, Yan N, Engelman A, Xavier RJ, Lieberman J, Elledge SJ: Identification of host proteins required for HIV infection through a functional genomic screen. Science. 2008, 319 (5865): 921-926. 10.1126/science.1152725.View ArticleGoogle Scholar
König R, Zhou Y, Elleder D, Diamond TL, Bonamy GM, Irelan JT, Chiang CY, Tu BP, De Jesus PD, Lilley CE, Seidel S, Opaluch AM, Caldwell JS, Weitzman MD, Kuhen KL, Bandyopadhyay S, Ideker T, Orth AP, Miraglia LJ, Bushman FD, Young JA, Chanda SK: Global analysis of host-pathogen interactions that regulate early-stage HIV-1 replication. Cell. 2008, 135 (1): 49-60. 10.1016/j.cell.2008.07.032.View ArticleGoogle Scholar
Zhou H, Xu M, Huang Q, Gates AT, Zhang XD, Castle JC, Stec E, Ferrer M, Strulovici B, Hazuda DJ, Espeseth AS: Genome-scale RNAi screen for host factors required for HIV replication. Cell host & microbe. 2008, 4 (5):Google Scholar
Goff SP: Knockdown screens to knockout HIV-1. Cell. 2008, 135 (3): 417-420. 10.1016/j.cell.2008.10.007.View ArticleGoogle Scholar
Bushman FD, Malani N, Fernandes J, D'Orso I, Cagney G, Diamond TL, Zhou H, Hazuda DJ, Espeseth AS, Konig R, Bandyopadhyay S, Ideker T, Goff SP, Krogan NJ, Frankel AD, Young JA, Chanda SK: Host cell factors in HIV replication: meta-analysis of genome-wide studies. PLoS pathogens. 2009, 5 (5): e1000437-10.1371/journal.ppat.1000437.View ArticleGoogle Scholar
Prudencio M, Lehmann MJ: Illuminating the host - how RNAi screens shed light on host-pathogen interactions. Biotechnology journal. 2009, 4 (6): 826-837. 10.1002/biot.200900071.View ArticleGoogle Scholar
Müller B, Daecke J, Fackler OT, Dittmar MT, Zentgraf H, Kräusslich HG: Construction and characterization of a fluorescently labeled infectious human immunodeficiency virus type 1 derivative. Journal of virology. 2004, 78 (19): 10803-10813. 10.1128/JVI.78.19.10803-10813.2004.View ArticleGoogle Scholar
Lampe M, Briggs JA, Endress T, Glass B, Riegelsberger S, Kräusslich HG, Lamb DC, Bräuchle C, Müller B: Double-labelled HIV-1 particles for study of virus-cell interaction. Virology. 2007, 360 (1): 92-104. 10.1016/j.virol.2006.10.005.View ArticleGoogle Scholar
Ivanchenko S, Godinez WJ, Lampe M, Kräusslich HG, Eils R, Rohr K, Bräuchle C, Müller B, Lamb DC: Dynamics of HIV-1 Assembly and Release. PLoS Pathogens. 2009, 5 (11): e1000652-10.1371/journal.ppat.1000652.View ArticleGoogle Scholar
Campbell RE, Tour O, Palmer AE, Steinbach PA, Baird GS, Zacharias DA, Tsien RY: A monomeric red fluorescent protein. Proceedings of the National Academy of Sciences of the United States of America. 2002, 99 (12): 7877-7882. 10.1073/pnas.082243699.View ArticleGoogle Scholar
Huang M, Orenstein JM, Martin MA, Freed EO: p6Gag is required for particle production from full-length human immunodeficiency virus type 1 molecular clones expressing protease. Journal of virology. 1995, 69 (11): 6810-6818.Google Scholar
Carlson LA, Briggs JA, Glass B, Riches JD, Simon MN, Johnson MC, Müller B, Grunewald K, Kräusslich HG: Three-dimensional analysis of budding sites and released virus suggests a revised model for HIV-1 morphogenesis. Cell host & microbe. 2008, 4 (6): 592-599.View ArticleGoogle Scholar
Ly TD, Ebel A, Faucher V, Fihman V, Laperche S: Could the new HIV combined p24 antigen and antibody assays replace p24 antigen specific assays?. Journal of virological methods. 2007, 143 (1): 86-94. 10.1016/j.jviromet.2007.02.013.View ArticleGoogle Scholar
Ono A, Waheed AA, Joshi A, Freed EO: Association of human immunodeficiency virus type 1 gag with membrane does not require highly basic sequences in the nucleocapsid: use of a novel Gag multimerization assay. Journal of virology. 2005, 79 (22): 14131-14140. 10.1128/JVI.79.22.14131-14140.2005.View ArticleGoogle Scholar
Wyma DJ, Jiang J, Shi J, Zhou J, Lineberger JE, Miller MD, Aiken C: Coupling of human immunodeficiency virus type 1 fusion to virion maturation: a novel role of the gp41 cytoplasmic tail. Jornal of virology. 2004, 78 (7): 3429-35. 10.1128/JVI.78.7.3429-3435.2004.View ArticleGoogle Scholar
Zhang JH, Chung TD, Oldenburg KR: A Simple Statistical Parameter for Use in Evaluation and Validation of High Throughput Screening Assays. Journal of Biomolecular Screening. 1999, 4 (2): 67-73. 10.1177/108705719900400206.View ArticleGoogle Scholar
Erfle H, Neumann B, Liebel U, Rogers P, Held M, Walter T, Ellenberg J, Pepperkok R: Reverse transfection on cell arrays for high content screening microscopy. Nature protocols. 2007, 2 (2): 392-399. 10.1038/nprot.2006.483.View ArticleGoogle Scholar
Erfle H, Neumann B, Rogers P, Bulkescher J, Ellenberg J, Pepperkok R: Work flow for multiplexing siRNA assays by solid-phase reverse transfection in multiwell plates. J Biomol Screen. 2008, 13 (7): 575-580. 10.1177/1087057108320133.View ArticleGoogle Scholar
Garrus JE, von Schwedler UK, Pornillos OW, Morham SG, Zavitz KH, Wang HE, Wettstein DA, Stray KM, Côté M, Rich RL, Myszka DG, Sundquist WI: Tsg101 and the vacuolar protein sorting pathway are essential for HIV-1 budding. Cell. 2001, 107 (1): 55-65. 10.1016/S0092-8674(01)00506-2.View ArticleGoogle Scholar
Konvalinka J, Litterst MA, Welker R, Kottler H, Rippmann F, Heuser AM, Kräusslich HG: An active-site mutation in the human immunodeficiency virus type 1 proteinase (PR) causes reduced PR activity and loss of PR-mediated cytotoxicity without apparent effect on virus maturation and infectivity. Journal of virology. 1995, 69 (11): 7180-7186.Google Scholar
Börner K, Hermle J, Sommer C, Brown NP, Knapp B, Glass B, Kunkel J, Torralba G, Reymann J, Beil N, Beneke J, Pepperkok R, Schneider R, Ludwig T, Hausmann M, Hamprecht F, Erfle H, Kaderali L, Kräusslich HG, Lehmann MJ: From experimental setup to bioinformatics: an RNAi screening platform to identify host factors involved in HIV-1 replication. Biotechnology journal. 2010, 5 (1): 39-49. 10.1002/biot.200900226.View ArticleGoogle Scholar
Copyright
© Hermle et al; licensee BioMed Central Ltd. 2010
This article is published under license to BioMed Central Ltd. This is an Open Access article distributed under the terms of the Creative Commons Attribution License (http://creativecommons.org/licenses/by/2.0), which permits unrestricted use, distribution, and reproduction in any medium, provided the original work is properly cited.