Methodology article

Open Access
Design and cloning strategies for constructing shRNA expression vectors
Received: 20 September 2005
Accepted: 05 January 2006
Published: 05 January 2006
Abstract
Background
Short hairpin RNA (shRNA) encoded within an expression vector has proven an effective means of harnessing the RNA interference (RNAi) pathway in mammalian cells. A survey of the literature revealed that shRNA vector construction can be hindered by high mutation rates and the ensuing sequencing is often problematic. Current options for constructing shRNA vectors include the use of annealed complementary oligonucleotides (74 % of surveyed studies), a PCR approach using hairpin containing primers (22 %) and primer extension of hairpin templates (4 %).
Results
We considered primer extension the most attractive method in terms of cost. However, in initial experiments we encountered a mutation frequency of 50 % compared to a reported 20 – 40 % for other strategies. By modifying the technique to be an isothermal reaction using the DNA polymerase Phi29, we reduced the error rate to 10 %, making primer extension the most efficient and cost-effective approach tested. We also found that inclusion of a restriction site in the loop could be exploited for confirming construct integrity by automated sequencing, while maintaining intended gene suppression.
Conclusion
In this study we detail simple improvements for constructing and sequencing shRNA that overcome current limitations. We also compare the advantages of our solutions against proposed alternatives. Our technical modifications will be of tangible benefit to researchers looking for a more efficient and reliable shRNA construction process.
Keywords
Prime ExtensionSuppressive ActivityshRNA ExpressionshRNA Expression VectorHairpin Stem
Background
RNA interference (RNAi) is the pathway by which short interfering RNA (siRNA) or short hairpin RNA (shRNA) are used to inactivate the expression of target genes (for recent review see [
1
,
2
]). Compared to siRNA, shRNA offers advantages in silencing longevity, delivery options and cost. Expressed shRNA is transcribed in cells from a DNA template as a single-stranded RNA molecule (~50 – 100 bases) (Fig.
1a
). Complementary regions spaced by a small 'loop' cause the transcript to fold back on itself forming a 'short hairpin' in a manner analogous to natural microRNA. Recognition and processing by the RNAi machinery converts the shRNA into the corresponding siRNA. In a survey of more than 100 papers applying expressed shRNA in mammalian systems we determined that shRNA expression vectors are constructed by one of three different methods (see
Additional file 1
).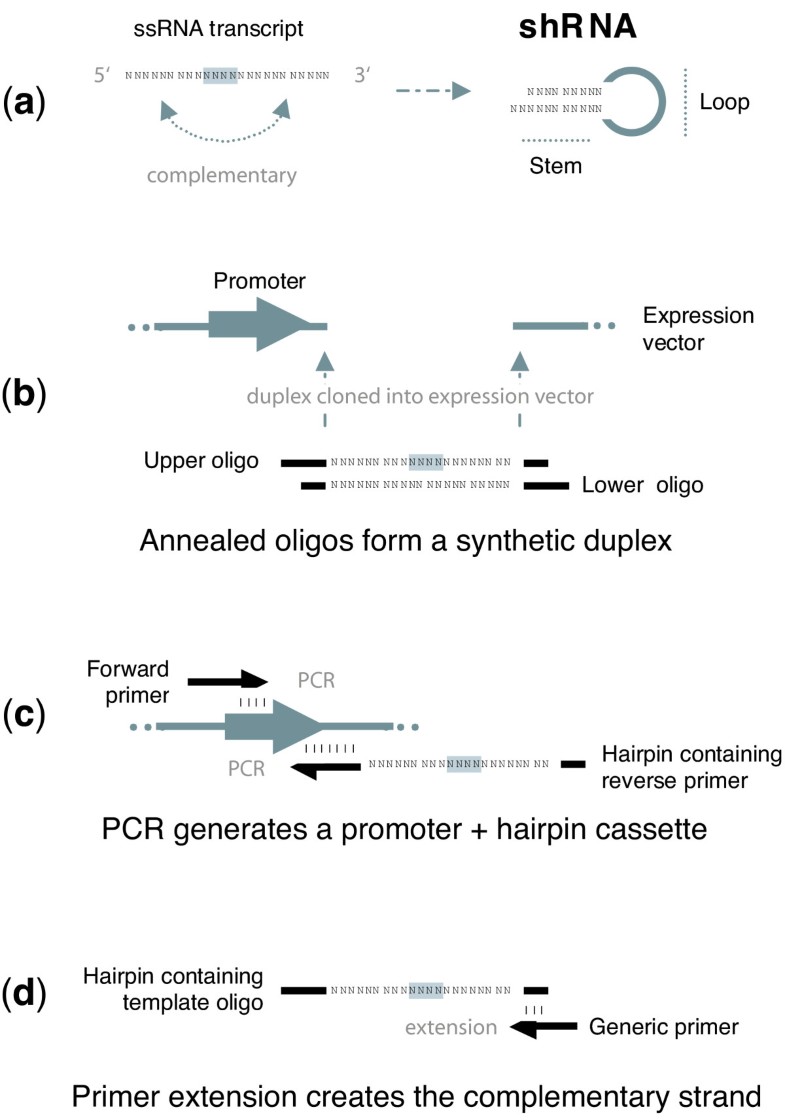 The most common method for making shRNA constructs (74 % of surveyed studies) requires the synthesis, annealing and ligation of two complementary oligonucleotides (oligos) into an expression vector (Fig. 1b and Additional file 2). While this cloning method is quick, the oligo synthesis cost is nearly double that of other methods and the frequency of false positives determined by sequencing is high (typically 20 – 40 %) [3]. The unreliability of this method is in part due to the difficulty in the synthesis of long oligos (length > 35 bases) [4]. As this method requires two long oligos the chance of mutation due to synthesis error is doubled.
The second strategy (employed in 22 % of studies) is a PCR approach in which a promoter sequence serves as the template (Fig. 1c). The hairpin sequence is contained in the reverse primer and PCR results in a cloning cassette comprising both promoter and hairpin. Correct amplicon production is critically dependent upon the sequence of the reverse primer. Hence this technique requires costly purification (e.g. PAGE) of the long reverse primer to exclude truncated oligos originating from the manufacturing process [5]. Although it is advantageous that only a single long oligo is required, the strong secondary structure predicted to form within this primer can lead to the amplification of false products. To alleviate these problems, the long reverse primer can be exchanged for two shorter primers. The reaction is then modified to a two-round nested PCR with each primer introducing half the hairpin per round [6]. However, the repeated cycling inadvertently increases the chance of incorporating polymerase-induced mutations.
The third method (applied in 4 % of studies) encompasses several techniques relating to primer extension. Each is based on the principle of a polymerase extending the 3' end of overlapping oligos [7]. In one instance the shRNA template is formed from two long partially complementary oligos of approximately equal length, overlapping at their 3' ends [8, 9]. Each oligo serves as both template (for extending the opposite oligo) and primer (to copy the opposite oligo). Extension and repeated cycling generates a double-stranded product, akin to that generated in the annealed oligo method. In a variation of this method, one long oligo is used as the template and a second short oligo (generic) is used as the primer for extension (Fig. 1d and Additional file 2). The product can be further amplified by PCR with addition of another short primer binding the extended strand [4]. This technique is the cheapest of all the construction methods discussed as it both halves the cost of unique oligos (compared to the annealed oligo method) and does not need costly oligo purification (compared to the promoter based PCR method). However, this saving may be off-set by a high rate of polymerase-induced mutation in either the initial extension step or by repeated cycling [4].
A common drawback of constructing shRNA vectors, irrespective of the method used, is the difficulty in confirming the sequence of the hairpin region using automated sequencing protocols. It has been widely reported that hairpin templates can lead to sequencing reactions that terminate prematurely, at sites adjacent to or just within the region that encodes the hairpin stem [3, 10–12] (personal observations). Although this phenomenon is commonly encountered, it does not affect all hairpins equally and is very likely dependent on the strength of secondary structures that are unique to each sequence.
The purpose of this study, therefore, was to determine the most cost effective and reliable method for producing multiple shRNA expression constructs. Two parameters were tested: (i) cloning strategies and (ii) methodologies to ensure that all hairpin templates could be confirmed at high-throughput automated sequencing facilities.
Results and Discussion
The use of another enzyme with similar properties, Vent, has also been reported [4]. However, additives (DMSO and GC-Melt) and repeated thermocycling were recommended for successful extension. Whilst valid, this technique was hampered by the occurrence of cycling-induced errors. In summary, our isothermal procedure using Phi29 retains the cost benefits of primer extension and reduces manifestations of both synthesis and polymerase-induced mutations.
As an alternative, we found that inclusion of a unique restriction enzyme (RE) site within the loop sequence allows the vector to be linearised and sequenced in two separate reactions; one for the sense and one for the anti-sense (Fig. 3). Our present design incorporates a centrally located XhoI site in an 8 base loop (ACTCGAGA), but it is probable that other RE sites could also be employed. We found that the digestion could be performed directly in the sample tube destined for sequencing, with no impact on sequencing quality (see Methods for details). From our survey we also noted that although uncommon, the inclusion of an RE site within the hairpin loop was not unique (used in 8 % of cases), but its only described use was to assist in screening and selection of recombinant clones [12]. In no case was there a reported link, as we propose, between RE loop design and the benefits of dual-sequencing the digested vector.
It is worthy of final note that we see no obvious correlation in our data between hairpin stem length (having generated lengths from 15 – 45 bp) and the incidence of mutations arising during cloning or problems with sequencing. In our hands they appear largely sequence dependent as we encountered long and short hairpins that were problematic on both counts.
Conclusion
We have analyzed the literature and determined that shRNA construction is frequently associated with difficulties and can be hindered by high mutation frequencies in accordance with our own observations. Our investigations to find an improved alternative led to a variation of the primer extension method using Phi29. The procedure is swift, isothermal and independent of additives making it, in our hands, the most reliable and cost effective of all the construction techniques. In addition, we present a simple and robust solution for overcoming sequencing limitations commonly encountered with shRNA vectors. This solution is based on an RE loop design, which is amenable to any shRNA without compromising its suppressive activity. These technical modifications will be of tangible benefit to researchers looking to improve their shRNA construction process.
Methods
shRNA template generation using complementary annealed oligonucleotides
Our expression vector (derived from pSILENCER-3.0H1, Ambion) contained a human H1 polymerase-III (pol-III) promoter for shRNA expression. Each shRNA insert was designed as a synthetic duplex with overhanging ends identical to those created by restriction enzyme (RE) digestion (BamHI at the 5' and HindIII at the 3') (see Additional file 2 for diagram). The coding region for each hairpin was contained within a single oligonucleotide (upper oligo: 5'-GATCC [G/A]N(19–29)ACTCGAGAN(19–29) [G/A/C]TTTTTTGGA-3') and its complementary equivalent (lower oligo: 5'-AGCTTCCAAAAAA [G/A/C]N(19–29)ACTCGAGAN(19–29) [G/A]G-3'). These ranged in size from 60 – 100 bases (for hairpins with 19 – 29 bp stems). Each duplex contained a transcription initiation base (if required), the shRNA encoding region (sense stem, loop sequence and anti-sense stem), a termination spacer (if required) and a pol-III termination signal consisting of a run of at least 4 'T's. The transcription initiation base was an 'A' or 'G' (required for efficient pol-III transcription initiation) and was only included if the first base of the hairpin stem was not a purine. The termination spacer was any base but 'T' and was included only if the last base of the anti-sense stem was 'T' so as to prevent premature termination via an early run of 'T's. Oligos were ordered at the minimal synthesis and purification scales (0.05 μM and desalt, Sigma-Genosys). Each oligo was re-suspended in water (1 – 10 μg/μl) and 1 μl from each was added to 98 μl of annealing solution (10 mM Tris pH 8.0, 50 mM NaCl, 1 mM EDTA), heated to 100°C for 5 minutes, slowly equilibrated to room temperature and diluted up to 10,000 fold for ligation. The insert and vector were ligated, and used to transform electrocompetent GT116 E.coli (Invivogen). Positive clones were confirmed by automated sequencing using our loop digestion method.
shRNA template generation using Phi29 primer extension
Each template oligo was similar in design to the upper oligo of the annealed oligo method (5'-GCGCGGATCC[G/A]N(19–29)ACTCGAGAN(19–29)[G/A/C]TTTTTTGGAAGCTT-3') but the ends were extended to encode the entire sequence of the RE sites plus an additional 5' 'seat' sequence to facilitate RE binding and digestion of the extended product (see Additional file 2 for diagram). A short primer was designed to bind at the 3' end of the template oligo and introduced the 3' seat (5'-CGCGAAGCTTCCAAAAAA-3'). Both template and primer oligos were synthesized and re-suspended as previously described for the annealed oligo method. Twenty picomoles of each oligo was used in the extension reaction (1× reaction buffer, 2× BSA, 50 mM final conentration of dNTPs, 10 units of Phi29 (New England Biolabs) and water to 20 μl), which was incubated at 30°C for ~10 min., then 65°C for 10 min. (to disable the polymerase). The extension product was digested (BamHI plus HindIII), purified using the Nucleotide Removal kit (Qiagen), ligated to the expression vector and used to transform electrocompetent GT116 E.coli. Positive clones were confirmed by automated sequencing using our loop digestion method.
shRNA sequence confirmation by loop digestion
Each construct was digested and sequenced in two reactions, one containing the forward primer, the other containing the reverse. The primers bound to the expression vector backbone approximately 100 bases away from the region encoding the base of the hairpin stem. Each reaction contained: 1× RE buffer (NEB-2, New England Biolabs), 1× BSA, ~500 ng of template vector, 10 pmol of sequencing primer, ~10 units XhoI and water to a total volume of 16 μl, and was incubated at 37°C for 30 – 60 min. prior to shipping, without purification, to an automated sequencing facility (Australian Genome Research Facility, AGRF).
shRNA suppressive activity assay
Suppressive activity was determined by transient triple-transfection of the expression vector (H1 driving expression of the shRNA) with a matched GFP-target fusion assay vector (color 1) and a normalization control vector (color 2) into an adherent mammalian cell line (HEK293a). Fluorescence levels were determined by Flow Cytometry analysis 48 hours post-transfection. Values are given in Fluorescence Index units (FI; obtained by dividing the average geo mean fluorescence by the total number of cells within the analysis gate) both normalized to the second color (to account for non-specific effects) and raw (to show the extent of non-specific effects) and presented as a percentage of the FI for the expression vector control (obtained when co-transfecting the empty – non-hairpin containing – expression vector). Each data column represents the average of 3 replicated samples with 95 % confidence intervals shown.
Declarations
Acknowledgements
Glen McIntyre is a recipient of the Australian Postgraduate Award (APA). Sequence trace diagrams were created with the OSX freeware application 4Peaks (v1.6) written by A. Griekspoor and T. Groothuis [21]. The authors would like to thank Mehnaaz Lomas for assistance in preparing the manuscript, Tanya Applegate and Elisa Mokany for technical help, as well as Greg Arndt, Ryan Middleton and Toby Passioura for critically reviewing the manuscript.
Authors' Affiliations
(1)
Johnson and Johnson Research Pty Ltd, Eveleigh, Australia
(2)
The school of Biological and Biomolecular Sciences, The University of New South Wales, Sydney, Australia
(3)
Tibotec BVBA, Mechelen, Belgium
Copyright
© McIntyre and Fanning; licensee BioMed Central Ltd. 2006
This article is published under license to BioMed Central Ltd. This is an Open Access article distributed under the terms of the Creative Commons Attribution License (http://creativecommons.org/licenses/by/2.0), which permits unrestricted use, distribution, and reproduction in any medium, provided the original work is properly cited.