Research article

Open Access
Natural transformation of Thermotoga sp. strain RQ7
BMC Biotechnology
2014
14:39
Received: 6 November 2013
Accepted: 2 May 2014
Published: 10 May 2014
Abstract
Background
Thermotoga species are organisms of enormous interest from a biotechnological as well as evolutionary point of view. Genetic modifications of Thermotoga spp. are often desired in order to fully release their multifarious potentials. Effective transformation of recombinant DNA into these bacteria constitutes a critical step of such efforts. This study aims to establish natural competency in Thermotoga spp. and to provide a convenient method to transform these organisms.
Results
Foreign DNA was found to be relatively stable in the supernatant of a Thermotoga culture for up to 6 hours. Adding donor DNA to T. sp. strain RQ7 at its early exponential growth phase (OD600 0.18 ~ 0.20) resulted in direct acquisition of the DNA by the cells. Both T. neapolitana chromosomal DNA and Thermotoga-E. coli shuttle vectors effectively transformed T. sp. strain RQ7, rendering the cells resistance to kanamycin. The kan gene carried by the shuttle vector pDH10 was detected by PCR from the plasmid extract of the transformants, and the amplicons were verified by restriction digestions. A procedure for natural transformation of Thermotoga spp. was established and optimized. With the optimized method, T. sp. strain RQ7 sustained a transformation frequency in the order of 10-7 with both genomic and plasmid DNA.
Conclusions
T. sp. strain RQ7 cells are naturally transformable during their early exponential phase. They acquire DNA from both closely and distantly related species. Both chromosomal DNA and plasmid DNA serve as suitable substrates for transformation. Our findings lend a convenient technical tool for the genetic engineering of Thermotoga spp.
Keywords
Thermotoga Natural transformationNatural competencepDH10pDH12
Background
Thermotoga species are a group of Gram-negative, strictly anaerobic bacteria that grow up to 90°C. Ever since their discoveries in 1980s, they have been attracting great attention due to their extreme life style and the underlining implications in both basic research and biotechnological applications. Most noticeably, they serve as excellent candidates for the production of hydrogen gas, which may be directly used as a clean fuel [1, 2]. Producing biohydrogen using fermentative hyperthermophiles like Thermotoga has many advantages, including independence from light sources, reduced risks of contamination, lower energy requirement for agitation and cooling, and above all, higher hydrogen partial pressure. To fully release the potentials of Thermotoga, one often wishes to modify these bacteria at the genetic level. However, Thermotoga spp. are considered genetically recalcitrant. Their first transformants were isolated only recently after decades of efforts [3]. Making these species more genetically accessible remains a priority for the research community. Effective delivery of recombinant DNA stands as a critical step in any genetic modification attempt dealing with Thermotoga. Previous studies have demonstrated that Thermotoga cells are transformable by liposome-mediated transformation and electroporation [3, 4]. Effective as these methods are, they are labor-intensive and time-consuming. A more convenient approach would be highly desirable if one needs to transform Thermotoga on a daily basis.
Many prokaryotes possess the ability to take up DNA directly from the environment without human intervention, i.e. they are naturally competent. Some bacteria efficiently import DNA from any source, whereas others prefer to acquire homologous DNA through the recognition of specific uptake signal sequences [5, 6]. The process of natural transformation involves the steps of DNA binding, translocation, and recombination. In most competent bacteria, the machinery responsible for DNA binding and translocation is related to Type IV pili (T4P) and Type II secretion systems (T2S) [7, 8]. T4P are retractile appendages that contribute to twitching motility, biofilm formation, adhesion, and conjugation, in addition to natural transformation. A working model proposed for Neisseria gonorrhoeae suggests that exogenous DNA crosses the outer membrane through a pore made of the secretin protein PilQ and transverses the periplasmic space with the aid of the PilE complex and a high affinity DNA-binding protein ComE. One strand of the DNA is then degraded by a nuclease, and the other strand travels across the inner membrane through a channel comprised of the membrane protein ComA [9, 10]. In Gram-positives, DNA is transported across the cell envelope in a similar manner, except that it does not need to overcome the outer membrane barrier. Once in the cytoplasm, the single-stranded DNA has to be protected by single strand DNA binding proteins to avoid degradation by host nucleases. Recent evidence suggests that DNA protection protein DprA conveys incoming ssDNA to RecA, the ubiquitous recombinase responsible for the initiation of homologous recombination [11–13]. Protein ComM influences transformation at a very late stage presumably by affecting recombination of the donor DNA into the chromosome [14].
More than 60 bacterial species have been documented as naturally transformable [15], which actually represents a minute fraction of all the bacterial species characterized thus far. Natural transformation is therefore considered a rare phenomenon. However, competence genes are wide-spread in bacterial species, even though many of which have not been reported to be naturally competent. Part of the reason is that natural competence usually develops only under certain physiological states that are inducible by environmental factors. Often these conditions are ill-defined and thus cannot be reproduced in laboratory settings. It is very likely that natural competence occurs much more frequently than we observe. For example, this mechanism was only recently noted in such well-studied organisms as Vibrio cholerae[16], Bacillus cereus[17], and E. coli[18]. Natural uptake of DNA has not been reported for any bacteria growing optimally at, or above, 80°C, although this ability has been documented for hyperthermophilic archaeon Thermococcus kodakarensis[19].
Analyses of the published Thermotoga genomes present evidence of frequent lateral gene transfer events between Thermotoga and other bacteria, archaea, and even eukaryotes [20–23]. The chimeric nature of Thermotoga genomes suggests that these bacteria have a remarkable efficiency for acquisition of foreign genes. Although natural competence has not been reported for Thermotoga, putative competence genes have long been noticed in their genomes, including those encoding T2S- and T4P-related proteins [20]. Moreover, mini-plasmids pRQ7, pMC24, and pRKU1 have been discovered in T. sp. strain RQ7 [24], T. maritima[25], and T. petrophila RKU-1 [26], respectively. Therefore, it is possible that Thermotoga spp. are capable of acquiring foreign DNA directly. Searching of the T. maritima genome sequence did not uncover any specific uptake signal sequences [6]. For this reason, if Thermotoga spp. were to acquire DNA naturally, they should do so indiscriminately. The aim of this study was to establish natural competency in Thermotoga spp. and to develop a natural transformation protocol to facilitate the genetic engineering of Thermotoga.
Materials and methods
Strains and cultivation conditions
The bacteria strains and vectors used in this study are summarized in Table
1
.
E. coli
strains were cultivated in Luria-Bertani broth (1% tryptone, 0.5% NaCl, 0.5% yeast extract) at 37°C. Ampicillin was supplemented at 50 μg per ml when required.
Thermotoga
strains were cultivated at 77°C in SVO medium, which was named by us after the first author of the paper where the medium was first described [
32
]. Gelrite of 0.075% and 0.3% were included for preparation of soft and solid media, respectively. When needed, kanamycin was supplemented at 150 μg ml
-1
for liquid and 250 μg ml
-1
for soft and solid cultures. To make a
Thermotoga
plate, the liquid culture was mixed with hot SVO Gelrite medium and poured into petri dishes. The plates were incubated in an anaerobic jar for 48 h at 77°C, and single colonies were picked up, inoculated into selective SVO soft medium to grow for 24 h, and transferred into liquid selective media for further propagation and analyses. The techniques for effective handling of
Thermotoga
cultures under atmospheric conditions were detailed in our previous report [
3
]. Cell densities were measured as optical absorbance at 600 nm (OD
600
).
Table 1
Strains & vectors used in this study
| Strain or plasmid | Description | Reference |
| --- | --- | --- |
| T. neapolitana DSM 4359 | Isolated from African continental solfataric springs | [27] |
| T. maritima MSB8 | Isolated from geothermally heated sea floors in Italy and the Azores | [28] |
| T. sp. strain RQ7 | Isolated from geothermally heated sea floors in Ribeira Quente, the Azores | [28] |
| Caldicellulosiruptor saccharolyticus DSM 8903 | Isolated from a thermal pool of Taupo, New Zealand | [29] |
| E. coli DH5α | F-endA1 hsdR17 (rk-, mk+) supE44 thi-1 λ - recA1 gyrA96 relA1 deoR Δ(lacZYA-argF)- U169 ϕ80dlacZΔM15 | [30] |
| Plasmids | | |
| pKT1 | pUC-derived plasmid, containing a kan cassette for thermostable kanamycin selections | [31] |
| pRQ7 | Cryptic miniplasmid from T. sp. strain RQ7 | [24]; GenBank: KF798180 |
| pDH10 | pRQ7 cloned between the EcoRI and XbaI sites of pKT1; Apr; Kanr | [3]; GenBank: JN813374 |
| pDH12 | pRQ7 along with its duplicated fragment of 209 bp were cloned between the EcoRI and XbaI sites of pKT1; Apr, Kanr | This study; GenBank: KF798179 |
Construction of the Thermotoga-E. colishuttle vector pDH12
In the early stage of the study, pDH10, constructed in our previous study [
3
], was used as the substrate DNA to establish natural competency in
T.
sp. strain RQ7. In the late stage of the study, a new shuttle vector, pDH12 (Figure
1
), was constructed. The two plasmids differ in two ways: 1) the
rep
gene and the
kan
gene are arranged in the same direction in pDH12 as opposed to a convergent orientation in pDH10; and 2) The upstream sequence of the
rep
gene is 416 bp in pDH12 and 207 bp in pDH10. The extra 209 bp fragment in pDH12, being included to enhance the expression of the
rep
gene, is a duplicate of the 3′-end of the
rep
gene.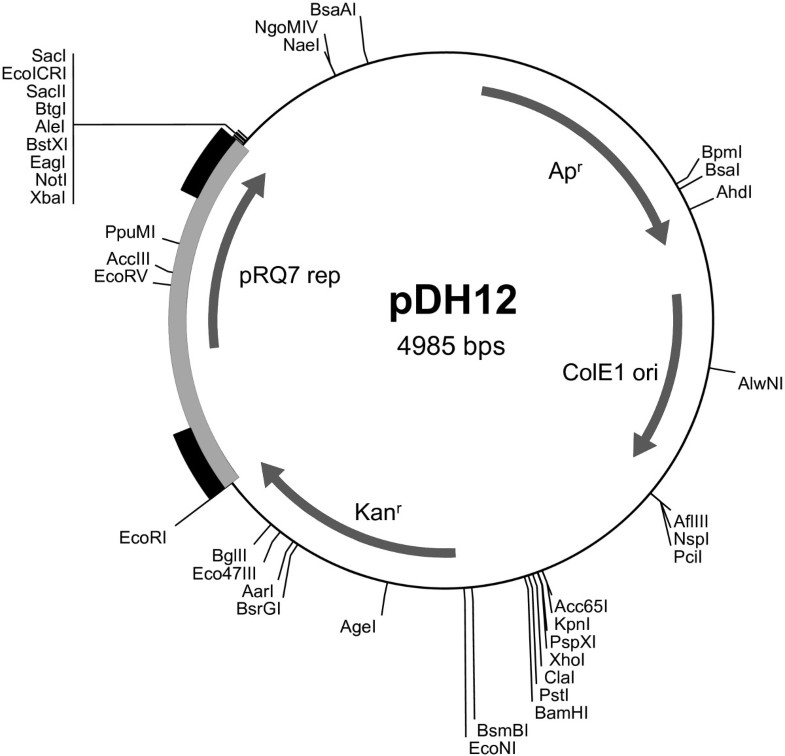 To construct pDH12, a three-piece ligation strategy was adopted since the coding sequence of the pRQ7 Rep protein conveniently bears a HindIII site about a third way from its start codon. Primers 5′- GGGAATTCTGAAGTACTTATCAAAGGAG-3′ and 5′-CGTTTTTTAAGCTTTTCCCAGC-3′ were used to amplify the N-terminus of the rep gene and its upstream sequence, and the resulting amplicon carries a EcoRI site at its 5′-end. Primers 5′-GGGAAAAGCTTAAAAAACGAATCC-3′ and 5′-GCTCTAGATAATCACACTAACCACATTC-3′ were used to amplify the C-terminus of the gene; the corresponding amplicon carries an XbaI site at its 3′-end. The PCR program for both reactions included 30 cycles of 30 sec at 94°C, 30 sec at 54°C, and 1 min at 72°C. The PCR products were digested with EcoRI-HindIII and HindIII-XbaI, respectively, and were ligated to pKT1, pre-digested with EcoRI-XbaI, to give rise to pDH12. All DNA manipulations followed the standard methods.
Natural transformation of Thermotogaspp
Two slightly different approaches were used. The early stage of the study involved the utilization of a nitrogen gas bottle. Briefly, 1 ml of an overnight culture of the recipient strain was transferred into 50 ml of fresh SVO medium and incubated to various growth stages. One ml of the fresh culture was then transferred to a 25 ml sterile serum bottle filled with N2 gas. At the same time, 50 μg of substrate DNA was added. After 6 h of incubation at 77°C with gentle agitation (100 to 125 rpm), the culture was mixed with hot SVO Gelrite medium and poured into petri dishes, with a supplement of 250 μg/ml kanamycin for selection. The plates were examined after 2 days of incubation at 77°C. Because the purpose of this study is to develop a simple method to transform Thermotoga spp., we intentionally did not apply DNase (to remove untransformed DNA after a designated period of time). This not only simplifies the overall procedure but also maximizes the occurrence of transformation events.
In the late stage of the study, the procedure was optimized as such: cells of 1 ml of the overnight culture of a recipient strain were collected by centrifugation, re-suspended in 200 μl of fresh SVO medium, and were injected into a 100-ml serum bottle containing 10 ml of fresh SVO medium; DNA substrate was added to a final concentration ranging from 5 to 10 μg/ml; the culture-DNA mixture was incubated at 77°C for 4 to 6 h with gentle agitation and then poured into selective plates (with a culture to medium ratio of 1 to 9, v/v). Transformation efficiency was computed as transformants per microgram of DNA, and transformation frequency was expressed as transformants per microgram of DNA per viable cell. The number of viable cells was determined by plating the control culture (no DNA added) with plain SVO solid medium. Plating efficiency was calculated as the ratio of viable cells to the total number of cells counted under microscope with Hausser Bright-Line 3120 Hemacytometer (Horsham, PA, USA).
Discussion
Transformability of T. sp. strain RQ7 and T. maritima
It is unclear why T. maritima is not naturally competent while T. sp. strain RQ7 is, even though the two strains are closely related. Because the genome sequence of T. sp. strain RQ7 is not publically available yet, we are unable to compare the putative competence genes across the two genomes. We speculate that the putative competency genes may be differentially regulated between the two strains, or some of the genes may have accumulated mutations leading to altered functionalities in one strain. It is also possible that there are novel natural competence genes that do not exhibit significant homology to known ones and therefore are beyond recognition by sequence comparison. More information should emerge once the genome sequence of T. sp. strain RQ7 is available. Studies on the expression of the putative competence genes should also yield important clues.
Transformation frequency of T.sp. strain RQ7
With our optimized procedure, T. sp. strain RQ7 presented a transformation frequency in the order of 10-7. The chromosomal DNA and the plasmid DNA transformed this strain with comparable frequency, even though the plasmid DNA contained a higher mass ratio of the relevant gene(s), i.e. kanamycin-resistance gene(s). This is probably due to host restriction-modification systems, which selectively degrade DNA of distantly related species. A Type II RM system has been characterized in T. neapolitana and has also been found in T. maritima, T. petrophila, T. sp. strain RQ2, and T. naphthophila[33]. In addition, REBASE has identified a few putative methylases that might be involved in restriction-modification mechanisms in Thermotoga, such as M.TspRQ2ORF1808P in T. sp. strain RQ2 as well as M.TneDDamP and M.TneDORF1590P in T. neapolitana (http://rebase.neb.com). Because restriction nucleases have a low level of sequence conservation in general, it is much harder to predict their presence through bioinformatics analyses than finding methylases. Plasmid incompatibility is unlikely to be the primary reason for the lower than expected transformation frequency associated with pDH12, because plasmids containing the same origin of replication (ori) are more compatible than we previously thought. For instance, two plasmids carrying the same colE1 ori yet different antibiotic markers - kanamycin versus ampicillin - were found to be 100% compatible after five consecutive transfers under just kanamycin selection [34].
The level of competency observed in T. sp. strain RQ7 is comparable to what reported for Ralstonia solanacearum, whose frequency is in the order of 10-7[35], but lower than those measured in well-characterized system such as Vibrio cholera[36] and Helicobacter pylori[37], where a frequency of 10-5 or higher can often be obtained. It did not escape our attention that none of the putative competence genes found in Thermotoga are clustered. In many model systems, competence genes are often co-transcribed, such as the com operons in Bacillus and Streptococcus[15, 38] and the pil operons in Haemophilus and Thermus[39]. The lack of the similar operons in Thermotoga suggests that their relevant molecular machinery either is not well-established or, to a lesser extent, represent a different type of machinery that does not share much similarity to those previously discovered. Nevertheless, the level of competence observed in T. sp. strain RQ7 sufficiently satisfies our engineering needs. As a matter of fact, we have been introducing recombinant DNA into T. sp. strain RQ7 exclusively by natural transformation ever since we discovered this mechanism.
Conclusions
Natural competency has been established in T. sp. strain RQ7. A natural transformation procedure has been developed and optimized for Thermotoga spp.. This study provides an alternative way to transform these genetically recalcitrant yet biotechnologically attractive organisms.
Abbreviations
Ap:

Ampicillin
bp:

Base pairs
CFU:

Colony forming unit
DNA:

Deoxyribonucleic acid
Kan:

Kanamycin
ori:

Origin of replication
PCR:

Polymerase chain reaction
RQ7:

Thermotoga sp. RQ7
Tm:

Thermotoga maritima
Tn:

Thermotoga neapolitana.
Declarations
Acknowledgements
We thank Dr. Robert Kelly at North Carolina State University for providing C. saccharolyticus. This work was supported by the BGSU Commercialization Catalyst Award and the BGSU Building Strength Award.
Authors' Affiliations
(1)
Department of Biological Sciences, Bowling Green State University, Bowling Green, USA
Copyright
© Han et al.; licensee BioMed Central Ltd. 2014
This article is published under license to BioMed Central Ltd. This is an Open Access article distributed under the terms of the Creative Commons Attribution License (http://creativecommons.org/licenses/by/2.0), which permits unrestricted use, distribution, and reproduction in any medium, provided the original work is properly credited. The Creative Commons Public Domain Dedication waiver (http://creativecommons.org/publicdomain/zero/1.0/) applies to the data made available in this article, unless otherwise stated.