Research article

Open Access
Thrombolytic effects of Douchi Fibrinolytic enzyme from Bacillus subtilis LD-8547 in vitro and in vivo
BMC Biotechnology
2012
12:36
Received: 3 April 2012
Accepted: 2 July 2012
Published: 2 July 2012
Abstract
Background
Today, thrombosis is one of the most widely occurring diseases in modern life. Drugs with thrombolytic functions are the most effective methods in the treatment of thrombosis. Among them, Douchi fibrinolytic enzyme (DFE) is a promising agent. DFE was isolated from Douchi, a typical and popular soybean-fermented food in China, and it can dissolve fibrin directly and efficiently. A strain, Bacillus subtilis LD-8547 produced DFE with high fibrinolytic activity has been isolated in our lab previously.
Results
In the study, thrombolytic effect of DFE from Bacillus subtilis LD-8547 was studied in vitro and in vivo systematically. The results showed that DFE played a significant role in thrombolysis and anticoagulation in vitro. And the thrombolytic effects correlated with DFE in a dose-dependent manner. In vivo, the acute toxicity assay showed that DFE had no obvious acute toxicity to mice. Test of carrageenan-induced thrombosis in mice indicated that the DFE significantly prevented tail thrombosis, and arterial thrombosis model test indicated that Douchi fibrinolytic enzyme DFE had thrombolytic effect on carotid thrombosis of rabbits in vivo. Other results in vivo indicated that DFE could increase bleeding and clotting time obviously.
Conclusions
The DFE isolated from Bacillus subtilis LD-8547 has obvious thrombolytic effects in vitro and in vivo. This function demonstrates that this enzyme can be a useful tool for preventing and treating clinical thrombus.
Keywords
Thrombolytic effectsDouchi Fibrinolytic enzymein vitroin vivo
Background
Nowadays, cardiovascular diseases including hypertension, coronary heart disease, atherosclerosis and acute myocardial infarction are the leading causes of the human death in the world. Among all kinds of cardiovascular diseases, thrombosis is a frequently occurred symptom [1]. For thrombolytic therapy, the main drugs are urokinase (UK), streptokinase (SK) and tissue plasminogen activator (t-PA). But they are too expensive and their half-life is short. Besides, they are just fit for injection and have the side effect of hemorrhage. In 1897, Nattokinase was extracted from natto [2], and it can be absorbed by oral and injection. From then on, much more attention was paid to the development of new types of fibrinolytic enzyme such as enzymes isolated from Tofuyo [3], Korean Chung kook-jang soy sauce [4], edible honey mushroom [5], Canada blancan [6] and Chinese Douchi[7].
Douchi fibrinolytic enzyme (DFE) is isolated from Douchi, a typical and popular soybean-fermented food in China, and it can dissolve fibrin directly and efficiently. At the same time, DFE can activate t-PA in vivo. Furthermore, it has no toxic and other side-effects, and will not induce hemorrhage in vivo. The molecular weight of DFE is low, so it not only can be absorbed directly in alimentary canal, but also can be used by oral. Therefore, the study and development of DFE have significance for treating clinical thrombus [8, 9].
A strain, Bacillus subtilis LD-8547 produced DFE with high fibrinolytic activity has been isolated in our lab previously [10, 11]. In this paper, the thrombolytic effects of this DFE in vitro and in vivo were studied respectively.
Results
Purification of DFE and fibrinolytic activity assay
DFE was purified from
Bacillus subtilis
LD-8547 with a series of procedures. The activity of DFE was estimated with synthetic substrate. And the results showed that the fibrinolytic activity of DFE reached 21750 U/mL after condensed (Figure 
1
).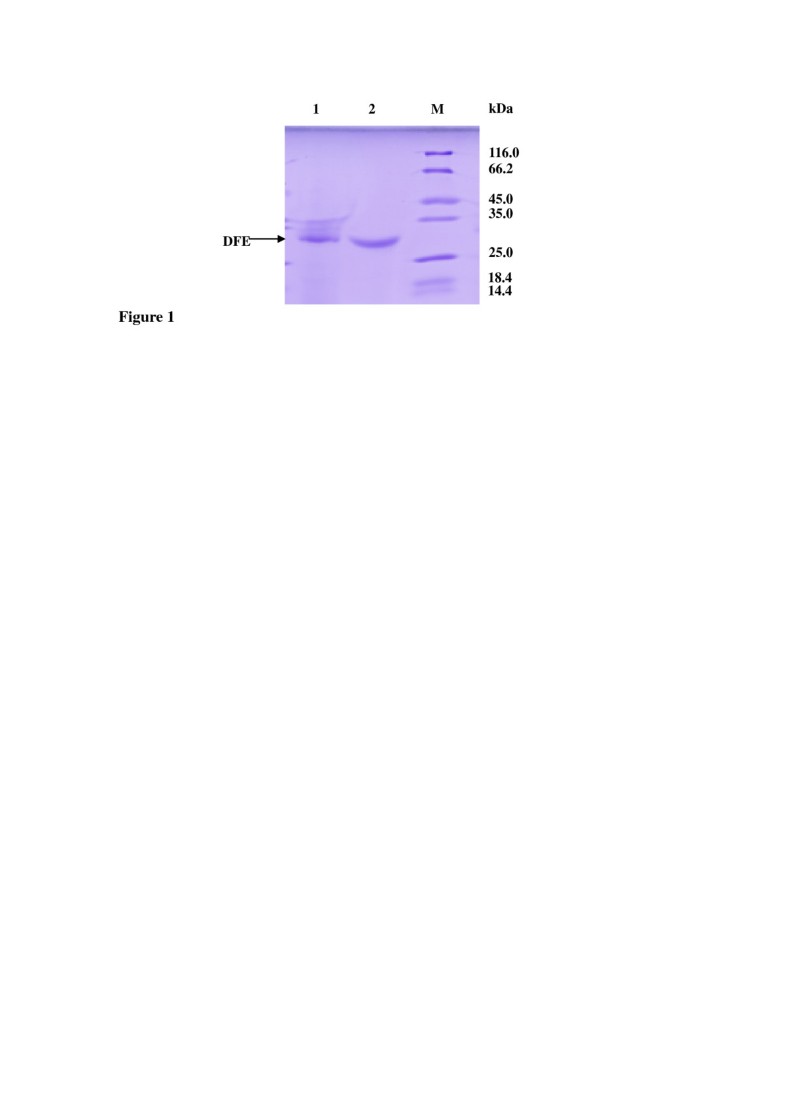 Thrombolytic effects of DFE in vitro
Thrombolytic effects of DFE in vivo
Discussion
In recent years, in order to enhance the efficacy and safety of fibrinolytic therapy, many researches were pursued to discover fibrinolytic enzymes from food-grade microorganisms. Among them, much attention was paid to fibrinolytic enzymes isolated from Douchi.
In this study, many experiments were carried out to test the thrombolytic effect of Douchi fibrinolytic enzyme from Bacillus subtilis LD-8547 in vitro and in vivo. The assay demonstrated that in the groups treated with more than 518 U of DFE, the anticoagulation effect was obvious on animal blood, and the effect was enhanced with increasing dose of DFE. The cascade and waterfall hypotheses of blood coagulation indicate that the coagulation process is divided into three stages: the formation of prothrombin activator, thrombin formation and fibrin formation. In this study, the result indicated that DFE can inhibit the extrinsic coagulation system, which may be the key to antithrombotic and thrombolytic activity. And in the low dose group (259 U), there is no or fewer side effects in bleeding and does not affect the body's normal clotting mechanism. Therefore, low dose DFE is recommended for the long-term use to prevent thrombosis.
Antithrombotic or thrombolytic drugs can block the pathway of thrombus formation. The fundamental task of thrombolytic therapy is the degradation of fibrin by plasmin, which can be activated by the activators from inactive plasminogen. SK and UK depend on this indirect activation pathway. In addition to this indirect working mechanism, thrombolytic enzyme can dissolve fibrin directly, which was proved by our thrombolysis experiments in vitro. Our studies demonstrated that DFE displayed strong thrombolytic ability in mouse. Its effect is better than clinically used UK.
Thrombus formed via the effects of cruor, anticoagulation, fibrinolytic system, haemorheology, vascular endothelial cells, platelets and other factors. Animal thrombosis models are the most effective way to evaluate the function of thrombolytic agents. As an experimental model of peripheral obstructive disease, carrageenan-induced thrombosis in mice was used, because of its advantages of simple induction in small laboratory animals and easy to observe without killing the animals. In this study, the results showed that DFE significantly inhibited tail thrombus formation after the injection of carrageenan. The antithrombotic effect of DFE is even more obvious than some newly reported fibrinolytic enzymes such as Subtilisin QK [16].
The oxidative damage of the endarterium induced by FeCl3 is the traditional method to establish the Animal Blood Bolts Model, and it is convenient, fast and the results are reproducible. A moderate concentration (10%) of FeCl3 was used in this study, and the fibrinolytic system could dissolve fibrin, which is the main component of thrombus. The impacts on the fibrinolytic system are the key to evaluate the effect of thrombolytic drugs. In the study, markedly thrombolytic effect of DFE was showed in the in vivo test after the carotid artery thrombosis was made.
Microorganism is an important source of thrombolytic enzymes. With the fast growth and easy control characteristics, microorganism can be manually controlled to obtain the target product. With the development of fermentation industry and extraction of fermentation products, there will be a broad prospect of clinical use of this thrombolytic agent.
Many factors play important roles in thrombosis. Molecular mechanisms on effective prevention and treatment of thrombosis of the DFE from Bacillus subtilis LD-8547 is not clear now. Therefore, a further study is needed in the future.
Conclusions
The present results extend our previous findings that the DFE from Bacillus subtilis LD-8547 has effective fibrinolytic activity on fibrin plates and plasma plates. In addition, in this work, we found that DFE could lyse euglobulin, relieve thrombus symptom on tail of mouse and carotid of rabbit, elongate bleeding and clotting time, and also had an anticoagulant and clot lytic effect on animal blood. Simultaneously, no toxicity to the mice and no perniciasm on erythrocytes were detected. Therefore, taken together the results clearly illustrate that the DFE has promises in clinical applications to prevent and cure the thrombosis and thrombotic related disorders.
Abbreviations
DFE:

Douchi fibrinolytic enzyme
UK:

Urokinase
SK:

Streptokinase
t-PA:

Tissue plasminogen activator
NS:

Normal saline.
Declarations
Acknowledgement
We express our thanks to MengFei Ho from University of Illinois at Urbana-Champaign for his assistance with English. This work was supported by the Doctoral Discipline Foundation for Young Teachers in the Higher Education Institutions of Ministry of Education, China (No. 20113515120001), the Science and Technology Foundation of Education Office of Fujian Province,China (No. JA10101), and the Natural Science Foundation of Science and Technology Department of Fujian Province, China (No. 2011J05049).
Authors' Affiliations
(1)
Key Laboratory of Biopesticide and Chemical Biology, Ministry of Education, Fujian Agriculture and Forestry University, Fuzhou, China
(2)
College of Life Sciences, Fujian Agriculture and Forestry University, Fuzhou, China
Copyright
© Yuan et al.; licensee BioMed Central Ltd. 2012
This article is published under license to BioMed Central Ltd. This is an Open Access article distributed under the terms of the Creative Commons Attribution License (http://creativecommons.org/licenses/by/2.0), which permits unrestricted use, distribution, and reproduction in any medium, provided the original work is properly cited.